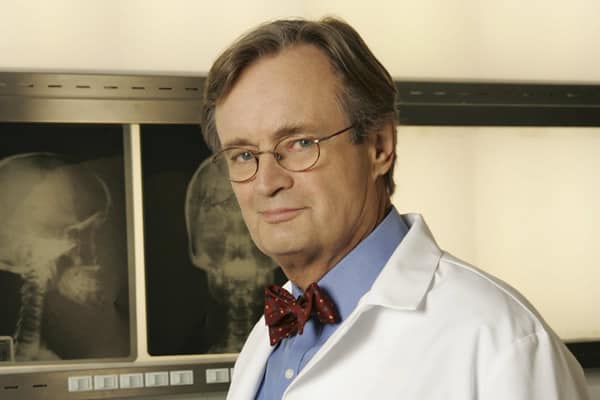 David McCallum spent the better part of the last 15 years playing one of the most beloved characters on TV ever, Dr. Donald "Ducky" Mallard. In the most recent episodes of NCIS, David had been missing. He temporarily left NCIS and had been returning from time to time. It wasn't like NCIS was his only project the past 15 years; he had been busy with other things as well. Whether this is the end for his character on NCIS or not, we know that we're going to miss him terribly. But before he goes, here are our favorite David McCallum moments from NCIS.
NCIS Season 9 Episode 6 – Thirst
In this episode, Ducky started to date Mary (Cheryl Ladd), a sweet older woman that he met online. She's almost too good to be true. She's smart enough to keep up with Ducky, and she can even cook. The only bad part is Mary's actually a psycho killer. She's killed quite a few men, supposedly for Ducky. It was all disturbing for us; we can only imagine what it must've been like for the character to find out that he'd been dating a killer.
NCIS Season 10 Episode 16 — The Detour
Ducky has gone through his own troubles and dangers on the show even though he stays underground for the most part. However in The Detour, both Ducky and Jimmy get kidnapped by murderers and taken to a remote cabin in the woods. Of course, the two smart gentlemen put their heads together and were able to get away using only their brains and a dead body as a weapon.
NCIS Season 2 Episode 13 — The Meat Puzzle
We've seen Ducky deal with some grotesque things throughout his career, but this one has to be close to the top. The Meat Puzzle was about bodies that were stuffed in a barrel, and Ducky was given the task of putting the pieces together on his examination table. Of course, he was absolutely professional about it all, but we all sat at home almost gagging at the sight and the thought of having to piece together bodies that have been cut to pieces.
NCIS Season 4 Episode 14 — Blowback
In this episode, we saw the good doctor go undercover in an extremely dangerous mission to meet with La Grenouille. It was one of the first episodes when we saw Ducky get involved with work outside of his lab at the NCIS headquarters. It was certainly a frightening moment for Ducky, but he got through it with grace and courage as he always does.
NCIS Season 6 Episode 13 — Broken Bird
Even Ducky had a past, and he had dark secrets as well. No one is perfect, and even our favorite character had disturbing memories from his past. In this episode, we find out more about Ducky's past, forcefully at that, as he was attacked in a crime scene. It was nice to get to know Ducky from this vantage point and finally get some more information as to how he became the man he is.
Tell us what's wrong with this post? How could we improve it? :)
Let us improve this post!