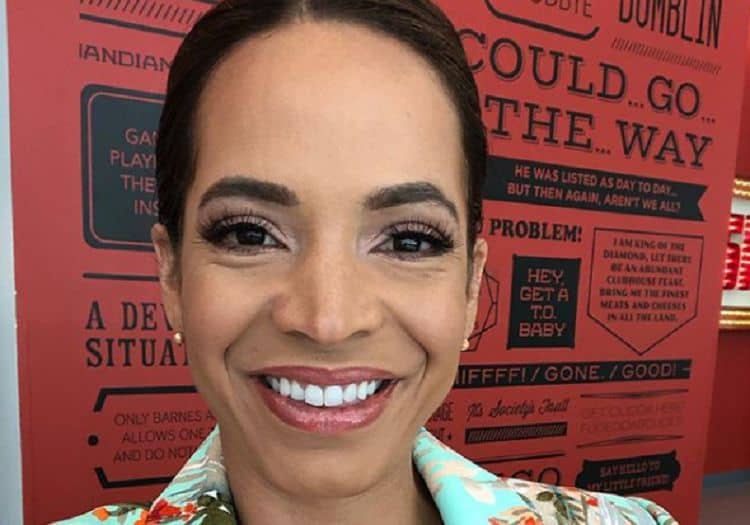 Elle Duncan has worked tirelessly hard to hold the job she has today at ESPN. She started as an intern on a radio show and has not only been a radio host, sports anchor and reporter but has also appeared in movies such as "Ride Along." Her efforts have not gone unrecognized because she has received different awards and listed in various magazines for not just her beauty but her inspiring journey as well. Read on to find about more about this ambitious anchor.
1. Her tribute to Kobe Bryant went viral
The news of Kobe Bryant's death shocked many, and one person who had a story to tell is Ellen. She recalled that when she was eight months pregnant, she had a chance to meet Kobe, who was excited to ask the gender of her baby. Ellen responded that she was expecting a girl and Kobe could not hide his joy saying that girls are the best. He added that even if he had more children, he would not mind five more girls because he was a girl dad. #GirlDad consequently became the trending topic, and Ellen emotionally said that she was comforted that even in his time death, Kobe was still doing what he loved most and that meant being a father to his daughter.
2. She loves singing
For those who have never heard Ellen sing, they must be missing out on the vocal talent she has. Since she was young, Ellen enjoyed music and was in her element whenever she sang. Therefore even as an anchor, she found a way to incorporate her love for performing by having someone record her. The videos ended up on social media raking up a lot of attention.
3. Why she did not pursue singing as a career
As much as Ellen enjoyed performing to the point of participating in musical theater, she had to give up. The talented vocalist even had a recording deal in her high school senior year, so she decided to give it her all. Ellen got backup dancers with whom they rehearsed for an entire month to ensure her first show was memorable. Unfortunately, the performance was memorable but not in the way that Ellen hoped; it was so bad that even her parents had to tell her the truth.
4. She has a DUI on record
Some things you do will forever haunt you, and that is a lesson that Ellen learned the hard way. In 2013, she had a little too many drinks at the Buckhead Bottle Bar, Atlanta before getting behind the wheel of her silver Mercedes. She was stopped by traffic police and subjected to a Breathalyzer test which she failed. Consequently, Ellen was arrested for driving under the influence. She apologized to members of her community, fans and employer saying that she had learned that any amount of alcohol could impair our judgement. According to the Boston Herald, she even publicly announced the dangers of drunken driving.
5. She is a go-getter
Many men would not approve of a woman making the first move, but Ellen does not care about the traditional rules of dating. She was having dinner with a friend when she met Omar in the kitchen of the restaurant, and Ellen hit on him. She must be a smooth talker because the two ended up dating and getting married; two decisions that are among the greatest Ellen has ever made as she posted on Instagram.
6. How marriage has helped her deal with work pressure
For so long, Ellen admits that she allowed her work to define her as a person but all that changed when she got married. As a single woman, Ellen used to dwell on her mistakes, wondering what she would have done to give a better show but now all that she looks forward to is going home to her husband. As she told Rolling out, all that Omar cares about is his wife, not the career woman. Therefore he will ask about her drive to work or her breakfast, which in turn makes Ellen forget about the horrible day she had.
7. Her labor lasted 32 hours
Most experts will tell a first-time mother that the longest she should expect her labor to last is eight hours. However, that is usually but an average and some last for almost 18 hours, but longer than that is rare. Still, Ellen fell in the unique category because for 32 hours, she was in labor awaiting the birth of her daughter whose name she had already chosen: Eva Rose. Luckily, Eva was born in healthy condition weighing six pounds and 10 ounces and measuring 19 inches.
8. She had butterflies during her first show on ESPN
When Ellen went on air for the first time on ESPN, she was surprised that she was nervous since she had been anchoring shows since she was 19. Her experience in the field would have made her comfortable knowing that she was not venturing in unknown waters. Still, despite the years of preparation, Ellen confessed to having butterflies in her stomach. However, she was confident that with time, the nervousness would reduce.
9. She was humbled to work in ESPN
In 2016, Ellen got to work for ESPN, and she said it was a dream come true. For her, she had grown up looking up to people like Robin Roberts, Stuart Scott and Christine Brennan, therefore, walking down the same halls that the legends had walked was a surreal experience for the anchor. Although her inspirers left the network before she could get to ESPN, they left an indelible mark on Ellen who was determined to become a sportscaster too.
10. She is proud of her sister
Ellen went on Twitter to express how proud she was of her sister, Kelly, who is a firefighter. She said that Kelly had been fighting fire for eight long hours and had to sleep for two days later. While Ellen was sorry for the families that were affected by the fire, she took the opportunity to show her gratitude to all the first responders who risk their lives to save the lives of others.
Tell us what's wrong with this post? How could we improve it? :)
Let us improve this post!