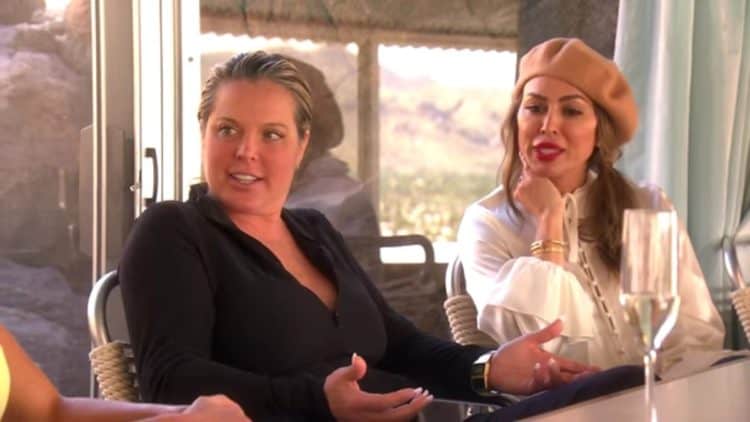 When you hear the name Elizabeth Vargas, you probably think about the news correspondent and author. However, that's not the Elizabeth Vargas we are talking about today. We are talking about one of the newest Real Housewives from the OC. She's a good friend of Kelly Dodd, she's a new member of the show, and she's definitely going to make a scene (if you're good friends with Kelly, you're not above making a scene). We cannot wait to see her in action. Kelly is a favorite of ours, and we can only hope her friend is just as fabulous. Let's get to know her.
1. She's Reportedly Not Fitting In
Well, we get that. This is one series in which the women are not very open to newcomers. We are aware that many of the OGs of the OC are no longer on the show, but it's a longstanding tradition for the OGs to hate on the new girl all through the first season before finally welcoming her the second time around.
2. She's A Boss Babe
We don't even like that term, but it fits. She's the founder and CEO of Edge Music. It's a streaming service, and it's a digital music label. We don't know much about it, but we know that the company is doing well. She has to be very proud of herself.
3. She's Newly Divorced
Elizabeth Vargas is freshly divorced as of the summer of 2020. She and her ex-husband, Bernt Bodal, were married for two decades, and things didn't go well for the past few years. They've been separated since 2017, and things have not been good for them. He's a wealthy man worth more than $200 million, and he is the CEO of American Seafoods.
4. Her Husband Cheated
She's not one to talk too much about her marriage and the end of it, but she did comment quickly on things. Her husband had an affair. That affair led to a pregnancy. That pregnancy led to a baby. That baby is his baby. It's fair to say that his wife was displeased to learn her husband had a brand-new baby she didn't give birth to.
5. She's Celibate
This might not seem like a big deal when you're newly divorced, but she's been seeing a man by the name of Jimmy for more than three years now. He's her boyfriend, but he is not comfortable having intimate relations with a woman who is married. She must really, really like him.
6. She's Vocal
You don't get the be the CEO and founder of a company that's successful if you're not vocal. It's a job that takes on a lot of meaning, a lot of responsibility, and a lot of everything else. She's a vocal woman, and it's been rumored this is why she's having such a difficult time fitting into her new role on the show.
7. She's Considering her Company a Failure
She made a statement during the pandemic that things aren't going well with her company, and she's going to consider her business a failure. She did make it clear that it wasn't – at that point – but that the way the world was looking at that time made her believe it wouldn't be too long before she had to face those facts.
8. She's an Animal Lover
She is a woman who loves animals, and she's even working hard to make sure that they have a place to go. She promotes an animal shelter run entirely by volunteers, and it's a big deal to her. It's called We Care Rescue Ranch. It's a no-kill shelter. She spends a great deal of her time working with the shelter to make sure animals are taken care of.
9. She's Friendly With Two Wives
She might not be getting along well with everyone, but she's friendly with Kelly Dodd and Braunwyn Windham-Burke. She was a longtime friend of Kelly, but we aren't entirely certain how long she's known Braunwyn, who was a new housewife herself not too long ago. This will be her season for making friends with the remaining girls who have been around since she's not the new girl anymore.
10. She's Living in Newport Beach
In a gorgeous house with gorgeous views and her own dog. She seems to have a good life, and she's not too upset with the way things are going for her at the moment. This is a transitional period for her, but she seems to be handling it with ease.
Tell us what's wrong with this post? How could we improve it? :)
Let us improve this post!