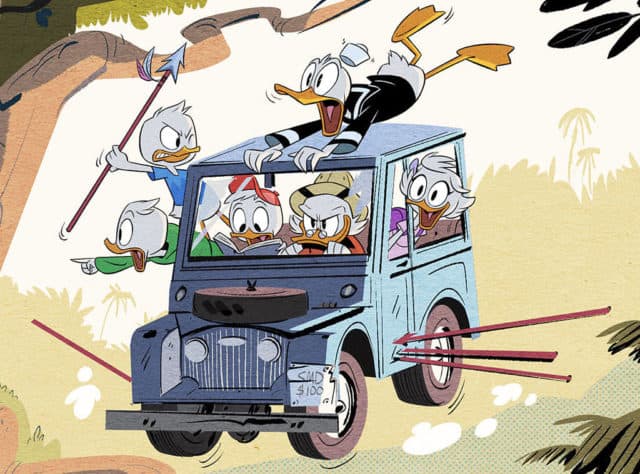 Say it with me: Woo-oo! The most anticipated premiere for an animated show in more than a year has finally arrived. For some, the DuckTales reboot may actually be the most anticipated premiere for an animated show in more than twenty years. The original series centered around Scrooge raising his grandnephews Huey, Dewey, and Louie while Donald went off to join the Navy. The premise is similar, with the same adventures just having Donald in a larger, more present role than before. Not to worry, we still get a nice glimpse of Scrooge's money bank. Plus, there is that intense final word in the closing seconds of the premiere.
Almost all of the core characters from the original are back. The triplets treat it as their own personal mission to create chaos. Webby Vanderquack, the chatterbox granddaughter of Scrooge's housekeeper Mrs. Beakley, is practically jumping out of her webbed feet to get out of the mansion. Put the four together, and adventures are sure to never end. When they get in over their heads, they need the help of veteran explorer Uncle Scrooge to get them out of potential danger. This goes double for Dewey, who is the most honest, the most adventurous, and seems to have the least interest in self-preservation.
Right away the adventurers go up against Scrooge's sworn enemy Flintheart Glomgold. Along the way they learn a lot about why these adventures should be a family affair. Not only is it more fun, Donald concedes that Scrooge may be the only duck around who can teach the kids how to get out of the trouble they're constantly in. To make a long story short, if it ain't broken, don't fix it. The original series was so great, that there is no need to try to make it better than it was. Attempting to alter it from its original format would be unwise. That doesn't mean that it can't be updated a bit for today's audience. Kids ask questions about family members who aren't present, and Disney is paying attention to that. Spoilers ahead for those who don't want them. In the final seconds of DuckTales' series premiere, Dewey discovers a very important family portrait that he thinks he recognizes as his mother. You heard right. The story of Huey, Dewey, and Louie's unseen mother is finally going to be addressed.
Is the new twist on this classic reboot good for the series? DuckTales premieres full-time on Disney XD beginning September 23.
Save