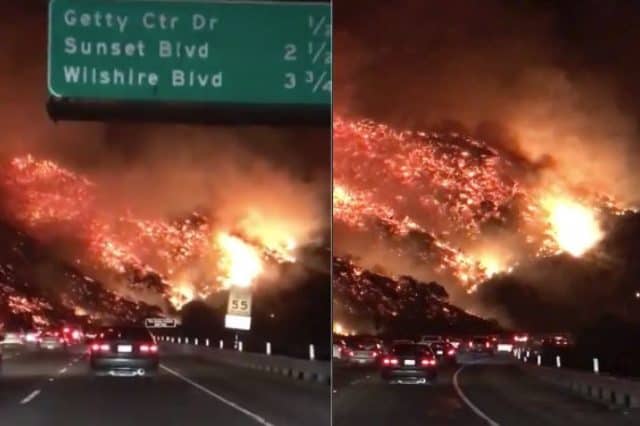 One driver decided to film his morning commute past one of the California wildfires, and the scene is just horrific. It's like driving past the gates of hell in a way as the inferno crackles just beyond the highway, as though promising dire implications if anyone strays too close. Up to date newscasts are telling that parts of the highway have actually had to be closed in order to avoid anyone being injured or caught in the blaze as high winds have been seen to blow debris across the road and create a hazardous situation. At this time the blaze is still going and is still threatening the homes of thousands of Californian residents who are desperately wondering if the blaze will be able to be contained before it does too much damage.
Fires of this magnitude are no joke as the Pacific Northwest can attest to, since they too had to deal with the Eagle Creek blaze that was started by a careless teenager throwing a smoke bomb into a patch dried brush. That's all it took for that fire, but it apparently takes even less for a California wildfire, particularly in the southern reaches, to get going. Northern California doesn't tend to burn as easily as the southern part does thanks to the dense population of trees and undergrowth. Southern California is much drier and likened to a tinderbox just waiting for the right spark. It doesn't even have to be ignited by a human being, most anything will do it seems.
It's nothing to joke about since the devastation that these first create is so far-reaching that thousands of residents have already been forced to evacuate and well over a hundred or more buildings have been destroyed in the blaze. At this time containment of the blaze is a pipe dream that firefighters and other workers are doing their best to make come true as they combat the fires as much as they can.  As the blaze continues to move thanks to the winds however the effort to keep up is taking more of a toll on those fighting the good fight.
At this time the residents of LA and the surrounding areas have great cause to worry since the blaze is moving steadily forward and shows no immediate signs of stopping. Those attempting to stop the blaze are doing all they can in order to save whatever is possible but losses are going to be incurred regardless and many people will likely be displaced by this. Before Los Angeles was even formed the area was still known to be a fire hazard, but the natural occurrence of such a firestorm was usually only once in a great while. This allowed the land to heal, the plants to grow back, and life to normalize once again.
Now however the likelihood of a fire on this scale is an annual expectation. Those that are in charge of keeping the city safe and free of effects such as this do their best, but even they know that the surrounding area is far too dry most times to keep anything from happening. All people can do right now is hope and pray that the fires are stilled eventually.
Not the typical morning commute… pic.twitter.com/kJIOQeqsIK

— A. Mutzabaugh CMT (@WLV_investor) December 6, 2017