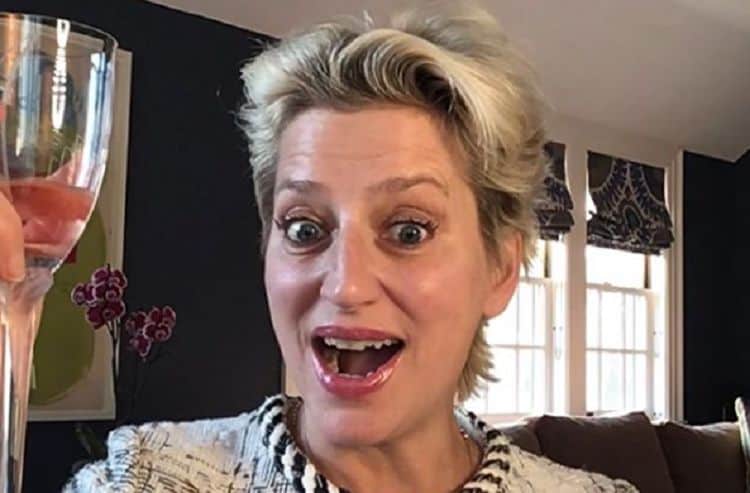 Dorinda Medley has become a joy to watch on "Real Housewives of New York," although Ramona Singer had to entice her to be on the show. After her husband's death, Dorinda felt lost and wondered what else life had to offer since she was used to being a wife. She even contemplated becoming a receptionist, but we must admit that we love her more as a reality star. Besides arguing with her fellow housewives, here is more about Dorinda that you cannot know from watching the series.
1. She is still not over her husband's death
Dorinda confessed that after her husband, Richard, died and her daughter went off to college, she felt her life was empty. She also earlier in April 2020 said that she struggles with anxiety to this day due to losing her husband. It is, therefore, no wonder that she sought the help of a psychic, Matt, to help her reconnect with her late husband. Matt, told the reality star that her husband wanted her to know that she does not have to keep searching for him all the time.
2. She had not planned on staying on RHONY
When Dorinda moved to the Upper East Side of Manhattan, she only wanted to focus on being a mom to little Hannah. It is in Manhattan that she met Ramona Singer and Luann de Lesseps, and before long, the Bravo team was interested in the moms, asking if they would join the series. To Dorinda, the idea sounded ridiculous, reasoning all the cameramen will be doing is to follow moms around. She later gave in and wanted to do it for a year and, most probably, only as a friend. However, the day she went to film, Dorinda loved it and has been on the show since then.
3. Her daughter is in one of Lady Gaga's videos
It is always a dream come true to brush shoulders with someone you look up to, and Hannah was lucky to have that opportunity. Dorinda disclosed that they love Lady Gaga and all things about her. So even when she got a chance to buy a jacket, the singer was supposed to wear in one of her performances, the reality star could not pass on it. Lady Gaga was among the prayer mentors at Sacred Heart, and Hannah got to be in a video she filmed at the school.
4. What she loves about drag queens
If you have ever watched "RuPaul's Drag Race," then you have to admit that the cast can pull off looks that even some women cannot. The ability to do so is what impresses Dorinda about drag queens saying that having one as your best friend is a good idea to get makeup and dressing tips. She also admires their courage and zest for life.
5. She lost weight to feel good about herself
In July 2018, Dorinda said that she had decided to give her life a total overhaul by quitting alcohol and making more health-conscious decisions. She cited Luann's wake-up call as her inspiration; thus, she wanted to lose weight to feel good about herself. She, therefore, got herself a trainer at Equinox Gym who worked with her four times per week doing cardio while on the other days, she did yoga. As a result, she lost a few pounds and trimmed 7 inches from her waistline. However, Dorinda added that she is not the kind to vow never to touch alcohol, but she had to give it up during her transformation phase.
6. Why she had surgery
Although losing weight did wonders for her body, age is catching up with the reality star, and she realized that sometimes no amount of gym could leave you feeling as good as you want about yourself. Therefore she opted for Emsculpt whose results have been praised as being equivalent to doing 20,000 squats, lunges, or crunches. She also underwent rounds of a treatment combination to help brighten, tighten, and lift her lower face and neck, according to HollywoodLife.
7. She dreamed of living in Blue Stone Manor
Dorinda's father drove her past the house, and she kept telling her parents she would buy it once she was rich. She revealed that the house had a family history since her great grandfather and grandfather had worked on it; therefore, living in it would mean so much to Dorinda. She even said she would not get married so that she could live in it with her parents. Luckily for her, her dream came true when her late husband gifted it to her a month before their wedding.
8. Her daughter advised her to let go of Richard's stuff
They say sometimes holding on hurts us more than letting go, and it took a flood to make Dorinda realize it. When floods damaged her Blue Stone Manor with at least seven feet of water, making her house uninhabitable, the reality star had to clean everything to prevent mold. She came across Richard's things that she needed to clean out. Hannah consequently advised her mum when they reopened the mansion, Dorinda should call it her house, not hers and Richard's.
9. She does not believe anyone should compare divorce to being widowed
According to The Daily Dish, Dorinda thinks that anyone who thinks losing a husband through a divorce is the same as him dying is delusional. She lost Richard and buried him, so when Sonja said that she also lost hers through a divorce, Dorinda could not have any of that. She reasons that one is a choice while the other is not, and drawing a comparison between the two means that you are a detached human being.
10. Princess Diana was her first client at DCL Cashmere
Back in London, Dorinda became friends with her neighbor, Sophie Rhys-Jones, who was also dating Prince Edwards. One day Sophie asked if she could bring a friend who loved cashmere turtlenecks over to see Dorinda's fashion line. Since the reality star did not mind, she was surprised to see Princess Diana walking in; she fell in love with Dorinda's designs and became a frequent customer.