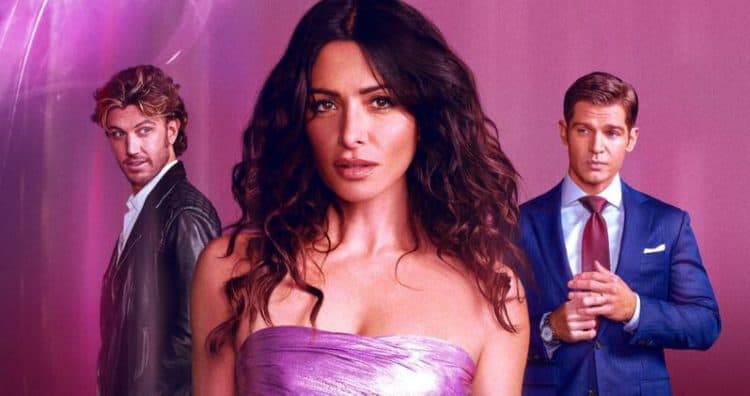 If you've turned on Sex/Life on Netflix already then you've met Billie, a woman that's pining for her wild-child past while she's apparently stuck in her husband and two children present. Isn't that just the way of it though? Somehow people get roped into the married life or choose it and then find themselves wishing they could go back and experience that wild life again? Apparently the author of this story, B.B. Eaton, pulled it from her own diary and used it as a Netflix show. Thankfully, Eaton is happily married, but this stage of her life was something she admits to penning in her diary, which is enough to get emotions running all over the place since one can't help but feel for the husband in this situation even as many will feel for Billie since the desire to do something more, to be something more, and to simply let loose and do what she wants with the bad boys that will treat her the way she wants is something that some women would definitely pine for. There's only one problem, once you're in the married life, especially with kids, that life is no longer yours. And if it is, well, then you're soon going to have bigger problems than unfulfilled fantasies.
From the first episode, there's no holding back as sex is the order of the day. Billie fantasizes about it, tries to initiate it with her husband, and then on a night out with a friend finds herself going home with another man, and yes, living out her fantasy. The only problem is, she writes about it in her journal, which her husband finds and reads. Believe it or not, he doesn't flip out on her, oh no. Sex appears to be the answer and the solution, but when she notices that she's bruised after their sexual encounter, which feels more akin to the husband marking his territory, one can't help but think that there's really no one to feel sorry for here. Some might argue that feeling sorry for Billie is easy since her needs aren't being met, she's a bored housewife and mother, and she wants more excitement in her life. The question for those folks is this: What world do you live on?
It's one thing to feel sorry for Billie when she feels that her marriage doesn't have enough of a spark for her to work with, but that's what marriage counseling and therapy are for. Or perhaps stimulating her husband in a different way would work. Yes, it's fiction based on truth, and it's also a way to make Billie out to be the character that needs the most sympathy when she makes a 'mistake' and then leaves incriminating evidence about it out where anyone could see it, that anyone being the man she married and promised to be faithful to. In other words, feeling sorry for her is admitting that she made a mistake, but that she had no choice in the matter somehow. It's glorifying a woman that went and did something she knew was wrong because she couldn't find a way to make things work at home. Oh don't worry, the husband's not innocent in this either, as he could just as easily have thought about what he needed to do in order to satisfy his wife. And the bad boy? Well, saying all men are dogs just looking to get laid isn't fair in the least bit, but there are plenty of hounds out there that are willing to do pretty much anything to get the itch scratched.
Perhaps it's bound to strike those that have been cheated on harder than others, but the fact is that the true to life nature of this show makes it nearly impossible to feel sorry for Billie given that talking to your spouse is a lot easier than having to apologize or endure what almost looks like spousal rape when her husband finds out. It does alter her husband's desire to be more spontaneous, but it's a high-risk maneuver that isn't always bound to pay off. But whatever redemption arc there is for both of them is getting constantly derailed in the first season it would appear, as both of them need a lot of help.
As for her fling from 8 years prior? The guy can't take a hint or doesn't want to, and it's bound to cause a confrontation as Billie continues to think of her life-changing sex with her former boyfriend versus the changes that her husband is going through in trying to please her. All in all, this show is something that a lot of people are bound to like for the drama, but also one that might not be for those that aren't into the idea of forgiveness at the drop of a hat.