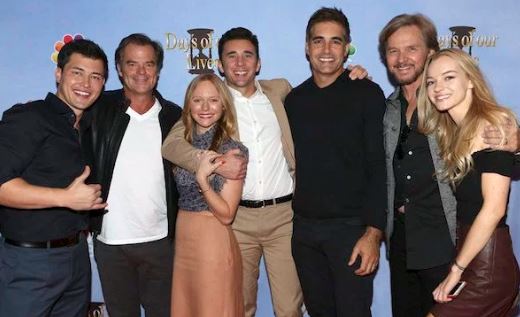 Days of Our Lives fans love a good villain. Nothing is better than a bad guy who makes lives complicated and keeps everyone unhappy and working to take him down. We love a bad guy that comes across as likeable, too, and this show is filled with them. The years have brought with them many men and women who are completely crazy, and they make everyone unhappy. They're so good at being bad that we cannot help but love and hate them at the same time. So, we've gone back over the years and we have decided to choose a few of our favorite evil villains in the female category. We'll bring you our favorite male villains tomorrow. Stay tuned for that, but pay attention as we share our favorite female villains of all time.
Kristen DiMera
Eileen Davidson can do anything and everything, and we love her endlessly for that. When she showed up on the set of this show fresh off her other shoes, she brought with her the most serious drama. She brought the heat like it was her job, and we think she rocked every second of it. She was the woman who made sure she lied, cheated, stole, hurt, killed, kidnapped, and tortured everyone she came across, and she did it with great shoes and a total smile on her face. Most of the time, she did it with class. If you can call her classy…and you probably cannot.
She was a woman who was not actually Stefano's biological child, but she should have been. She's awful. And that's amazing. She drugged and took advantage of Eric. She stole Teresa's embryo. She tried to raise Brady's baby on her own without him knowing that it was not her baby. She tried to buy a baby and pretend to be the baby's mother while no one knew what was happening. She kidnapped Marlena and tried to hold her hostage before trying to kill her. If she could do it, she did it. And she was happy to do it. She's a bad girl, and she's just crazy enough that we love and adore her.
Sami Brady
She's one of our favorite all time female villains because she's lost her mind. She's someone who makes horrible choices, and then she tries to figure out how to make them good choices. She's been so bad over the years that she has pretty much zero friends, but she can always find a man who is willing to sleep with her and ruin his own life as a result. She loves that about herself, and she likes to show up and make a mess of everyone's life every few months to keep them in line. She's someone who has done it all, and she's managed to become someone we all like and can't wait to see as she works her way back into the family.
Gabi Hernandez
We are going to go ahead and tell you that she might not be technically considered a villain, but we love to hate her. She's been wronged more than once in the past few years, and she's lost her man consistently. You know she was the woman that Chad loved all his young life, but he then met and fell for Abby. They had a baby and got married. Then when he thought she was dead, he began to fall for Gabi again. When his very much alive wife showed back up, Gabi ultimately lost him to her once again. And then she was sad. When Abby's personalities took over her real personality and tried to frame Gabi for murder, she decided to go after what she wants.
She might not have been a really bad villain in the past, but she's stepped so far over the line with what she's been doing in 2018 that there is no way she can come back from that. She replaced paternity test results and is lying to Chad. He is having a baby with his wife that he thinks belongs to another man, and he will never know this child as his own. If/when he finds out this baby is really his, he will be crushed to know that he lost that time.