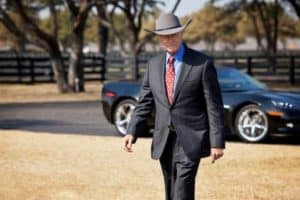 Tonight marks the end of the first season for TNT's Dallas with a finale that will most certainly leave you clutching your pearls (or Stetsons) by the end of the episode.
The episode will pick up where last week's shocking cliffhanger ended and we immediately get an answer to whether Tommy or Rebecca met their maker, but the aftermath of said shooting… That's all I'm going to say about that.
The rest of the episode is a rollercoaster ride of revelations and rebirths as the Ewings try to manage to keep their family intact and Southfork out of the hands of Vicente and his goons. The condition of Bobby's illness will make a huge impact on not only the future of Southfork or the relationship between John Ross and Christopher, but the relationship between himself and J.R. as well. Plus, Sue Ellen and Ann both get their time to shine in among the drama; and anyone who has had an issue accepting Ann as a part of the Ewing clan will just have to let that resentment take a hike after tonight. Ann is clearly Miss Ellie's successor and if you think I'm playing, then you will shut your trap once she brings her A-game tonight in a scene that harkens back to classic Dallas.
Finally, two of the questions plaguing viewers this season will be answered by the end of the episode. Both of those questions also lay the groundwork for what we can expect from season two. And if the final two scenes don't send chills down your bones, then you might want to check your pulse to see if you're even living or have a soul.
There are a lot of "OMG!" moments sprinkled within the finale of Dallas and a few 'wink, winks' to the pilot and events that happened before we returned to Southfork Ranch with this mixed generation of Ewings. Every scheme, backstab, love triangle and grudge are resolved in a very crisp and tight manner, as if Cynthia Cidre made sure to end the Dallas legacy on a high note in case of cancellation. Thank God, she (or the fans) doesn't have to worry about that situation, because Dallas will return next year with 15 more episodes of good Texan soap fun. One thing is for sure, it will be one hell of a wait.