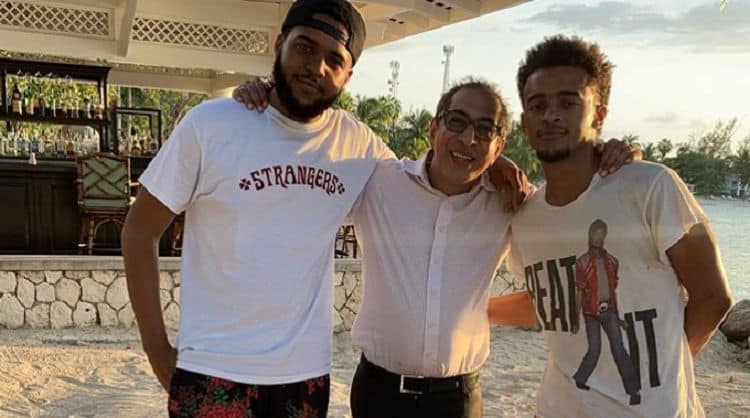 CJ Wallace is an American actor and entrepreneur. He is the son of Faith Evans and the rapper, Christopher Wallace, also known as 'Notorious B.I.G'. Here are ten things about him that you may not know.
1. He Is Named After His Father
His full name is Christopher George Latore Wallace Jr. His first name and middle names are exactly the same as those of his father. He also uses the name Christopher Jordan, which is shortened to CJ. He has said that his family have always told him that he has the job of carrying on his father's legacy, and this started with the name that he was given.
2. He Was Only A Few Months Old When His Father Died
When his father was killed in a drive-by shooting he was only five months old. This means that he has no memories of his father. His mother remarried and he was raised by his step-dad, but the family has made sure that his real father will never be forgotten. He considers himself to be lucky that he has had two fathers that love him in his life. His father's murder has never been solved.
3. He Wasn't All That Curious About His Real Father When Growing Up
He told Forbes that although he was told that he would have to carry on his father's legacy when he was grown up, he didn't really know a lot of information about him. His family would tell him that his dad was a good man, but a lot of other people would just talk about him being involved with drugs and gangs. He became more interested in the life of his father when he got the role of playing him in a movie about his life. It helped him realize that there is much more to his father than just the public perception of him.
4. He Hired A Coach When He First Became Interested In Acting
When he first became interested in pursuing a career in acting, he decided to hire an acting coach. Although a great deal of his family and friends were involved in the music industry, none of them really had any experience in acting. He wanted to make a real success of his acting career, and so he decided that he would take all the help that he could. His acting coach was able to give him a lot of tips about all aspects of the acting industry, and this gave him a real boost in the early days of his career.
5. One Of His First Acting Jobs Was Playing A Young Version Of His Father
When he was first approached about playing his father in the film Notorious, he consulted his acting coach for advice. He felt that the role would put him under a lot of pressure, both personally and professionally. He obviously wanted to do his father justice, and portray him in a way that would make his family proud. He did not immediately say yes when he was asked to take on the role, but after taking some time to think about it, he decided that it was the right thing to do.
6. His Only TV Role Was In Season Three Of Scream
The only TV role that he has had so far was in the TV reboot of the Scream movie franchise. He played Amir Ayoub who was a main character in the third season of the show. Unfortunately, the character that he played ended up being a victim of Ghostface and so he did not make it through the whole season. However, the experience still gave him a really good insight into the differences that exist between movies and TV work.
7. He Is Part Of A Cannabis Company Called ThinkBIG
He recently founded and launched his own business named ThinkBIG in honor of his father. The company distributes cannabis and smoking accessories, and also has a clothing line. When CJ was growing up, his parents and their friends used cannabis as a way to boost their creativity and he had seen first hand how it improved the music that they made. His family also used it to medicate his younger brother who suffers from autism. One of the main reasons that he wanted to start this business was because he wanted to get away from all the negative things that are often said about cannabis, because he has seen firsthand the benefits it has had for his family.
8. His Business Supports The California Prison Arts Project
According to Rolling Stone, he believes it is important that the cannabis industry gives something back. The California Prison Arts Project receives 10% of product sales from ThinkBIG. Although some states have now legalized cannabis, there are still many people in jail for possession of cannabis and the majority of these are people of color. One of his aims for ThinkBIG was to raise awareness of and campaign against this type of social injustice.
9. He Has A Close Relationship With His Siblings
He has four half-siblings and he maintains a close relationship with all of them. When he was young he still kept in regular contact with his half sister T'yanna, who lived with her mother after their father died. His own mother re-married and went on to have three other children with his step-father, Todd Russaw. He has always had a good relationship with his siblings, and this looks like it is something that will carry on in the future.
10. He Was In A Group With His Brother
Prefix Mag reported that he formed a group with his half brother Jahad Russaw in and the rapped together for several years. The two of them had plans to release an album in 2017 and they had recorded some tracks for this. However, it seems as the album never actually got released, although no official explanation was ever given as to why this was the case. It may be something that is on the back burner for now as he is concentrating on his business and his acting.
Tell us what's wrong with this post? How could we improve it? :)
Let us improve this post!