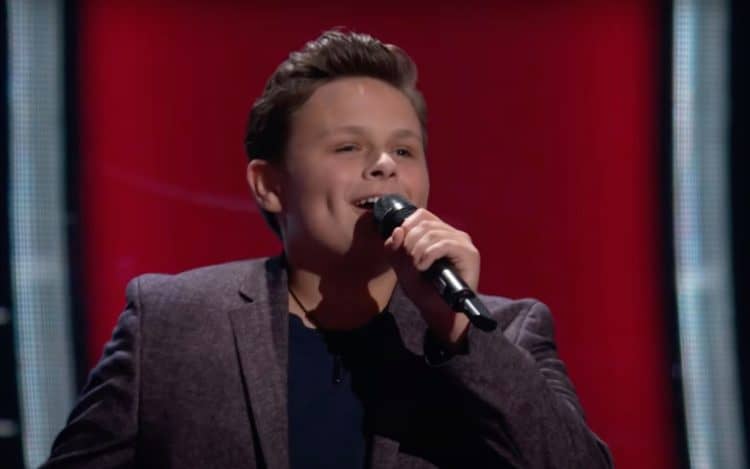 One of the cool things about The Voice is that the judges don't know who is performing until they spin their chairs around or the performance ends. With that in mind, you can only imagine how surprised Gwen Stefani and John Legend were when they initially spun around and saw 14-year-old (now 15) Carter Rubin standing in front of them. The talented teen left judges impressed with his rendition of "Before You Go" by Lewis Capaldi. Carter ultimately decided to join Gwen's team and she vowed to be a mother figure to him throughout the competition. Although he's going head to heat with people who are two and three times his age, Carter seems more than ready for the challenge. Continue reading for 10 things you didn't know about The Voice contestant Carter Rubin.
1. His Voice Wasn't The Only Thing Judges Complimented
Obviously Carter's voice is what got John and Gwen to turn around, but once they (and the rest of the judges) saw him, his voice wasn't the only thing they were noticed. Not only were they surprised by Carter's young age, but they also couldn't get enough of his adorable smile.
2. Kelly Clarkson Initially Thought Carter Was A Woman
Since Carter hasn't gone through puberty yet, his voice still has a high pitched quality that some may mistake for the voice of a woman. When Carter first began his performance, Kelly Clarkson can be heard saying "she's gonna be big". Needless to say, she was especially surprised when she turned around and saw a teenage boy.
3. He's From Long Island
New Yorkers will be happy to know that Carter is one of their very own, and he plans to represent his home state to the best of his ability. Carter was born and raised in Long Island, New York and he is very proud of his roots. He and his family currently live in Long Island.
4. He Didn't Join Instagram Until He Auditioned For The Voice
There are lots of 14-year-olds who probably spend way too much on social media, but Carter Rubin doesn't appear to be one of them. In fact, it looks like he wasn't active on Instagram until auditioning for The Voice and all of his posts are related to the show. At the moment he has just over 2,600 followers but that number is likely to increase as the season continues.
5. He Has A Very Close Relationship With His Brother
Carter has one sibling, and older brother named Jack and the two love to play music together. Jack was diagnosed with autism when he was just 2-years-old. As a result, Carter's family decided to start an autism foundation which provides free amusement park trips to families.
6. He Is Thankful For All The Support He's Gotten
The amount of love and support Carter has gotten since his blind audition on The Voice isn't something he's taking for granted. He is very thankful for all of the people who tuned in to watch him perform and who continue to root for him as the competition continues.
7. John Was Disappointed When Carter Chose Gwen's Team
After Carter chose to be on Gwen's team, John Legend admits that he was a little disappointed. John said, "My heart is broken. I thought I was going to get him. We had good vibes, we had good chemistry, I was convincing him and he went to Gwen. He would have been the youngest on my team of all time. She blocked me and she beat me. I am going to have to regroup."
8. His Grandfather Was A Singer
Carter's parents may not be musical people, but musical talent still runs in the family. Carter's grandfather was a professional musician who played guitar and sang backup vocals for the group Jay and the Americans. Carter cites his grandfather as his inspiration to get get started with music.
9. He Already Has Some Performances Under His Belt
Unlike some of the other contestants on the show, Carter has never been signed to a record label and hasn't released any music of his own. That doesn't mean he's a total rookie though. Carter has had several performances in the Long Island area and has also performed at events for his family's foundation.
10. His Family Has Been Supportive Of His Journey
Some parents find it hard to support their children when it comes to creative pursuits. After all, no one wants their child to grow up to be a starving artist. Carter's parents, however, are very confident in their son's abilities and have always been his biggest supporters.