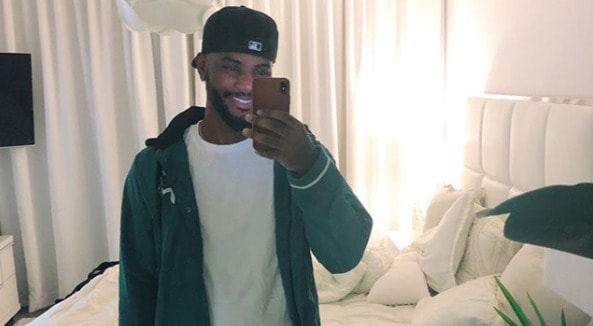 Bryson Tiller is an American rapper, singer and songwriter who has done well in his career that began in 2011 and is still progressing. He's earned a ton of recognition throughout his career and he has a huge following of fans who are always hungry for more information about him. To satisfy the longing for a better look at who Tiller really is here are 10 things that you probably didn't know about Bryson.
1. Bryson Tiller is in his prime
The young and successful rapper is at the perfect age to be in the prime of his career. He was born on January 2, 1993, and has a birthday coming up. As of 2019, he turned 26 years old. He was born in Louisville, Kentucky and his parents named him Bryson Djuan Tiller. He uses his birth name instead of taking on a stage name.
2. He's been in the business since 2011
Bryson got his start in the music industry in 2011 when he was just 18 years old. He started rapping when he was just 15, three years prior and he discovered that he had a talent for singing, rapping and for songwriting. The ability to write his own material has given him an edge in the business because he is known for his own original work and this gives him an even greater creative license. Tiller doesn't need to depend on others to write his content. His songs come from the heart and from his own experiences and this is a part of his wide appeal to his listening audiences.
3. He was an immediate success
In 2011, Tiller released his mixtape "Killer Instinct Vol. 1." This earned him a great deal of recognition and when he released his debut single that was titled "Don't," his popularity really took off. The single made it to the 13th position on the Billboard Hot 100 list which skyrocketed him to a position of celebrity artist status in the industry. His talent was apparent and he emerged as a bright and shining star on the music scene.
4. He signed with RCA
The talent that Bryson possesses was evident and it drew the attention of RCA Records. They signed him to their label and this led to the release of his first studio album that was titled "Trapsoul." The album was released in October of 2015, just four years after he made his entrance into the professional world of music. The album made it all the way to the Billboard 200's 8th place, which is no small feat in itself, and the second single on the album titled "Exchange" peaked at the 26th position on the Billboard Hot 100 chart. This was nothing short of phenomenal.
5. He was honored in his hometown
Bryson Tiller became a celebrity figure in his home town of Lousville, Kentucky. He was so popular with the locals that the city held a special ceremony in his honor. In March of 2016, the Mayor of the town, Greg Fischer, gave him the key to the city. This was a high point in Tiller's life because it showed how much he was appreciated for his efforts and it was a huge vote of support from the city that he was born and raised in. The people of Louisville rally around their own in both good times as well as bad.
6. He's had his share of heartaches
Even though Bryson Tiller's career is riding high, things have not always been happy or easy in his life. He lost his mother when he was only four years old. Fortunately, his grandmother was there for him. She raised Bryson and his younger brother. Bryson attended Iroquois High School but did not complete his studies.
7. Bryson took a hiatus before moving forward
Life happens to all of us and Bryson had a lot going on in his personal life in 2013. We see a different side to the young rapper. After achieving success in 2011, just two years later, in 2013, he dropped out of school. He had a child and this would change his life forever. Being a father means added responsibilities. He even took a hiatus from his music and he took on two jobs so he could support his daughter Harley. He worked at UPS and Papa John's Pizza to provide for her. We see a great deal of integrity in him for putting his dreams and budding career in music on hold to make sure that his little girl had everything she needed.
8. He is currently in a relationship
Fans consistently want to know about the personal parts of their favorite celebrities' lives. One of the most frequently asked questions is who they're dating. Bryson Tiller had a daughter with former girlfriend Mareka Bivens but the two are no longer together. Most currently he has been dating Kendra Bailey. The two have been seeing one another since 2018.
9. One of his songs went multi-platinum
Bryson got a big break early in his career when he was approved by Timbaland and Drake. This gave him a significant leg up in the business. His main focus was in R&B but Bryson called himself a "trap soul" artist. He uploaded his music to his SoundCloud account. He was signed with RCA, but there was some speculation that he could become affiliated with Drake's OVO Sound label. His song "Don't" is the one single that just happened to be his breakthrough song that would eventually go multi-platinum.
10. He has an Instagram account
Tiller makes sure that he keeps his fans updated through social media. If you want to see some amazing photos of him and the people who are important to him. He's made 37 posts on the site so far and he has a huge following of fans and admirers who have already discovered the site. He has a total of 5.2 million followers.
Tell us what's wrong with this post? How could we improve it? :)
Let us improve this post!