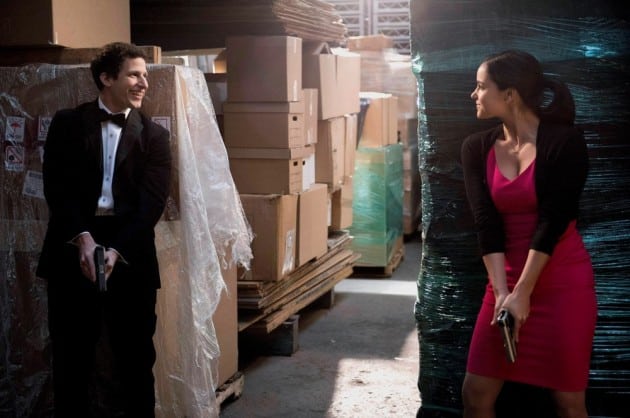 Brooklyn Nine-Nine is great at many things, which is what makes it one of the best comedies on TV today. The series is a terrific workplace sitcom that has established genuine and compelling friendships between its central characters, a fantastic platform for all of its performers to showcase their specific but marvelous comedic chops, and, essentially, a joke-delivery system, providing viewers with more laughs per minute than almost any other show on television. However, what Brooklyn Nine-Nine has proven to be best at during much of its first season and particularly in Season 2 is telling a good romantic story, as the will-they-won't-they situation between Jake and Amy has been handled perfectly.
Anyone that has ever watched The Office or Parks and Rec before shouldn't be surprised at how well Brooklyn Nine-Nine is handling Jake and Amy's romance. Brooklyn's co-creators Michael Schur and Dan Goor are alumni of the two series (Schur wrote for The Office and co-created Parks and Rec, while Goor was one of the main writers on Parks for years), which gave us many memorable relationships, including Jim and Pam, Leslie and Ben, and April and Andy. And when looking at these couples (or potential couple, in the case of Jake and Amy), they all have one thing in common: friendship.
Unlike many romances in pop culture today, which try to depend too much on solely flirtation or sexual attraction, Jake and Amy's connection is born out of friendship and respect. Sure, the two of them can bicker and crack jokes about one another (and who would ever want Jake to stop making "name of your sex tape" jokes to Amy?), but as we've seen countless time throughout Brooklyn Nine-Nine's two seasons, the bond between them is real and strong. There's an admiration and appreciation that each of them has for the other that has developed over their years of working together; the two of them care for each other as co-workers and friends, not as some type of lustful conquest.
That care and compassion between Jake and Amy has been on display all season long, but it was never more apparent than in this past's Sunday's episode, "Det. Dave Majors." When Jake believes that Amy may be interested in dating Detective Majors (guest star Garret Dillahunt), he tells Rosa that it's not his place to interfere. All he wants is for Amy to be happy, and it's not for him to tell her what to do or who to date. For Jake, as long as Amy does her infamous double tuck for some guy that she's in love with, that's enough for him. Unlike in other aspects of his life, where Jake puts his own wants and needs before others, his feelings for Amy are completely selfless; there's a sense of maturity present here that is lacking in many of Jake's other relationships, and it's helping to make him into a stronger and better person.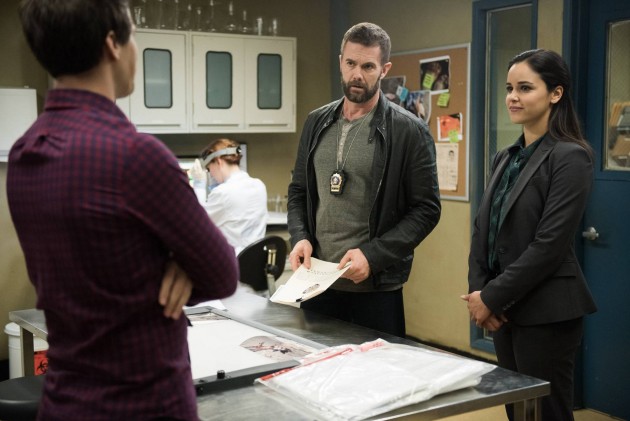 And just as Amy helps Jake grow and evolve, he does the same for her. We've seen Amy be more flexible and relaxed this season of Brooklyn Nine-Nine, embracing her the more fun and easygoing side, while still keeping her competitive edge. Part of this is due to the time she has been spending with Gina throughout Season 2, but just as much of it is because of the cases she works with Jake. Amy never smiles, laughs, or jokes around more than when she is around Jake, whether they're taking down criminals or sitting at the bar together; there's such an ease and comfort with the way that Amy interacts with him that she doesn't have with any other character on the show.
However, just because they have a deep connection doesn't mean that Jake and Amy aren't also a fun pair together. Thanks in large part to the spectacular onscreen chemistry between Andy Samberg and Melissa Fumero (which I've talked about before), Jake and Amy have provided many of Brooklyn Nine-Nine's funniest and just plain fun moments when together this season. Whether you look at the disastrous bed and breakfast trip that they ended up on with Sophia and Teddy, the case they worked together in this season's wedding episode, or even in the many scenes they shared in this past Sunday's half hour, these two characters are part of the main reason why Brooklyn Nine-Nine is such an enjoyable series.
I know that some of the show's fans are worried about Jake and Amy getting together, citing that Brooklyn Nine-Nine could become more and more focused on the two of them and thus take away from one of the very best things about the series: its incredible ensemble cast. However, if you examine what the writers have done in Season 2, they've been able to provide Jake and Amy with a solid romantic arc without isolating either of them from the show's other characters. Simply look at the many stories this season has had involving Jake and Boyle, or, as I alluded to before, the numerous fantastic moments we've gotten with Amy and Gina. Shcur and Goor have let the connection between Jake and Amy develop organically and not tried to force anything involving them, and that's what has made their relationship and how it has unfolded throughout the season so very satisfying.
From everything we've seen so far in Season 2 and hints that the producers have given regarding the finale on May 17, it certainly seems that Brooklyn Nine-Nine is heading towards something big for Jake and Amy, whether it's a kiss, a date, or something more. And whatever ends up happening between the two of them, that moment will be earned thanks to the excellent work that the show's writer and actors have done with these characters, developing their already compelling friendship into one of the best TV romances I've seen in a long time.
[Photos via FOX]
Tell us what's wrong with this post? How could we improve it? :)
Let us improve this post!