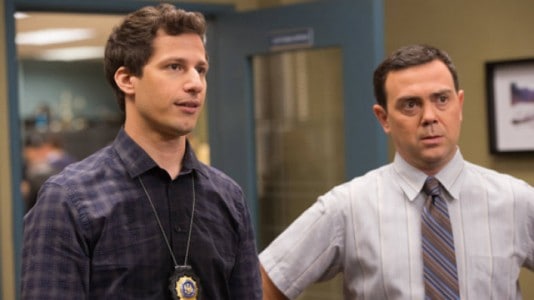 When you think of TV bromances, your mind immediately goes to classic friendships like Joey and Chandler, Turk and JD, Shawn and Gus, Troy and Abed, and…Jake and Charles. This duo has earned a spot on the list over the past three seasons of Brooklyn Nine-Nine. They've been there for each other through cases, injuries, and of course dating disasters. I've complied a list of five episodes that most accurately define the bromance between Jake and Boyle.
Full Boyle
[youtube https://www.youtube.com/watch?v=PmFpd85XX2E]
In this memorable season one episode, Jake steps in and acts as a buffer for Boyle, who is prone to go 'full Boyle' when he starts relationships, coming on too strong and scaring the girl away. This was one of the first episodes where their friendship was truly established, making it a special one.
Boyle's Hunch
[youtube https://www.youtube.com/watch?v=eeoMagiCqlY]
This episode featured the return of 'full Boyle' but also brought with it some great moments for this bromance. Between pretending to be art critics to singing a delightful rendition of "My Humps," the duo came out in full force in this episode.
Stakeout
[youtube https://www.youtube.com/watch?v=b2H2CJS2IBs]
When Boyle and Jake found themselves on a stakeout together, it proved to be one of the best episodes for their bromance. While at first their habits annoyed each other, they were able to pull together and solve the case in the end. And their theme song "Stake Me Out Tonight" is a thing of beauty.
AC/DC
[youtube https://www.youtube.com/watch?v=_-CkWZCcMK0]
Jake and Boyle plan to take a trip in this episode and some of the best moments between them come from them attempting to give the trip an official nickname. Working off of AC/DC they come up with Atlantic City Dude's Club (immediately vetoed by Jake), Atlantic City Detectives Club, and Atlantic City Destruction Crew. They play off each other so well in this episode as it truly defines their bromance.
Yippee Kayak
[youtube https://www.youtube.com/watch?v=yH9ZeVKNiRw]
After forgetting to get Boyle a gift for Christmas, the duo finds themselves in a Die Hard spoof with Boyle unknowingly tagging along to help Jake find the gift. It led to some amazing moments between the two, from sneaking quietly around to Charles saving the day at the end, attempting to quote Jake's favorite movie by shouting "Yippee Kayak Other Buckets!"
Tell us what's wrong with this post? How could we improve it? :)
Let us improve this post!