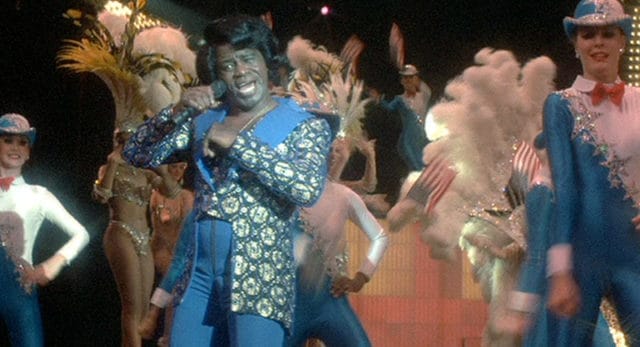 The Godfather of Soul has been gone for a little while now, but his legacy has been living on ever since, and likely will for a while to come. He's been featured in so many different movies, TV specials, TV shows, video games, and various other appearances that if anyone doesn't know about James Brown at this point it means they were born not that long ago or they've been living under a rock. His music has been all around the world at this point. It doesn't mean he's been universally liked, but his influence has been felt far and wide as his words have spread throughout the world.
It's not every day the world experiences a man like James Brown. The lot of us were lucky he was here while was.
5. Robots – Get Up Offa That Thing
Robots is one of the many adaptations his music has been used for and it's one of the funnier ones really as an entire town filled with robots begins to get up and dance to the classic sound of James Brown. The fusion of jazz and funk to create what Fender calls "junk" is what a lot of us grew up listening to as children, no matter who we were or where we lived. James Brown's music touched nearly everyone that could listen.
4. Undercover Brother – Say It Loud I'm Black and I'm Proud
So the actual song isn't used here, just the title, but it makes the point. Chris Kattan plays a severely repressed villain that occasionally spouts off one-liners that steal directly from rap or R&B songs and then he slaps himself as punishment. Yeah, he's a bit messed up, but the effect is kind of funny. Eddie Griffin springing out of his James Brown suit is kind of creepy though.
3. Face/Off – Papa's Got A Brand New Bag
Would anyone bother calling this cultural appropriation? Two white actors listening to James Brown music while one of them, the male as luck would have it, mimicking the words as he exits the room, seem like they would get called out for this behavior now. What's that, it's okay for this scene? Sigh. People need to start making up their minds what they really want to be offensive about. This was a simple scene that was kind of creepy in a pervy way but was still somewhat necessary to get the feel of the situation.
2. The Blues Brothers – The Old Landmark
Do you see the light?! I don't care what anyone says this scene and this movie are simply awesome. There's a virtual host of blues, jazz, and R&B singers in this movie but James Brown is one of the best not only because of his delivery but because of the scene he shows up in. If I ever went to church this would definitely be one of the first on my list to visit.
1. Rocky IV – Living In America
I don't think the Russian looked that impressed. In fact once he saw Apollo he looked a little irritated. This was almost like poking a bear with a stick and expecting to get away with it. Once Ivan delivered the first punch it was all over. But the concert leading into the execution, I mean beat down, I mean match, was well done.
James Brown still lives on in music and in movies, and that's more than enough.
Save
Tell us what's wrong with this post? How could we improve it? :)
Let us improve this post!