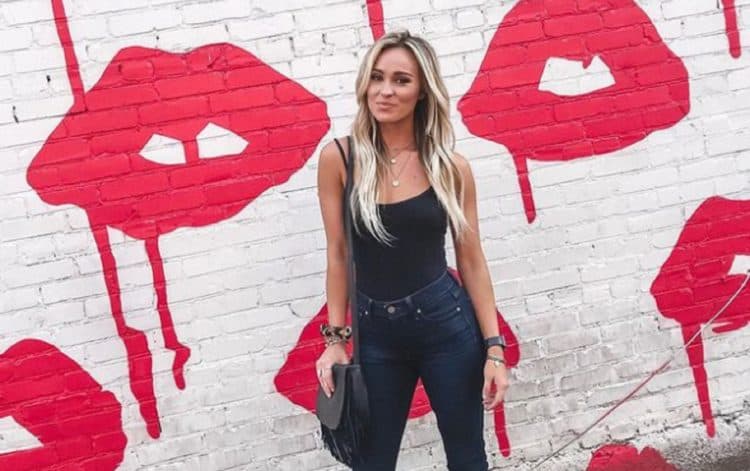 If you don't know Ashley Prochazka, it's all right. She's known for the time she spends with her man, famous former collegiate football player and "Big Brother 17," housemate. His name is Clay Honeycutt, and he's very well-known. She's his long-time love, they spend much of their time together, and they are an adorable couple. She's been in the news a lot lately because they are engaged and married, and fans are looking to get to know more about the lovely blonde who wed the famous former football star.
1. She's Also a Reality Star
For those of you thinking that you do recognize her name, it's because she, too, is a reality star. She was part of the season nine "Dallas Cowboys Cheerleaders: Making the Team," show, and fans got to know her a little better back then.
2. She's Been With Her Man for Three Years
Technically, they met in November of 2017 and that means they've been together just a little longer than three years, but it's enough time to get serious, to get engaged, and to realize that a future without the other is just not something they wanted. They're sweet together.
3. She Was Body Shamed
The lovely and perfectly fit star tried out for the Dallas Cowboys Cheer Squad on national television back in 2014 for the upcoming season, and fans actually had the audacity to body shame her. They called her horrible things, said terrible things about her body, and they weren't kind to her.
4. Other Fans Loved Her
The ones who weren't body shaming the athlete were too busy calling her a bright light in an otherwise dark season, and that was all right with her. It was a rough time for her, but she was able to keep it together and hold herself accountable for her own actions. She is not ashamed of her time there, though we imagine she wishes people were a little kinder to her. She looked amazing.
5. She Didn't Make the Team
As it happens, she's not a strong enough dancer to make the squad. While she didn't end up on the team, she did end up working as a freelance wedding hairstylist, and that allowed her to spend some time doing big things. She met many people, she got to travel, and she seems to have enjoyed herself.
6. She Moved On
When she was done with her role as a hairstylist, she took on a much bigger role in life. She began to work as a territory sales manager for a major pharmaceutical company, which meant she got to spend more time traveling and making sales. We have a feeling she was very good at that.
7. Their Engagement is Darling
It was just days before the world shut down because of the pandemic of 2020, and Ashley did the sweet thing by planning a surprise birthday party for her boyfriend. She wanted to celebrate with him, but she also wanted to surprise him, but she ended up being the one surprised. He turned the entire thing around on her and made it all about her. He asked her to be his wife, and that was the most darling. He asked her to be his wife at the same bar where they'd met more than two years before.
8. She Lost Her Father in 2020
It was a difficult and a beautiful year for the young star. She was engaged to be married to the love of her life, but she also lost her father in September of 2020. He was only 60 at the time of his death, and we imagine that getting married without her father to walk her down the aisle was a heartbreaking moment for the young star. She knew 10 years before that her father had cancer that was in remission, and she and her sisters and mother never took one day that they had with him for granted.
9. She's A Married Woman
The couple ended up getting married in October of 2020, and their wedding was lovely. They both shared photos of the big day, and both look over the moon with excitement about their new life together. We have a feeling that they will have a long and happy marriage.
10. She Enjoys Life
Her own social media accounts show us that, but it's her husband's social media account that really shows us just how much she loves life. She's constantly dancing, singing, and just have the best time, and it is very easy to see why he loves his wife so much.
Tell us what's wrong with this post? How could we improve it? :)
Let us improve this post!