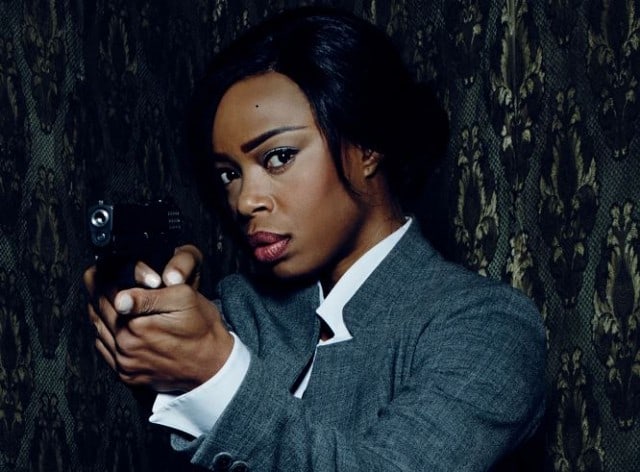 Have you been eagerly anticipating the series premiere of Ash vs. Evil Dead on Starz? Curious about how the show connects to the film franchise? If so, Deadites, then this one is for you.
For those of you that may not know, this Halloween night will mark the premiere of Ash vs. Evil Dead, the latest entry into the Evil Dead franchise that has run through film, comics, video games, and, now, television. The series is described as follows:
Ash vs Evil Dead follows Ash, the stock boy, aging lothario and chainsaw-handed monster hunter who has spent the last 30 years avoiding responsibility, maturity and the terrors of the Evil Dead. When a Deadite plague threatens to destroy all of mankind, Ash is finally forced to face his demons —personal and literal. Destiny, it turns out, has no plans to release the unlikely hero from its "Evil" grip.
Ash vs. Evil Dead picks up with anti-hero Ash Williams decades after the events of Army of Darkness, the third film in the franchise, as, like it says in the description, he returns to his classic ways upon the outbreak of a new Deadite plague. Joining Ash (played by the great Bruce Campbell) in this horror-comedy series is actress Jill Marie Jones, who will be playing Michigan State Trooper turned zombie-killer Amanda Fisher.
Recently, I got the chance to talk with Jill Marie Jones, who you may recognize as lawyer Cynthia Irving from FOX's Sleepy Hollow, and any concern that I may have had about the upcoming series was washed away through our phone call.
Jones' excitement for the role of Amanda was overwhelming, and it became clear that she will be one to watch this season. An interesting thing about Jones, a Dallas native, is that she had never seen the movies in the franchise before learning about the part. Her excitement for the horror genre stemmed from an early age (she was a huge fan of the Halloween, Nightmare on Elm Street, Poltergeist, and Exorcist franchises as a kid), and she knew that she wanted to be a part of this series after binge-watching the franchise.
Speaking of nabbing the part of Amanda Fisher, Jones revealed that the audition process for the show was unlike any other that she's been involved with. Describing it as a "weird and great" experience, Jones' audition for the show involved her being asked to actually act out the action in the script in the office room where it was held (something that any actor would raise an eyebrow at) so that those casting her could make sure she could adequately sell what they would need her to do. Among other things, this involved pretending to shoot at things that weren't really there, so it's clear that we shouldn't at all worry about her ability with the action on this show.
As I mentioned before, Jones has also been a part of Sleepy Hollow, another genre series on a different network. I was curious what it was like playing in two distinct horror worlds, and she talked about how the character itself plays a big role in that process. Whereas Cynthia in Sleepy Hollow was pulled into the "crazy," Amanda Fisher on Ash vs. Evil Dead is a vigilante that consciously goes after it. Based on the world that Sam Raimi has created for this franchise, that personality for Amanda should prove to be a ton of fun.
With regard to Raimi (who directs the pilot of Ash vs. Evil Dead), the actress was incredibly complimentary of the creator, calling him "an extraordinary human being with a heart of gold." As a big fan of Sam Raimi myself, that was a great thing to hear. Jones also talked about how great it's been shooting the show on-location in New Zealand, as it allows for the "phenomenal" cast to really spend time together and get to know each other, something that definitely helps out on set.
As for how Ash vs. Evil Dead continues from the films, Jones was hesitant to call it either a sequel or a continuation. She mentions that die-hard fans will definitely recognize and respect some iconic moments, and she feels that the writers of the show have done those fans proud. She also said that once you see the series, you'll understand how the story has gotten to where it has.
When asked about any other upcoming projects that she's working on, Jones did say that she is also a writer (in addition to being an actress), and she's currently shopping a script around. She also looks for interesting roles to take on herself, but she's very hopeful (as am I) that Starz ends up ordering a second season of Ash vs. Evil Dead. Based on the reaction that I've seen so far, I think we've got a good chance at getting more Amanda Fisher on our televisions.
Finally, I asked Jones to describe the first season of Ash vs. Evil Dead in a single word. Her response? "Kick-a**." For good measure, she also wanted to throw in both "bloody" and "hilarious," too.
Jill Marie Jones has made me incredibly excited for the premiere of Ash vs. Evil Dead, and I hope you'll join me in checking out the series this Halloween night on Starz.
Ash vs. Evil Dead premieres this Halloween on Starz, and, in a first for the network, will have same-day premieres worldwide in more than 100 countries. As Ash would say, "Groovy." Are you excited for the series premiere? Let us know in the comments down below!
[Photo via Starz]
Tell us what's wrong with this post? How could we improve it? :)
Let us improve this post!