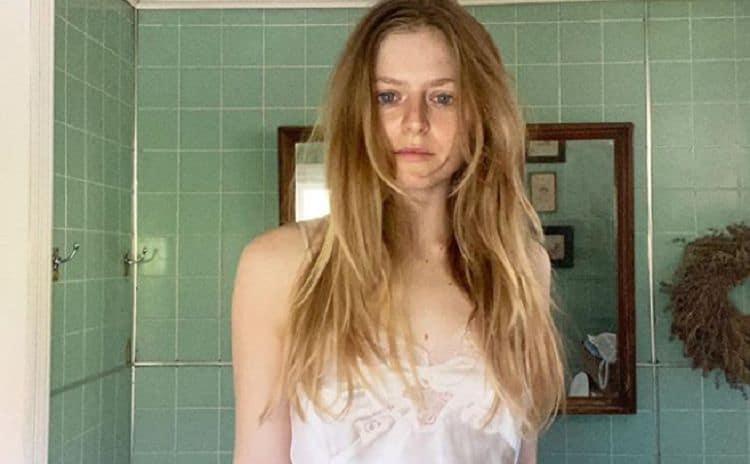 Not everyone can follow in their family's footsteps and Anna Baryshnikov is a good example since she has two famous parents that she tried to be like only to realize that her fame lay down a different pathway from theirs. Quite honestly that's a very common thing to discover since we are not our parents. When she discovered her own path it became her drive and her passion until she reached the point where it finally became her career. The chances are good that it wasn't easy when she made this decision and it was even harder when she started out, but the fact that she's here now and doing as she wants with it is a testament to the strength of character she possesses and the will to succeed that it takes to walk your own line and stick with it. Some folks might not know her but that could change rather quickly as the years keep rolling on.
Here are a few things you might not have known about her.
10. She was asked to prom by one of her costars.
She had to politely decline since she was 22 years old at the time but it had to be kind of flattering at least since not just anyone gets asked to prom by their costar after all. But thankfully she decided to be kind about it and not flat out ridicule the younger man.
9. Both her parents were ballet dancers at one time.
Mickhail Baryshnikov and Lisa Rinehart were both dancers in their prime and were very disciplined in their craft. It's a little rough trying to grow up in the shadow of parents that have know greatness but Anna managed to do her own thing and eventually step out of it.
8. Anna discovered she didn't have the discipline for ballet.
It's not so much that she couldn't perform the movements, Anna was too hyperactive and talked too much when she was supposed to be focusing. She did make the attempt and that's something to credit her for but she also realized that she simply couldn't make it work so she chose another profession.
7. She started acting at age 6.
This seems kind of young to actually choose a profession but given that she'd already seen one door close this was something that she might have wanted to do all along and had gone along with the other profession just to appease her parents.
6. Her parents were hesitant about her career in acting.
They came around eventually and supported her but it was a play by play thing since they didn't seem to think that acting was the best idea. In truth it's kind of an uncertain profession, especially when one is first getting into it. But she's made it into something worth their support and hopefully they still stand behind her.
5. Her career didn't really start until 2014.
As far as film and TV she hasn't been around all that long so as of yet she hasn't shown what she can do once she really develops into a seasoned actress. So far she's been doing well but the years to come will tell the story of how she's going to fully adapt to being on screen.
4. She was in Manchester by the Sea.
The movie is about a man that has been given guardianship over his nephew when his brother dies and is highly reluctant to take over since it means moving back home, a place he seemingly hasn't been in some time. There's a good reason for this, but it's as tragic as anything else in the movie.
3. She doesn't have a lot of credits to her name at this point.
She's only been in the business for four years when it comes to the big time so it's going to take a few more to really develop a solid career it would seem and show people that she's serious and there to stay.
2. She's been nominated for a few awards.
Being nominated at least shows people that she's good enough at what she does that she's worth watching and no doubt reaffirms in her mind that she made the right choice to go into acting instead of in another direction.
1. She had to use a dialect coach to learn how to speak with a Boston accent for Manchester by the Sea.
Ever tried to speak with a genuine Boston accent? It's not as easy as it sounds in the movies since your diction has to be just right and the sounds that are made when speaking with such an accent have to be pretty precise to make it sound accurate.
Anna is where she seems to want to be and is doing just fine with it, but the years to come will likely be interesting to watch as she continues to develop her talent and gain added skills.
Tell us what's wrong with this post? How could we improve it? :)
Let us improve this post!