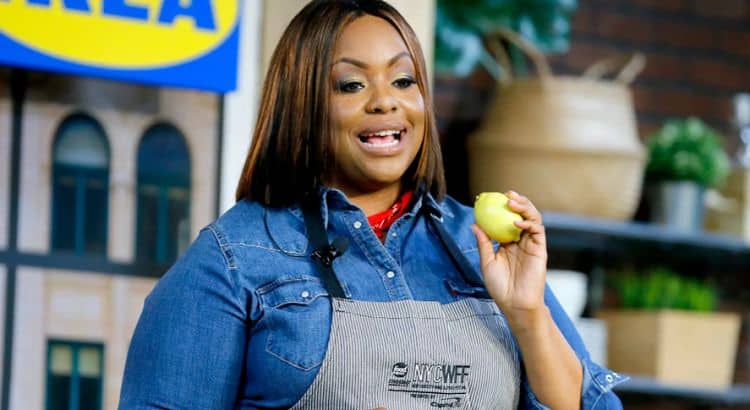 Kardea Brown is everyone's kind of woman. Why do we say that? Well, she's a Food Network star. If the Food Network can't bring us stars who are everyone's kind of star, then who can? She's funny, she's entertaining, and she can cook, so we assume she's for everyone. Right now, she's making headlines because she's been tapped to judge on the new season of "Spring Baking Championship," and everyone is curious to know more about her. We've gotten to know her, and we maintain that there's just nothing to dislike about the star.
1. She's a Southern Woman
Again, who doesn't love those from the south? She's from Charleston, and she's a southern cook. She hails from one of the loveliest, most charming small towns in the country, and she can put a meal on the table that makes your mouth water? She's the epitome of a southern belle.
2. She's Gullah/Geechee
This is a very cool factor in her life because it's something that many people would likely struggle to hang on to generation after generation. Here's what we mean. Gullah/Geechee describes a very specific group of African-American people hailing from the coastal Carolinas and Georgia. If you're asking why we wouldn't just call her American since she was born and raised in America and that's the literal definition of American, it's because her West African heritage is something that the Gullah/Geechee hold onto. She, like her grandmother before her, really uses her heritage, culture, and cooking styles in her everyday life. It's a very cool concept, and it's one that many would struggle with because it's so easy to lose the little things like that as the generations tick by.
3. She Created a Pop-Up
In tying in with her family's rich history, she was able to introduce the concept of a Gullah Supper Club. It's a pop-up that allows her to really showcase the recipes her grandmother taught her, which further allows her to celebrate her heritage.
4. She's Not Talking Private Life
It's completely understandable she'd like to keep her private life to herself, but it's a bit disappointing for her fans who want to know all the things about her. It's natural to be so curious about someone you admire and enjoy watching on television, but she prefers to keep mum about her private affairs. And, good for her. That's tough to do as a star.
5. Food Network Wasn't Entirely Taken With Her at First
Hold the phone (wow, if that wasn't my mom coming out of my mouth just now…). What? How could they not be completely taken with her and want her to come to work for their network? Well, it turns out that while they thought she was fabulous, they also thought she needed to improve her cooking. We're baffled, but apparently she was able to satisfy their own demands, and thank goodness for that.
6. She's Close to Her Family
She talks often about her mother and her grandmother, and nothing warms our hearts more. She calls her grandmother the cook, and her mother the entertainer; and, this allows us to see that she's married a little of both of them into her own style. She loves to cook and to entertain and share her delicious meals, and we wish she was part of our family, too.
7. She's Living in Atlanta
We mentioned before that Kardea Brown is from Charleston, South Carolina, but it's been a while since she's lived there. It'll always be home, but she's an Atlanta native now. Another beautiful city with a rich culture, it works for her because the Atlanta area is also very southern, very fond of southern fare, and very fond of their own resident Food Network star.
8. A Conversation With God Brought Her to the Supper Club
When she made the decision to start her pop-up supper club, she was on a train. She was broke, she was struggling to come up with any idea of what she wanted to do in her life, and she was praying. She had a conversation with God, and she told Him she loves to travel and she loves to cook. That's when the concept of a traveling dinner party came to her, and that was the beginning of the end of her struggles.
9. She's a Goofball
She uses the term to describe herself, and we can see it. Absolutely. She's hilarious, and she is clearly never more herself or more comfortable than she is when she is with her family. That speaks so highly to the kind of person she is and the kind of family she has, and we adore seeing her family on her show.
10. Her Grandmother is Very Proud, Even if She Didn't Always Agree With Her
There's one thing that is certain with Kardea Brown, and that is that she's close to her grandmother. However, her grandmother didn't always agree with her ideas or her thoughts. When she was young, her grandmother wanted her to be less hilarious and funny and be more ladylike. When she decided to leave her job and become a chef, her grandmother thought she was crazy. But, her grandmother is proud of her, and she supports her every step of the way. And that, friends, is how family should always work.
Tell us what's wrong with this post? How could we improve it? :)
Let us improve this post!