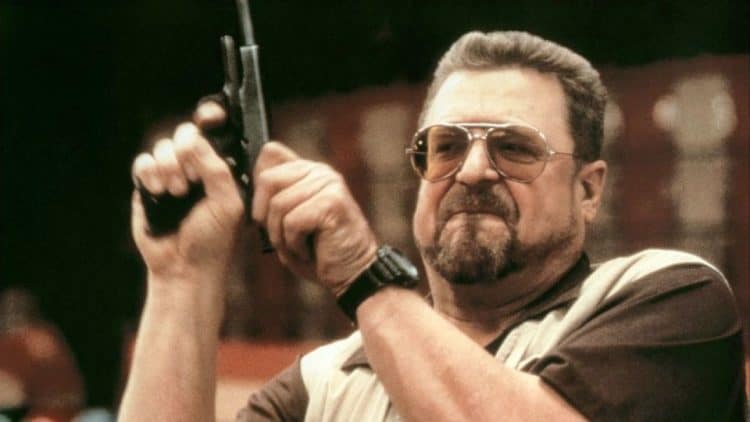 In some ways John Goodman is like that cool uncle you have that you might not see all the time but is a lot of fun to hang around with when he does make an appearance. In films he's been a lot of fun but he's been able to be serious too throughout many of his appearances. Of course one of his claims to fame was as Dan Connor on Roseanne for a long time, but even that went away after while. He's been the big lovable guy that a lot of people like to see for so long that it's hard to imagine him as anything else. While he's slimmed down and gotten a bit older he's still a great personality that livens up just about any film or TV show that he appears on since he has the kind of humor in his act that makes it apparent that he's capable of keeping a straight face or busting up along with everyone else.
Here are a few things you might not have known about John.
10. He's hosted Saturday Night Live a whopping 11 times.
That's a lot of episodes for one host to have presided over, and it's obvious that he's a favorite on the show since he's a great actor and works with everyone so well that they enjoyed having him. Plus the guy is able to step into a role without any difficulty whatsoever.
9. The first job he ever had was as a bouncer.
Even if he didn't have the extra bulk on him at the time John is still a big guy and it's easy to see him with his arms crossed standing in front of a door or scanning a crowd to make sure everything was staying on the up and up.
8. His first on screen appearance was for a Burger King commercial.
He didn't have any lines, he just had to chomp on a burger and look content. It's easy to assume that he didn't get paid much for this role since he was an unknown at the time and couldn't really command a big salary. But it was a start at least.
7. There's talk that The Flintstones film, the first one, would have been shelved if he hadn't taken the lead role.
The second film probably shouldn't have been made at all since it pretty much tanked, but the first one had a lot of high expectations that weren't really met. Still, it was fun to see the attempt since John did exemplify Fred Flintstone, though it's safe to say that Rosie O'Donnell didn't really make sense as Betty Rubble.
6. Dan Connor, his role in Roseanne, has been listed as one of the best TV dads of all time.
When you look at the Connor's they were kind of horrible to each other in a way, but they also looked out for one another quite a bit no matter how much sarcasm and vindictive back and forth arguing went on. They were another family that was kind of like the Bundy's but a lot nicer.
5. He was the first guest on Late Night with Conan O'Brien.
That seems like a high honor to be the first guest on a new show. It's hard to count how many times Goodman actually went on talk shows to promote his movies or TV shows or just make an appearance, but to be the first one on any show is kind of cool.
4. Surprisingly out of all the projects he's been on The Big Lebowski was his favorite.
This is saying something for the movie since it's a cult classic and didn't really get remembered by the mainstream audience that well. But those that have watched it over and over no doubt remember that John's character was a borderline psychopath that meant well but came off as rather scary sometimes.
3. He was considered for the role of Uncle Buck.
John might have done a good job too, but seeing him in King Ralph makes it feel as though he's always been a different kind of slob, when in character, than John Candy. Candy was the kind of goofy guy that could pull off a movie like that, while Goodman is the kind of guy who's character goes big and mucks everything up all at once.
2. John went sober in 2007 and vowed to stay that way.
If you're a hard drinker then it's difficult to quit all at once and it's better to wean yourself off. But once you haven't drank in so long it becomes easier and easier until finally you wonder why you ever needed it in the first place.
1. He had to lose weight to play the part of Babe Ruth.
John has been a big man for a lot of his career, but to play the part of the Babe he needed to shed several pounds, which is kind of a musing since Babe Ruth wasn't a small man anyway. But compared to John at that time he wasn't quite that big.
This is the kind of guy you'd love to just sit and chat with or take out to shoot a round of golf.