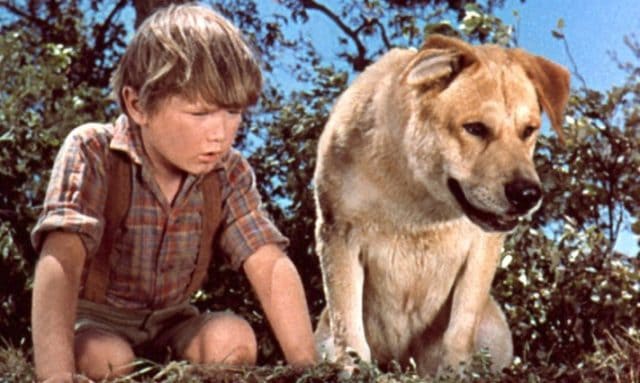 Who reading this cried when Old Yeller got shot? Come on now, there's nothing to be ashamed of, it was a tender, heart-rending moment that you can own up to and fully accept. I know like a lot of my classmates back in the day I had tears running down my cheeks even if I wasn't sobbing like the rest of the kids. It was a touching tale of a young boy bonding with a dog that wanted to stick around, so of course it was bound to be sad when Old Yeller finally succumbed to rabies. But it did teach us a little something about compassion and about life and death.
It's okay to cry at this movie, it's expected.
10. The real Old Yeller wasn't a mongrel.
In the movie a real golden Lab was used, but in the book the dog was described as a black-mouthed cur, which is similar but less bulky.
9. The movie was filmed in California.
The trick to this was finding areas that looked similar to what might be found in Texas.
8. The dog's name is Spike.
He also appeared in a film with Marla English called She-Creature.
7. This movie was featured on a double bill in a lot of theaters.
21 area theaters used this method to show Old Yeller and it managed to get a lot of attention.
6. Only two of the actors from the credited cast are still alive.
Keep in mind this was back in the 50's so anyone being alive at this point would have had to have been pretty young around that time.
5. This was the Disney debut of Tommy Kirk and Kevin Corcoran.
They would both on to star in The Swiss Family Robinson and The Shaggy Dog, but would also explore other movies throughout their careers.
4. The 'wolf' was actually a German shepherd.
The shepherd was made up to look like a wolf and both dogs were taught how to play-fight. During these bouts they were always muzzled so as to avoid any accidental damage.
3. You can hear the same growling sounds made by Old Yeller in Lady and the Tramp.
This was a pretty common thing for Disney to do when it came to recycling sounds, characters, and scenes that had happened in other movies. It tended to cut down on costs a lot.
2. Old Yeller's death has had a profound effect on a lot of people.
A lot of people describe the shooting of Old Yeller as one of the most traumatic moments in their lives since so many folks saw this as a child and couldn't really understand why Old Yeller had to be put down. It's right up there with the death of Charlotte in Charlotte's Web and the shooting of Bambi's mother. In fact I think I'd say that it's at the top of the list.
1. In an episode of Friends Phoebe states that she never got to see the part where Old Yeller died.
Poor Phoebe had to learn the true ending of the movie and have her slightly naive soul tainted just a bit by reality.
People still cry when they see this movie.
Tell us what's wrong with this post? How could we improve it? :)
Let us improve this post!