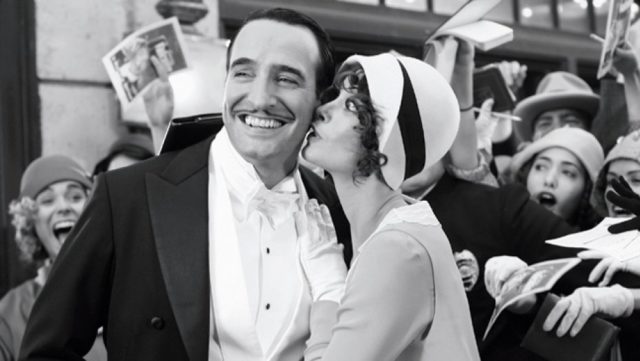 In the era of the silent films Valentin was the king, but when films started to go to sound he was convinced that it would just be a fad. Unfortunately people loved hearing sound and his reputation as a silent film director and an actor quickly went down the tubes as he lost everything. It didn't help that this was during the Great Depression of 1929, nor that the woman he elevated from being a fan to a movie star became larger than life during this period. At the lowest point of his life though she was there to help him back up, assisting him back into the spotlight so that he might find fame once again.
It's a touching story really.
10. The two lead had to practice for five months to get the dance right.
They had to put in a lot of hours to get the moves down right and make it look authentic, and go even further and make it look like they were acting.
9. There's not a single zoom shot in the entire movie.
Since the technology for this technique didn't exist back in that time period they didn't want to use it in the film.
8. All the dancing scenes were performed by the actors.
There were a lot of rehearsals throughout the making of this film and every actor had to be on point so it took a good deal of time.
7. The film is considered to be the most awarded French film in history.
It was nominated for about ten academy awards and managed to win five. That's not too shabby really when you consider it was black and white.
6. The film was originally shot in color.
The entire film was shot in color to begin with and was later on converted to black and white.
5. James Cromwell stated that he acted out his parts just as he normally would.
He didn't perform his role as Clifton as he might have in the manner of a silent film through gestures and other such methods. He simply spoke his lines like normal.
4. The role of the dog is played by three different dogs.
There were three dogs, Uggie, Dash, and Dude, and they were all colored the same so that they could be switched out when necessary. Uggie did the majority of the scenes.
3. The male lead lived in a 1930's styled house during filming.
The home was an isolated 30's construction that was located far out in the Hollywood Hills. He lived here to get a better feel for his character.
2. The screenplay is only 42 pages long.
Normally a screenplay would be at least two to three times as long in order to develop the story the way it needs to be. But this is one of the shortest screenplay's to ever produce a film that's won any awards.
1. The film was shot entirely in Hollywood.
This can be found on the DVD though it's still up for debate just whether or not there were any other on location scenes.
This movie feels like it touched a nerve within Hollywood, in a nostalgic way.