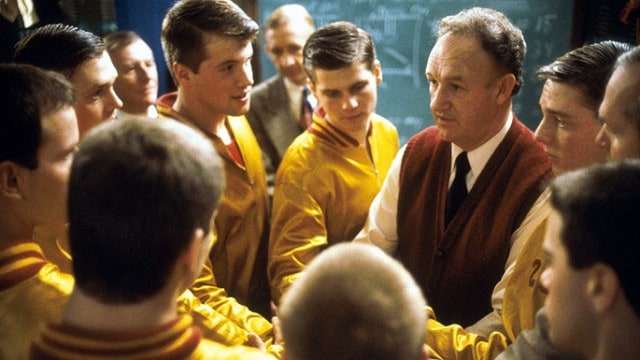 One of the best things about a sports movie, aside from the fact that it's about a sport, is that you'll generally get a couple of scenes that are sure to motivate you in some way. I mean you can't tell me that when Jimmy makes the final shot in Hoosiers that you don't want to go out there and shoot free throws all night. At least I know I did that when I first saw Hoosiers. Whether it's a training montage, a one liner, or a series of events, I've looked around for ten scenes that in my eyes are sure to pump you up. Here they are:
Gene Hackman's Motivational Speech in Hoosiers
I also think the part where Jimmy Chitwood says "I'll make it" gives me goosebumps. However this speech sets the stage and you're jacked up to watch the final game as well as live the rest of your life.
The Rudy Chant and Sack in Rudy
I think if you're a male you kind of have to cry in this scene. I also love how fat Jon Favreau is. "Who's the wild man now??!!!"
Karate Kid – Crane Kick
If you watch this now, it's kind of high comedy. But you have to admit when you first saw this, it was awesome. One could also argue that the whole "You're the Best" sequence was pretty pump uppish.
Vision Quest – Louden Swain warms up before the match
"Lunatic Fringe" blasting in the background before he goes on to take Shute. What a great scene.
Wild Thing in Major League
This whole sequence absolutely rules. What a great capture of the mood at a baseball game. This was just awesome. Cerrano's homerun and Willie's slide also count as being serious pump up moments in this movie.
Final Blast in The Natural
You just can't beat this. Seriously there are no words for this scene. I get teary eyed just thinking about it.
"Hearts on Fire" in Rocky IV
I almost went with the normal training montage but this song is just too good to pass up. Also, "No easy way out" is just as motivating and amazing but come on, this training scene is pure adrenaline.
Friday Night Lights – Gametime
This song owns.
Any Given Sunday – Peace by Inches
This is the obvious choice but it's still great.
The Rookie
This is an incredibly underrated movie and deserves more accolades than it got. My only beef is that Dennis Quaid doesn't have that big of a coordinated throwing motion.
*For the record I also really liked the "There Goes My Hero" end scene in Varsity Blues but I couldn't find it. And before going into the comments section and blasting me for leaving stuff out remember this list isn't set in stone. If I left any out then please let me know.
Tell us what's wrong with this post? How could we improve it? :)
Let us improve this post!