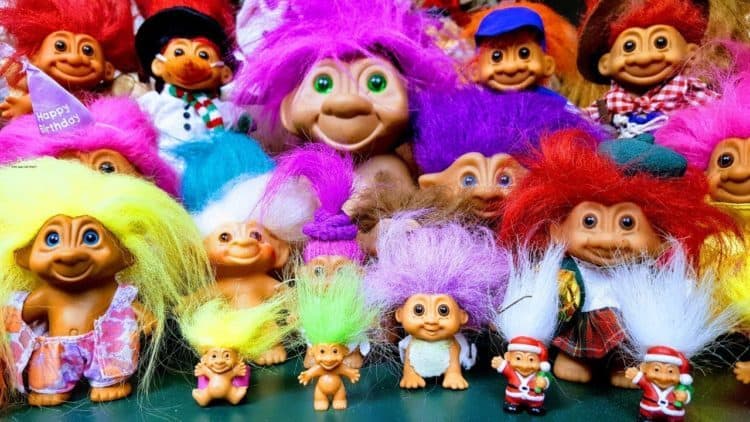 Anyone who was a child during the 1990s will most probably remember the wild-haired troll dolls. These were one of the biggest trends in the toy market at that time. Over the years, these dolls have come back in and out of fashion as new generations of children have enjoyed a variety of merchandise based on the trolls. They are now set to make any other return, so here are ten fun facts about the toll dolls.
1. They Were Originally Wooden
The very first troll dolls were crafted from wood and were made by a Danish fisherman called Thomas Dam. When his workload was low, he would create the dolls and sell them door-to-door and this led to him creating a Christmas display for a local department store. People asked to buy the troll dolls from the display, so he set up in business and was selling 10,00 dolls a year in Denmark by the end of the 1950s.
2. They Are Inspired by Scandinavian Folklore
The idea behind the troll dolls is from Scandinavian folklore, in which many of the tales involve trolls. Although the size and appearance of these differs from one story to the next, their ugliness is a feature that always remains the same. Dam was able to take this ugliness and make it look cute.
3. They Have Always Had Crazy Hair
Right from the start, the hair of the troll dolls has always been crazy. The first dolls that were made had sheep's wool hair in either black, white, or orange. The more modern range of troll dolls that were sold had hair made of synthetic materials and boasted a wide range of shocking colored hairstyles.
4. Their Creator Had a Sense of Humor
With a name like Dam, the creator of the dolls knew it made sense to capitalize on his name by making his business name funny. He called it Dam Things and his best collection of dolls were called Dam Dolls.
5. Most Dolls Weren't Made by Dam Things
Although Dam created the first dolls, he did not copyright them. This was a mistake on his part because countries from around the globe were already copying his idea by the time they became an international trend.
6. Betty Miller Took a Troll Doll to Meet the President
When Betty Miller became the first woman to fly solo across the Pacific Ocean, her only companion on the trip was a troll doll. When she later had an audience with President Kennedy, she took her troll doll with her for the occasion.
7. Some Troll Dolls Are Valuable
Troll dolls were so popular that people began collecting them. They remain a popular collector's item to this day and some of them are now worth considerably more than their original price. For example, a vintage Viking toll has sold for $175, while a stuffed Dam doll from the 1950s attracted a buyer who was willing to pay $225.
8. There is a Troll Museum in Ohio
In the town of Alliance, Ohio, a woman has opened her own troll museum called The Troll Hole. Although the woman's real name is Sigrid, she is now known as the Troll Queen. She actually believes that she is a huldra troll. This is a type of troll that pretends it is human. Her museum boasts a collection of 3,000 unique trolls.
9. Troll Dolls Do Police Work in Florida
Following the release of a film called 'Trolls on Patrol', the police department in Tarpon Springs, Florida, decided that trolls could help them to connect with children. In 2003, they bought 5,000 troll dolls so they could interact better with younger visitors to their police station. They felt that the use of these toys would make the police seem more approachable to children and young people.
10. The Dam Things Company Finally Has the Patent
Although troll creator Thomas Dam saw his creation become a trend belonging to the public domain due to his failure to copyright the dolls, the company does now own the patent. Unfortunately, this did not happen until 1994 when new laws were passed. They won the worldwide rights to the troll doll image and have the right to sue copyright manufacturers. Sadly, Thomas Dam did not live to see this happen as he passed away in 1989.
Tell us what's wrong with this post? How could we improve it? :)
Let us improve this post!