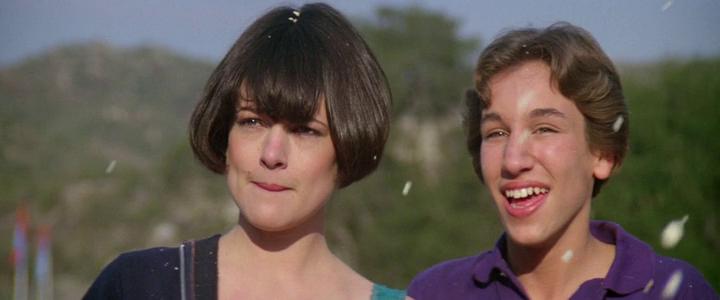 Michelle Meyrink is a Canadian born actress who is best known for her appearance in the movie "The Outsiders" in the role of Marcia. Some fans are wondering whatever happened to her. We were curious about what she's been up to since the 1983 film. After a quick look at her career history, here is what we learned about Michelle.
Her early years
Michelle Meyrink made her debut acting appearance in "The Outsiders" in 1983. The same year she appeared the movie "Valley Gir"l as Suzi Brent. The following year Michelle was cast in the popular comedy flick "Revenge of the Nerds as Judy. Later that year she played Leslie Hindenberg in the movie "Joy of Sex." She was also cast in a guest role as Jane in the television series "Family Ties," appearing in just 2 episodes in 1984.
Her five-year acting career continued
Michelle snagged the role of Jordan Cochran in the movie "Real Genius" in 1985. She went on to play Betty in the movie "One Magic Christmas the same year. There was a two-year gap between this and her next acting gigs. Meyrink landed the part of Steffi in the movie "Tonight's the Night," followed by the role of April Flowers in "Nice Girls Don't Explode" in 1987. Her last known film acting job was as M.G. in the movie "Permanent Record" in 1988. She collected a total of 10 professional acting credits in her portfolio over a five-year span of time. Meyrink didn't land any huge parts during her career, but she did manage to amass a following of fans who would like to know what happened to her.
She returned to her home country
Michelle Meyrink dated actor Crispin Glover briefly in 1985. We learned that she moved back to her home country of Canada to start a family. In the 1990s she married her current and only spouse John Dumbrille. The couple had their first baby in 1991. This was followed by the birth of their second child in 1994, and a third child in 1998. Meyrink currently lives in Bowen Island, Canada with her husband and their three children. We can see that she favored raising her children over pursuing a career in acting.
Michelle Meyrink is a Zen Buddhist
In 1989, Michelle Meyrink made an announcement about her career. She made it official that she was discontinuing her acting career because it didn't give her everything that she wanted out of her life. She was dissatisfied and realized that this wasn't the ideal career choice for her personally. She became interested in Zen Buddhism. Meyrink had several family members living in the Dominican Republic, so she moved there for a period of time to be near them. She was no longer active in any kind of acting.
She moved from the Dominican Republic to Canada
After spending time with her family, Meyrink went back to her hometown of Vancouver, British Columbia. She met her future husband John Dumbrille at the Zen Centre located in the city. The two shared an active interest in Zen Buddhism and they discovered that they had enough in common to form a close and lasting relationship. She had met her life partner and the two married.
Michelle Meyrink is a business owner
Meyrink has been busy over the past years raising her three children and spending time with her husband, but she's also had other things going on the side. She had been impressed with the Loft Studio in Los Angeles. She attended the studio when she was working in the city as an actress. This served as a model for a business that she developed, owns, and operates. Her company is an acting school that she named Actorium in Vancouver. Although Meyrink is no longer working as an actress, she is training others to go into the profession. She is putting the skills and knowledge that she gained as an actress to good use by coaching others to enter the field.
Her business has blossomed
Meyrink's acting studio started out small. When she first established the school in 2013, she had just five students. Actorium started out slowly, but it was not long before the reputation of the school grew and more students began enrolling in the classes. Soon she had her hands full. The school is doing very well and it has trained hundreds of actors and classes are held on an ongoing basis. There are multiple instructors who now work for the company that started out with just one employee (Meyrink) and five students.
Final thoughts
For those of you who were worried or concerned about Michelle Meyrink, she's doing very well. She made the hard decision to leave the acting profession because it simply didn't bring fulfillment into her life that she was looking for. After achieving a measure of success, she announced that she was going to leave the profession, to find what she was missing in her life. She discovered Zen Buddhism which resonated as a fulfilling belief system, met her husband while pursuing her faith, then started a family of her own. She took a few detours through life, living in a foreign country for a period of time before returning to her home town of Vancouver, British Columbia, Canada. It was here that she was able to settle down and find the fulfillment that she had been searching for previously.
Michelle Meyrink has found purpose and fulfillment as a wife and as a mother, but her desire for acting is being fulfilled teaching others the basics along with some of the finer points of the art. She is a brilliant entrepreneur who put her knowledge and skills to use to establish her own very successful acting studio. The odds of seeing her back in the business are zero to very slim but she is alive and well and thriving in Canada.