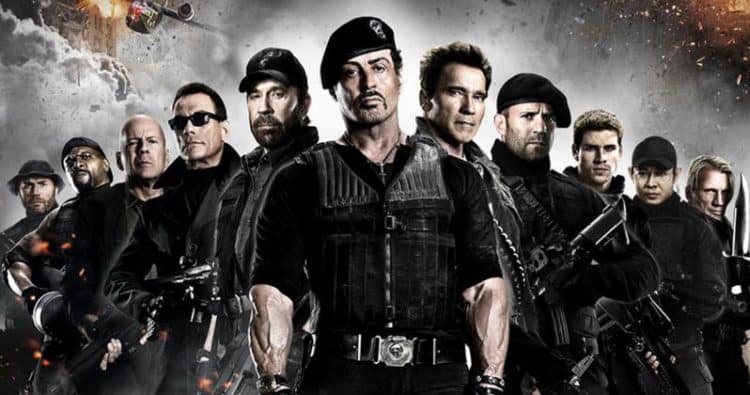 The fan reaction to hearing that another Expendables movie might be coming is sure to be a mix of cheers and groans since one has to wonder how many more action stars will be rolled out before this franchise finally gets the point that seeing old action stars being recycled into another movie after another is kind of cool so long as there's a point to it. The third movie had Mel Gibson star as the main villain and in a great twist, he was one of the Expendables way back in the day, as was Doc, who was played by Wesley Snipes. So it's been established that the team has a long history and that not even those that have made it through the three movies know everything about the group since they still want to play as though they're the A squad when in reality the Expendables have seen members come and go and die off throughout their history. Their enemies have also been kind of impressive since the first movie featured Eric Roberts and "Stone Cold" Steve Austin among other individuals. It's been a who's-who of stars since the start, with everyone from Chuck Norris to Scott Adkins to Bruce Willis and Harrison Ford showing up for their own roles. And of course, in the third movie a new generation of badasses showed up to take part in the adventure, but it's uncertain whether or not any of them would be willing to show up for the fourth movie since, to be honest, it's likely to be a full dance card once again given how many other names there are to consider.
But according to Randy Couture, who plays the character of Toll Road, it's very likely that the fourth movie will begin filming eventually, meaning that there's a good idea that the script, which has to be tattered and badly needing a rewrite, might be getting looked at even now. The cast is a matter that hasn't been figured out yet, but if it's bound to follow tradition then there will be a core group of actors that will return, hopefully, and a few new faces to be seen. Thus far every villain has been killed off, so none of those that have been killed on-screen are likely to make it. But seeing as how there's still a huge pool of action heroes to pull from it's hard to say just who might make the cut since out of the many people that have starred in action movies one has to imagine that Stallone will be trying to figure out who would be the best fit. The plot of the story probably wouldn't be too difficult, but one can bet that the writers will do their best to make certain that it's something that people will actually want to see. From the beginning, the main point of each movie has been more or less to rescue someone, defeat someone, and get back to the states in one piece, which means that a fourth movie might be the same way. But despite this being a relatively simple thing to write about, the movie has been stuck for a while for one reason or another. Whether it really is in motion or it's bound to get stuck again isn't really known, but for those that happen to enjoy the movies, and there are plenty of them, the hope is that we'll be seeing another movie that's packed with even more action stars this time around.
When that will happen is anyone's guess since at this point all we really know is that it could happen and that if it does then it's bound to happen that the number of action stars that will be a part of it might be bigger or roughly the same. The problem with putting too many big names into the mix is that it kind of eliminates the whole point of the movie after a while since people want to know where each individual gets to plug into the whole idea of the story, and if one has this many awesome action stars then they have to pack both sides of the line, meaning a lot of good guys versus one particularly famous bad guy with an army behind them, or a lot of good guys vs. a lot of bad guys, with an army behind them. The point is that the more awesome the good guys, the more has to be stacked against them in order for the fans to buy the idea that they're really in a lot of danger. This is what appears to be a big part of the formula since the first movie had a few well-known bad guys and an army, the second movie had a couple of awesome bad guys and an army, and the third movie had one awesome bad guy and a huge army. One thing about The Expendables is that they go for effect and they go all out.
Tell us what's wrong with this post? How could we improve it? :)
Let us improve this post!