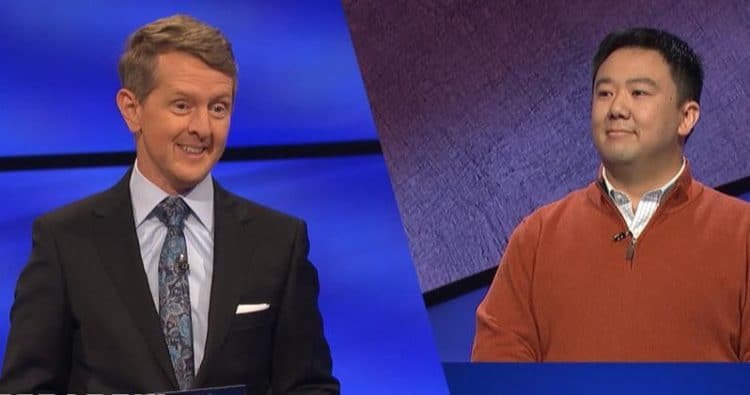 It's not always that much fun to be reminded of a great loss that occurred in one's past but thankfully this poignant reminder was done with a bit of good humor as one Jeopardy! contestant found a way to win the game and troll the current host of the game, Ken Jennings, with a reminder of his fall from grace so long ago. Considering that Ken won over 70 games of Jeopardy! in a row, it's no wonder why he would be picked to host the show since the guy knows what he's doing and he knows how the show operates. But from a host standpoint, it does feel that he might have a long way to go when it comes to even being considered as the person to take over the position of host since Alex Trebek left some very big shoes to fill when he passed away in November of 2020. There are a few other names that are headed towards the podium as of this year to guest host the show, but it does sound as though it's going to be a while before anyone is given permanent hosting duties. But to be reminded of the answer that would have made his run 75 instead of 74 games in a row might be seen as kind of rude by some folks, but in reality, it was rather funny since it wasn't meant as an insult but more as a casual trolling that felt almost like a rite of passage for Jennings, who thankfully laughed it off.
It's fair enough to say that whoever is selected for the permanent spot at the podium is going to have a lot of work to do when it comes to taking over for Trebek since the man was a big part of the show for a long time, longer than some folks have been alive in fact. There might be a good number of people that would need to read up on why Ken Jennings and H&R Block go together, but those that have been watching the show for so long and remember will no doubt recall that one fateful answer that could have kept him undefeated. Why he would put FedEx is hard to imagine, but apparently, his mind was leaning that way at that time and it's what came out so, oh well. But the fact that a player remembered after so long and had to trot it out was kind of funny since it did feel warranted in a way considering that if he does eventually get selected for this role then he's likely going to have to keep that sense of humor for quite a while since being a show host is bound to be challenging at times.
There are a few names being considered for this spot and Jennings is only one of them, while LeVar Burton is the top name that a lot of fans are looking forward to seeing once the final decision is made. Aaron Rodgers of the Green Bay Packers and Katie Couric will also be taking on hosting duties at some point as well, though Burton is definitely who a lot of people want to see behind the podium. It's not an insult to Jennings in any way, especially since the guy knows the show well enough and could possibly do quite well, but even looking at those that have been selected to try their hand at hosting the show, it's impossible to say for certain just who is going to be the best pick. This is after all a show that has been around long enough to have gained a serious following and also one that has been parodied and honored in so many different ways that trying to simply install another host isn't going to be an overnight decision, as it shouldn't be in any case. Trying to argue for Jennings isn't hard since the guy has definitely earned the spot by dint of having been there more often than most people, but one has to wonder if he can really measure up to the other individuals that are going to be given a shot. So far he's done quite well since he does have enough personality to make it work and he does apparently have a sense of humor to speak of.
Alex Trebek is just too big of a name to replace so quickly, but in the spirit of moving forward, it has to be done and it has to be decided eventually. It's easy to give Jennings props on this moment since he handled it well and he didn't look perturbed about an answer that cost him the streak he'd earned a while back. That alone is one reason why he might be a good pick, but we'll have to wait and see just what the decision will be.