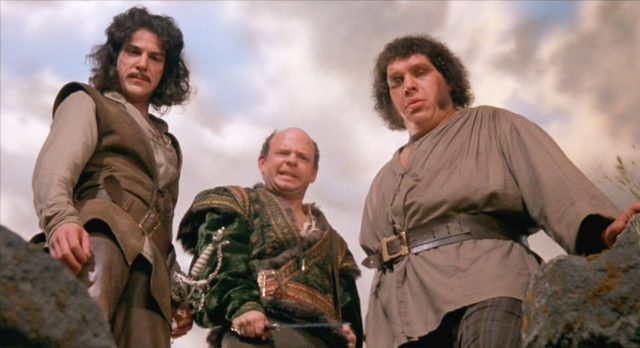 The Princess Bride, one of the true classics of an era, is celebrating 30 years since its release. It was one of those movies that you don't soon forget and will seek to cherish for as long as you can remember it since it was undoubtedly that good. Sadly not all of the cast are still with us since Andre the Giant passed away some time ago, but the rest of the cast are doing very well and have gone on to find success in other venues and become quite popular through their advanced talents.
Just for a treat, here are five of the best scenes from the movie for your enjoyment.
5. Battle of Wits
The genius of the group thought he was so bright and so intelligent that he never took into consideration the intellect of anyone else, nor that his opponent would go ahead and poison himself at the same time. This dizzying display of intellectual bravado actually serves a point but it's kind of hard to see since his voice is just so annoying that you just want him to stop eventually and drink.
4. Dream of Large Women
This scene was reportedly hard for Andre to accomplish because he was having back problems throughout the filming of the movie. But you can imagine the full weight of the man crushing Wesley against the rocks again and again, and you can easily imagine that one wrong slip and it could really, REALLY do some serious damage. Just look at the size difference, he could have wrapped one hand around Cary Elwes head for crying out loud.
3. Sword Fight
This has to be one of the more impressive sword fights in film history despite the fact that each man is being so unfailingly polite. Of course it seems like a sin to slay someone that is so highly skilled, it'd be almost like destroying a work of art just to spite the artist. But of course the Inigo is overcome eventually despite his advanced level of skill.
2. To the pain!
I think I like those stakes really, it gives a better impression of true punishment for the wicked. No straight up duel to the death, it's time to inflict some true suffering and true pain to let the enemy know just how badly they've messed up and what kind of punishment is waiting for them. It might seem brutal but it definitely gets a person thinking twice about how far they want to take things.
1. Hello, my name is Inigo Montoya
Hello! My name is Inigo Montoya! You killed my father, prepare to die! The best line, hands down, in the entire, awesome, movie. People have been reciting this for years now and it's never gotten old. Even if the context is wrong and the setting is out of place and there's no possible way it should fit into the current situation people have belted this line out just because it's that awesome.
The Princess Bride is a film that needs to be handed down throughout generations, because it is that great.
Save