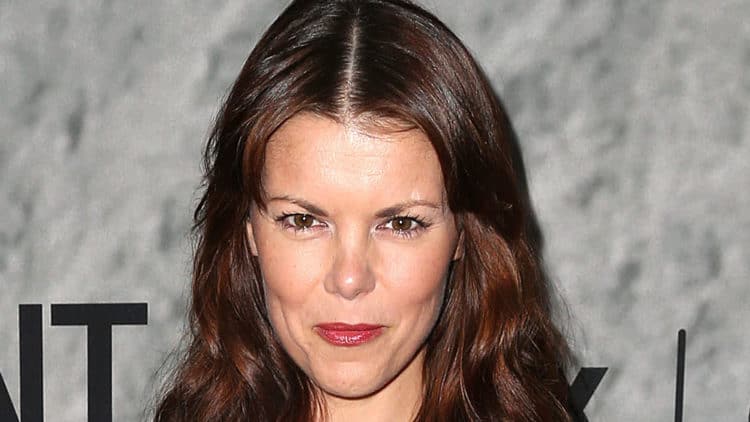 Sarah-Jane Potts made her on screen debut in the late 1980s, and her career has been on the rise ever since. Over the years, Sarah-Jane has been cast in a variety of projects that have allowed her to show her versatility as an actress. Regardless of the character she's playing, or the size of the role, Sarah-Jane always putts on a performance that is sure to stick in viewers' minds. She is best-known for her role in shows like Gracepoint and Waterloo Road, and Holby City. She has a main role in the new Netflix series Zero Chill, and the show is poised to be one of the streaming service's next hits. In 2021, however, she's going to have another series to add to her list of things she's known for. Here are 10 things you didn't know about Sarah-Jane Potts.
1. She Has Almost 60 On Screen Credits
Sarah-Jane hasn't just had a long acting career, she's also had a consistent one. Over the course of her career she has earned 59 on screen credits and the list is only going to continue to grow in the years to come. In an industry where the next opportunity is never promised, Sarah-Jane's track record is nothing short of impressive.
2. She Appreciates Her Privacy
Being in the spotlight is typically a byproduct of being a professional actress and sometimes the constant attention can be hard to ignore. Sarah-Jane, however, has managed to keep many of the details of her personal life out of the public. She is a firm believer that actors should be able to share their work without the world without having to share their private lives if they decide they don't want to.
3. Her Brother Is An Actor
Apparently the acting bug made more than one stop in the Potts family. Sarah-Jane's brother, Andrew, is also a professional actor. He has made more than 80 on screen appearances and he is best-known for his role in the TV show Primeval. Andrew also has lots of behind the scenes experience.
4. She's Not Afraid Of A Challenge
There are some actors who are perfectly fine with spending their entire career inside their comfort zone. Sarah-Jane, however, is not. She isn't afraid of roles that challenge her and doesn't mind taking on the characters who most would consider to be a little less than glamorous.
5. She Loves To Read
Curiosity is an important trait for every actor to have, and Sarah-Jane definitely has it. Reading is one of Sarah-Jane's favorite ways to pass the time and she enjoys a variety of books. On occasion, she even shares photos of the books she's reading with her followers on social media.
6. She's All About Family
Sarah-Jane's work may seem like the most important thing in her life, but in reality her family is truly her everything. Sarah-Jane has one child with her ex-husband, Tony Denman. Sarah-Jane remarried in 2013. Her husband is fellow actor, Joseph Millson. Sarah-Jane always looks forward to any chance she gets to spend time with her family.
7. She Loves Dogs
Sarah-Jane's human family isn't the only one she cares about. She also has a lot of love for her fur babies too. A quick scroll through her Instagram reveals that she is a very devoted dog person. We know that she has at least one dog, but there is a chance that she could have two.
8. She's Passionate About Taking Care Of The Environment
Just because Sarah-Jane works in the entertainment industry doesn't mean she's out of touch with everything around her. Sarah-Jane is a firm believer in the importance of taking care of the earth. In addition to doing her part, she also helps spread awareness to others in hopes that they will do their part as well.
9. She Has Theater Experience
Most of Sarah-Jane's fans are familiar with her on screen experience, but what they may not be as familiar with is her theater work. Although she had been involved in theater during her teenage years, she focused primarily on TV and film roles as an adult. She decided to return to theater in her 40s. She told the Yorkshire Post, "With telly you can easily find yourself falling into the grip of laziness. You know if you make a mistake you can just start again. In theatre there is no one to get you a cup of tea after 15 minutes. In theatre there is an extra level of pressure which just doesn't exist anywhere else. I decided that's what I needed."
10. She Does A Lot Of Yoga
The entertainment industry can be extremely hectic and overwhelming. Although Sarah-Jane loves what she does, sometimes she finds herself needing a chance to unplug. For her, yoga is the perfect way to relax and keep herself balanced with all of the craziness that is constantly going on around her.
Tell us what's wrong with this post? How could we improve it? :)
Let us improve this post!