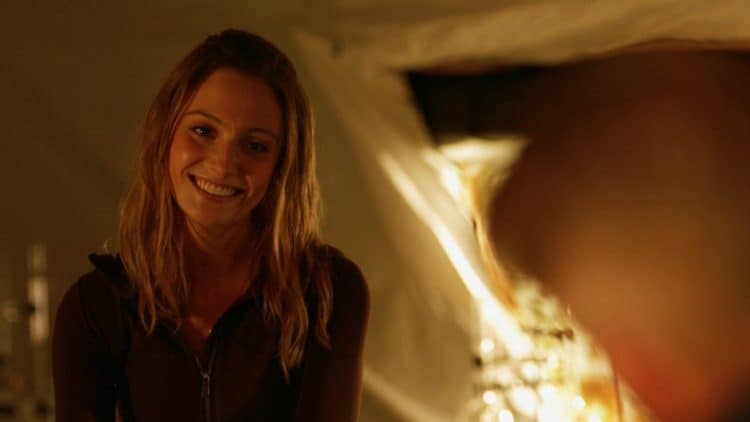 When Sara Thompson was a child, she loved Disney movies, and her favorite was "Princess Diaries," so her dream role remains to be a Disney princess. She has had her share of ups and downs, and she recalls as a teenager, she was bullied; thus, her escape was dancing. The turnaround in her life was when she did a spoken word piece about a young girl who was a victim of bullying. The piece took her to Poland, where she performed it, and she knew how much her voice could impact people's lives when she danced during a fundraiser for Orange Daisy Project. She has gone ahead to become a successful actor, and here is everything else about her.
1. How she wound up on "The 100."
Sara and her mother were fans of the series, but never in her wildest dreams did Sara ever think she would be on the show. However, fate came calling when she was doing a movie with Richard Harmon, who plays John Murphy in the series. Richard talked to the actress about the show, informing her that they were looking for someone to fill a particular character, and he thought she was best suited for the role. Sara therefore sent her audition tape and was cast for the role of Josephine.
2. "The 100" convention was her first convention
Being added to the cast of "The 100" had Sara both excited and anxious. Her anxiety stemmed from the fact that she was afraid fans would not embrace her character because they had come to love Clarke, yet Josephine was going to take over her body. However, according to OMFG TV, fans of the show loved Josephine so much that when "The 100" convention came up, Sara was invited.
3. It took years for her to be correctly diagnosed with epilepsy
Since she was a child, Sara had had twitches from time to time, and none of the doctors knew the cause. However, at the age of 16, she had her first grand mal seizure that led to doctors giving her the correct diagnosis – she had epilepsy. Unfortunately, while it helped to know the root of the tics, finally, it also meant Sara could no longer dance. She was lucky to get medication to treat the seizures, and by 2018, she had been seizure-free for six years.
4. Molly was the first character she related to on a personal level
Just like Sara had to give up dance due to her epilepsy Molly had to take on a passive role after realizing that pushing for her dream to be in sports medicine could kill her. However, as Sara explains to TVeh?, Molly decides to be the captain in the courtroom to help the other girls fight for justice. For Sara, playing Molly helped her find closure with her own predicament as she came to terms with her past, present, and future.
5. Why she took up acting
Growing up in Winnipeg, Canada, Sara was hopeful that she would be an actress, but the town she lived in barely had any exposure. Consequently, she settled on the next big thing she could think of – dancing. Sara danced competitively in high school, sustaining injuries until her body could not take any more; thus, she thought of pursuing her first love. Immediately after graduating high school, the actress moved to New York City and enrolled for a degree in film and television acting at the New York Film Academy.
6. She is charitable
As she played Molly, Sara realized how important it is for women to know they can count on each other whenever they need a helping hand. Therefore she is a supporter of the Orange Daisy Project that focuses on supporting the mental health of young women. They have collaborated with mental health experts to fight any stigma surrounding mental illness. The actress does whatever she can to let young women know they have a place they can run to whenever they want someone to lend them an ear.
7. She hopes to be a producer someday
Sara once said that a goal should scare you a little but excite you a lot, and in her future, she pictures herself as an executive producer. Although acting is excellent in telling a story, being the person who puts it together for the screen is something that Sara aspires to do by 2021. Maybe what further informs her decision is the challenging part of being an actress, which she confesses to be the unpredictability. Sara disclosed that she lives in the constant fear of the unknown; she could put her heart in something only for it to be taken away from her.
8. Her first acting job
As a dancer, the minute she was exposed to contemporary dancing, it became her favorite aspect of the craft. Therefore even when her first acting job came along, she was excited to play a dancer in a film. It is then that she considered acting as not being such a bad thing; after all, she was getting to dance too. What further cemented her love for acting is when she wrote a poem that she danced to, and the feeling of dancing to a monologue inspired her to be an actress.
9. She told her parents about moving to New York through a PowerPoint presentation
Many teenagers use visual aids to help make their case, and Sara prepared a PowerPoint presentation explaining she wanted to study acting and would be moving to New York City. The actress even emphasized that since her family had no acting background, she was aware that she could fail, but her parents believed in her and allowed her to relocate to New York City.
10. It wasn't easy to get her start in the acting world
After moving to the land of opportunity, the chance to be an actress seemed to never knock on her door. Time went by without any success, and her visa was almost expiring; hence Sara moved back to Vancouver. The actress started a nail business, "Bearclaws," which she operated from her house and began organizing photoshoots as she waited for her big break.
Tell us what's wrong with this post? How could we improve it? :)
Let us improve this post!