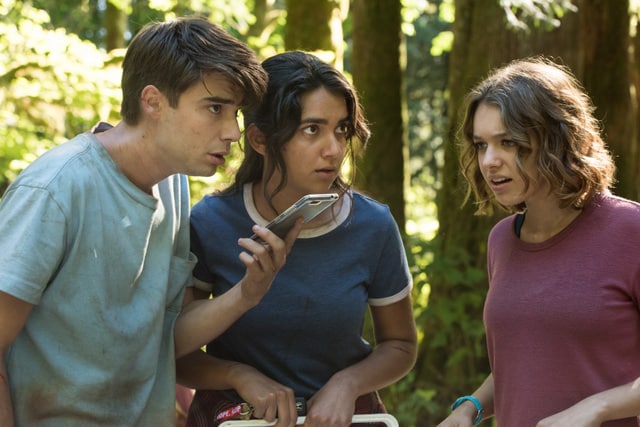 There are times when you have to wonder why parents start their kids out when they're so young, but then you get the impression that a lot of these kids want this and figure it's best not to dampen their enthusiasm. Besides the fact that a lot of kids such as Sadie Calvano tend to excel or fade off quickly depending on the roles they receive and how quickly they can acclimate to them. For her own part Sadie has done very well and has been featured alongside a lot of very talented individuals that are both notable names in Hollywood and seasoned veterans that could possibly help her out when she really needed it. So far in her career though she has excelled and met peoples' expectations in such a way that she's been cast in a few very well-known productions and has continued to climb the ladder when it comes to being considered for future roles.
Here are a few things about her you might not know.
10. She started performing in musical theater when she was 7.
This isn't the youngest start that's ever been recorded in show business but it certainly is young all the same. There are still so many developmental milestones to go through at this age that it's a wonder that child actors ever really have much of a normal life if they continue their career. But a lot of them make it work.
9. She's appeared on NCIS.
A lot of kid actors have come and gone on NCIS and usually they're there for an episode or two and then they move on. But usually if a kid is involved in some way it becomes a very personal episode that means a lot to the characters.
8. She was a competitive gymnast at one point.
It's not hard to see why she would give this up to stay with her acting but it is still something that's highly impressive since it requires a great amount of discipline and dedication to the sport. Gymnasts tend to spend a good deal of their life in the gym if they're really set on competing and winning events. But they are usually some of the strongest individuals around pound for pound.
7. She's the national spokesperson for Bags4Kids.
This is a charitable organization that's been put together to provide school children with the supplies they will need and is one of the best causes there is since a lot of kids attending school, more than you might think, are in need of some assistance.
6. She has appeared in the TV show Mom.
Mom is one of those comedies you can laugh at but might be doing so guardedly since it deals with very real problems in a way that's funny but also far more dramatic than other shows might be comfortable with. It is pretty funny but the issues they deal with do come to a head now and again.
5. By 4th grade she was acting full-time.
Before junior high she was already a star and likely making more than her parents for each role she performed. But obviously things had to continue at a pace that she could handle since she's still an educated woman.
4. She was in the film J. Edgar.
This film was absolutely roasted and raked over the coals when it came out as it was described by some to be nothing like the life of J. Edgar Hoover, though some did manage to enjoy it and find some scenes that might have actually happened. Maybe Leo DiCaprio wasn't quite the right choice.
3. She has a decent following on social media.
It's interesting to note the difference between certain actors and how many people follow them and the things they do. Sadie has a healthy following it seems as people don't fawn over her all the time but do seem to want to know what she's doing and what projects she's going to be a part of.
2. She's been active since 2010.
She's not a complete newbie but she's not exactly a veteran quite yet either. She's been around just long enough to know what she's doing and what she wants out of her career and if she'll be sticking around for a while to come. That's usually enough for any person to expect at this point in their career it seems unless they start blowing up on the screen too quickly and have to ease back just a bit.
1. She's kind of on the shorter side.
Sadie isn't that short but since the average seems to be around 5'4″ she's a little below that at 5'2″. In some ways this can make her a little more versatile in her casting considering that women who are of average height or slightly under or over are commonly able to perform a lot of different parts.
It will be interesting to see how her career goes in the coming years.