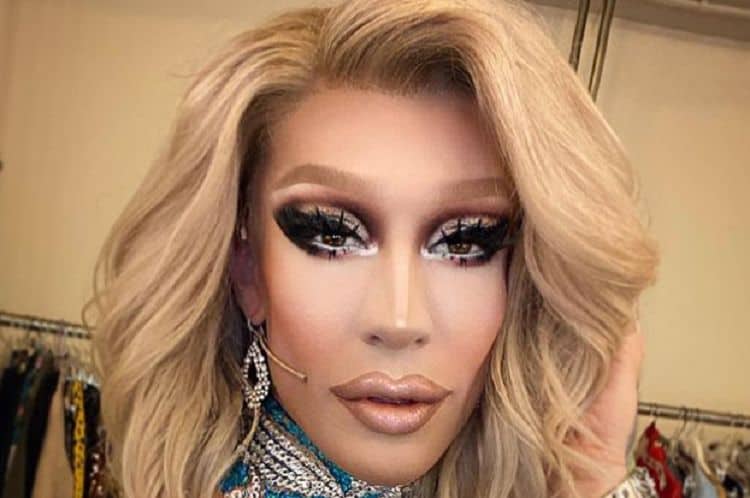 Season 10 of "RuPaul's Drag Race" saw Dane Young AKA Kameron Michaels become a reality star, and she performed so well that she wound a runner up. Kameron did not think she would make it beyond the first few episodes, but after sending Miz Cracker home, she pictured herself as the winner. She might not have taken the cash prize of $100,000, but the experience opened up a whole world of opportunities, including touring cities around the globe. Here is everything else to know about Kameron.
1. A breakup made her join "RuPaul's Drag Race."
Kameron was in a relationship, but the guy told her that she was meant for greater things, and since Kameron would concentrate on her love life, she missed out on her dreams. Consequently, he broke up with her, and Kameron took his advice by auditioning for the show. Since she was picked, the reality star saw it best to thank her ex for prompting her to pursue her goals.
2. She started drag while in high school
As a child, Kameron did not know anything about drag queens because there was no exposure through television. However, by the time she was in high school, she had started going to bars thus became aware of drag. She, therefore, began doing drag in her senior year by performing in gay bars during the weekends; she was part of an amateur show, Glam Squad. Kameron did drag part-time for a year while hairdressing was her full-time hustle. She then gave it up to concentrate on her hairdressing career.
3. How she came up with the stage name, Kameron Michaels
Most people know her as Kameron Michaels, but before, she used to go by another stage name, Arianna St. Claire. She then realized it did not sound like her, so she changed it to Kameron telling Windy City Times that she needed a boyish girl name. As for choosing "Michaels," Kameron wanted a unique name, and since there were no drag families in Nashville who had it as their last name, she knew it would go well with Kameron. She aimed to rise and make a name for herself; she had, however, heard of Chad Michaels.
4. Her introverted nature has been misconstrued as being shady
People expect entertainers to be loud, but Kameron is quiet, and when she is not on stage, she will most likely retreat to her shell. She became aware that people would get offended when she walked into a room and remained quiet, thinking that perhaps she was acting snobbish while she was acclimatizing to her new environment to get comfortable enough to get out of her shell. Luckily, during the competition, she had contestants like Monique and Dusty, who understood her personality.
5. She was bullied in high school
Kameron has always been feminine, and her body language gave her away, but that did not sit well with the straight students in high school. She was, therefore, bullied because she used to catwalk instead of walking like other males, which made her learn to walk with her feet apart. Additionally, according to Vice, she studied videos of herself to ensure that she would not stand out in a crowd. Some of her bullies were remorseful of their behavior and reached out to her to apologize later.
6. Why she took a break from doing drag
Although she said that she took a break from drag to focus on hairdressing, the real reason is because she got a boyfriend who did not like her doing drag. Instead, he wanted her to hit the gym with him, so she complied, making her go from 145 pounds to 185 pounds. When they broke up, she went back to doing drag, but her big muscles made her a target for criticism by the other queens. Kameron therefore hid her muscular arms by not wearing strapless dresses for three years.
7. She got her first tattoo at 26
One thing that set Kameron apart from her fellow queens was the tattoos; thus, even when she is not in drag, people still recognize her. She got her first tattoo at around the age of 26, and so far, her left arm is her favorite because it reminds her of her childhood. The arm is full of tattoos from the movies "Jurassic Park" and "Aliens," as well as his favorite video games. She also got a scarab on her chest when she started hitting the gym to symbolize her rebirth. She is a loyal customer because all the tattoos are from the same artist, and she got them in one and a half years.
8. Her biggest sacrifice for her drag career was the gym
Kameron loves working out so much that she adopted the moniker "Body Builder Barbie." She can comfortably do handstands, squats, splits, and before going on the show, she wanted to learn back handsprings but ran out of time. Before going on "RuPaul's Drag Race," Kameron used to lift six days per week, but with her touring schedule, she chose to sleep whenever she could instead of going to the gym, reasoning that the gym would wait but her career would not.
9. She is charitable
After competing, Kameron planned that if she won, she would get to travel the world and help several philanthropic organizations. One particular organization that she was interested in supporting is The Refuge Center because her mother has given most of her time there, and Kameron hoped to volunteer too. She told Dallas Voice the gay youth center means a lot to her because of what she went through in high school.
10. She has lost lots of potential suitors because she is a drag queen
Love is about giving and taking, but not everyone is willing to compromise, so relationships end, and Kameron knows it all too well. She usually goes on casual dates, and once she reveals that she is a drag queen, the other person says they do not date drag queens, and they stop talking to her altogether. It has happened to her so many times, and she believes every other drag queen can relate.
Tell us what's wrong with this post? How could we improve it? :)
Let us improve this post!