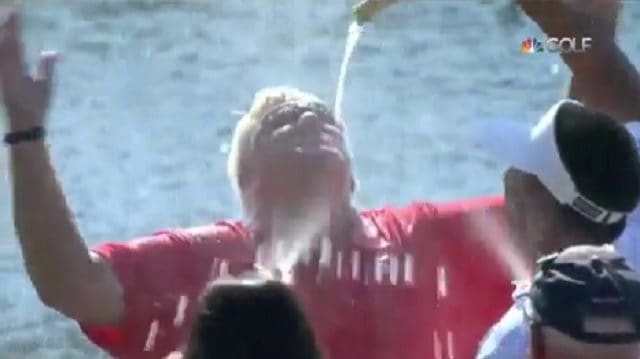 Will all of the attention that the PGA tour and guys like Rickie Fowler, Dustin Johnson, Rory Mcilroy, and the other "new" crop of golf stars get, it's easy to forget that the one man who should be every man's favorite golfer is still out there hitting the greens and playing in tournaments. While John Daly is much older than he used to be, that doesn't stop the man from still having fun, wearing ridiculous clothes and smashing the hell out of the golf ball every chance he gets.
And this weekend Daly did it in style. It's taken 13 years but John Daly is finally back on top. Yesterday, Daly won his first tournament title since 2004 after he won this weekend's Champions event by one stroke. Daly, who was wearing some sweet American flag pants, celebrated like only John Daly would: by dousing himself with champagne.
I think it's safe to say then when you really get down to it, John Daly lives the life that just about every single male over the age of 35 dreams of living. You play golf for a living, wear whatever clothes you want, drink whenever you want including while your playing, and essentially get away with whatever you want because you're John Daly.
Love this guy.
https://twitter.com/ChampionsTour/status/861332440333246464
Living. pic.twitter.com/ZhB2wcppi2

— Kelly Hawkins (@KHawkTDR) May 7, 2017