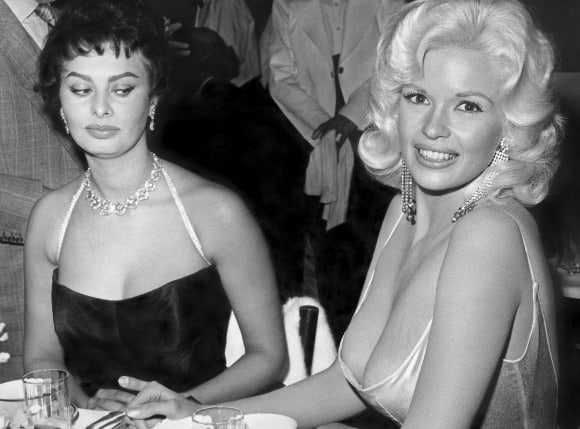 Jayne Mansfield was an actress who was born in Pennsylvania on April 19, 1933. She was at the height of her fame during the 1950s and 1960s and became a Hollywood sex symbol. Sadly, her career was cut short when she tragically sustained a fatal brain trauma in a car accident on June 29, 1967. She was just 34 at the time of her death. Although her career was short, she was extremely successful and starred in many big movies. Here are the top five movies of Jayne Mansfield's career.
1. Will Success Spoil Rock Hunter?
Originally, this was a Broadway musical in which Jayne Mansfield starred. It was made into a film in 1957. Other than the fact that Mansfield reprised her role for the film and the movie shared its name with the stage musical, very little else remained the same. It was directed by Frank Tashlin who also co-wrote the film with George Axelrod. The film also starred Tony Randall, Betsy Drake, Joan Blondell, John Williams, and Henry Jones. The film version grossed $4.9 million against a budget of $1.05 million.
2. The Girl Can't Help It
Jayne Mansfield played the lead role in this musical comedy that was directed by Frank Tashlin who also co-wrote the film with Herbert Baker. Others who starred in this film included Tom Ewell, Edmond O'Brien, Henry Jones, and Julie London. The film also featured several stars who appeared as themselves. These included Little Richard, Eddie Chochrane, Fats Domino, Eddie Fontaine, The Treniers, and The Chucklers. This movie was a commercial success as it grossed $6.25 million against a budget of $1.3 million. However, critics had a rather different opinion and it did not receive good reviews.
3. The Wayward Bus
This 1957 drama film was written by Ivan Moffat and directed by Victor Vicas. Alongside Mansfield, the film starred Joan Collins, Dan Dailey, and Rick Jason. It was based on John Steinbeck's 1947 novel of the same name. Most of the storyline is set on a bus driven by Johnny Chicoy, played by Rick Jason.
4. Too Hot to Handle
'Too Hot to Handle' was a neo-noir gangster thriller film that was released in 1960. It was directed by Terence Young and written by Herbert Kretzmer and Harry Lee. It also starred Leo Genn, Karlheinz Bohm, Christopher Lee, Danik Patisson, and Patrick Holt. The film is about the rivalry between two nightclub owners.
5. Promises! Promises!
This was a 1963 unrated sex comedy. Jayne Mansfield appears in many scenes nude and was the first mainstream artist to do so in a Hollywood motion picture. The film was directed by King Donovan and written by William Welch and Tommy Noonan. The latter also starred in the movie alongside Mansfield. Other cast members included Marie McDonald, Mickey Hargitay, Fritz Feld, and T.C. Jones. Mansfield performs two songs in this film; 'I'm in Love' and 'Promise Her Anything'.