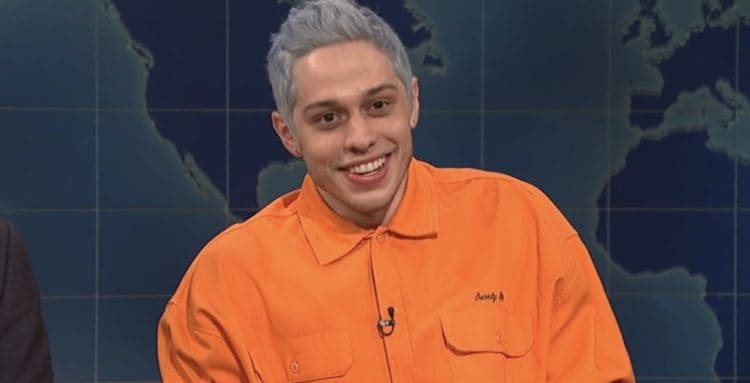 Pete Davidson may not see Saturday Night Live in his future. The stand-up comedian and current Saturday Night Live cast member sat down with Breakfast Club co-host Charlamagne Tha God for an honest conversation released on February 24, 2020. In the hour-long interview with Charlamagne Tha God, Davidson gives vulnerable and open responses when faced with questions about his personal life, including past and present struggles.
While Davidson dished on hot topics from his ongoing struggles with mental health and drug addiction to his former engagement to pop singer phenomenom Ariana Grande, one of the more notable revelations of the conversation was his future–or lack thereof–at Saturday Nght Live, the comedy show that launched him to stardom back in 2014. Now celebrating the release of his first Netflix stand-up special Alive in New York. Pete Davidson is at a bit of a crossroads. When asked where he saw himself in five years, Davidson shared his dreams of writing, directing, and producing for his friends as his ultimate goal; any mention of Saturday Night Live was noticeably missing. When he elaborated about his experiences with and attitudes toward Saturday Night Live, it's even more clear that he's already got one foot halfway out the door of Studio 8H.
Pete Davidson's History on Saturday Night Live
An aspiring stand-up comedian, Davidson's first televised standup aired on Gotham Comedy Live in June 2013. The comedian's earlier appearances on television included a handful of episodes on the MTV comedy series Failosophy, the reality TV comedy series Guy Code, MTV2's Nick Cannon Presents: Wild 'N Out, and Brooklyn Nine-Nine.
Then Saturday Night Live gave Davidson's his big break. Davidson joined the cast of SNL in September 2014 for the show's 40th season. At age 20, he was one of the youngest cast members ever. His debut on the long-running show immediately garnered positive popular and critical response. Davidson was praised for not only his ability to adopt different personas in skits but also for his knack for basing comedy on his own life and poking fun at personal topics including drugs, sex, and relationships to which audiences can relate.
Although Davidson has been involved in controversy from time to time over the sensitive content often found in his sketches, his reception on Saturday Night Live has been largely favorable. He has returned as a full cast member each season and frequently appears in skits and Weekend Update. Davidson also toured in New York, New Jersey, Pennsylvania, and Massachusetts for a series of comedy shows with John Mulaney, another comedian and former writer for Saturday Night Live.
Pete Davidson's Issues with Saturday Night Live
Despite his significant history with the NBC comedy show, Davidson did not speak about Saturday Night Live particularly favorably during his conversation with Charlamagne. "Here's the thing," he said in the interview. "I personally think I should be done with that show because they make fun of me on it."
Wait a minute. Isn't that the entire premise of Saturday Night Live? To make fun of people? It's a comedy show, after all. When Charlamagne raised that very objection, Davidson said that while he understood that it was the point of the show, he still feels like he is at the butt of too many jokes, from political sketch punchlines to Weekend Update jokes to everything in between.
"I have weird feeling in that building where I don't know whose team they're playing for, really. If I'm the joke or I'm in on the joke," he told Charlamagne. Even while he spoke favorably of the show's creator and producer Lorne Michaels, even calling him a father figure, Davidson continued to describe the feeling that those in and behind Saturday Night Live don't really care about him, that everyone on the show just wants to be the next big thing, and that the writers think he's stupid.
Even while Davidson complained about how his personal life is treated on Saturday Night Live, he also said that if he asked his co-workers to cut jokes about his personal life, that would just make him into a hypocrite. Davidson himself incorporates many sensitive personal issues including drug addition, health conditions (including bipolarism and borderline personality disorder), family (his father was a firefighter who died on 9/11), and relationship ups and downs into his own comedy routines.
Pete Davidson's Days on Saturday Night Live May Be Numbered
This being said, it sounds like Davidson has outgrown Saturday Night Live, a process that's not unheard of in the world of stand-up comedy. Many comedians star on SNL for a handful of years before moving on to other work. If Davidson feels that he's done as much as he can over there, it makes sense for him to take the next steps towards a career beyond Saturday Night Live.
In addition to his new Netflix special, Davidson has landed a starring role in the film Big Time Adolescence, which will be released in March first in select theaters and on Hulu soon thereafter. He co-wrote and starred in The King of Staten Island, a Judd Apatow film that will hit theaters June 19, voiced the titular character in an upcoming Marmaduke film, and may branch out to drama in other upcoming shows and films, including The Rookie and Suicide Squad.
While the comedian's six-year run on Saturday Night Live might be ending sometime soon, Davidson is working on his long-term career plans. He is certainly staying plenty busy outside of Saturday Night Live with a selection of upcoming and future appearances in television and film. Despite his criticism of the cutthroat environment of Saturday Night Live, Davidson also credited the show for helping him improve his own comedy, and noted that he's happy to stay on the show for as long as Lorne Michaels wants. But Davidson is ready to move on.
Tell us what's wrong with this post? How could we improve it? :)
Let us improve this post!