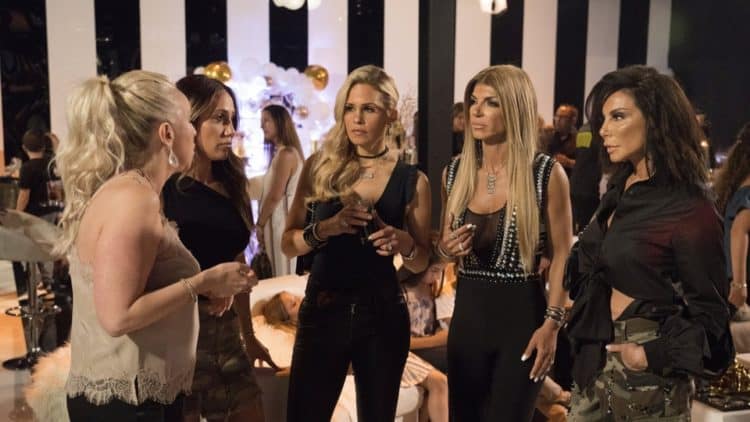 What would an episode of Real Housewives be without a little conflict? Unfortunately for some of the ladies of the franchise, keeping the drama to the set is clearly too much of an ask. Over the past few years, more wives than you'd have thought possible have kept their penchant for theatrics running way past the point of the director shouting "Cut". So, which ten Bravo personalities can brag of having an arrest record?
Kelly Dodd
In 2014, RHOC star Kelly Dodd had the cops call on her after neighbors reported a disturbance. Dodd was caught in the throes of a fight with her husband, Michael, and was swiftly arrested for domestic violence. The charges were later dropped after she agreed to attend AA and therapy. Understandably, the couple's marriage ended soon after.
Porsha Williams
Current housewives, beware. If Bravo invites you to a reunion, think long and hard about whether to go, especially if you've got a hot head and a bit of a beef with one of your old castmates. In April 2014, Porsha Williams felt the long arm of the law after an argument with RHOA costar Kenya Moore turned violent during the filming of a reunion. "Porsha stood up, so then Kenya stood up," a source shared with US Magazine. "Porsha charged at Kenya and pulled her hair, but it was over in a matter of seconds…Andy [Cohen] and a producer jumped in, and then security came." If it was any consolation for her arrest, her mug shot was probably one of the most glamorous ever.
Sonja Morgan
Regardless of whether you're famous or not, driving through a stop sign and then failing a breathalyzer test is unlikely to get you anything but a record. In 2010, RHONY castmate Sonja Morgan did exactly that after she decided getting behind the wheel was a good idea after what had clearly been one too many bevies.
NeNe Leakes
Let's make it clear, NeNe Leakes has not done jail time. And if you so much as suggest she has, you're likely to get much the same response as Andy Cohen did when he interviewed her as part of the "Watch What Happens Live" in 2018. "A mugshot does not equal 10 years in prison for doing a Ponzi scheme. I ain't spent a day in jail for nothing, you hear me?!" she told the host. And she's not lying. What she did get, on the other hand, was two years of probation and a penalty of $2,650 for ripping off her very own phone company. If there's a lesson to be learned here, NeNe, it's don't poop where you eat.
Gina Kirschenheiter
Drinking under the influence seems to be a favorite hobby for some of the housewives. In February 2019, Gina Kirschenheiter became the latest wife to be caught indulging in a little drunk driving after cops pulled her over for erratic behavior in Rancho Santa Margarita, California. She later apologized for her behavior on Instagram in a lengthy post that ended with the troubled star thanking her fans for their support. "As embarrassed and hard on myself as I've been in these past few days, I've been shocked by the astonishing amount of 'it could have happened to anyone' and 'we've all be there' that I've received through friends both to me and on social media."
Jules Wainstein
In February 2020, Jules Wainstein became one of the very latest housewives to feel the full force of the law when she was arrested on charges of battery after an argument with her estranged husband, Michael, got out of hand. According to Page Six, Wainstein allegedly licked the window of Michael's car before taking a baseball bat to its rear. Following the incident, Michael took out a restraining order against Wainstein and requested she submit to drug testing.
Marysol Patton
In 2010, Marysol Patton was arrested for… you guessed it, drunk driving. Following the offense, Patton was fined $1,000 plus $581 in court costs. Clearly, refusing to take a taxi after a few drinks runs in the family, as Patton's mom, Elsa, was arrested for the same offense shortly after.
Kim Richards
In 2015, Kim Richards seemed to have forgotten both her purse and her law-abiding ways when she was caught stealing from Target. The errant housewife must clearly have been desperate for some shopping — not content with just stuffing a lipstick in her pocket and calling it a day, Richards tried to smuggle two whole shopping carts loaded with over $600 dollars of toys, beauty products, and merchandise out of the store. She managed to get just 3 feet before a security guard put an end to her fun.
Teresa Giudice
In July 2013, original Real Housewives of New Jersey cast member Teresa Giudice was arrested and charged with conspiracy to commit wire fraud, bank fraud, bankruptcy fraud, and mail fraud, not to mention making false statements on loan applications. Her husband Joe was also charged with failure to file tax returns between 2004 through 2008, during a period in which he was alleged to have earned a cool million. A year later, the couple pleaded guilty to 41 counts of fraud in total. Teresa was sentenced to 15 months of jail time, while Joe was ordered to serve 41 months.
Luann de Lesseps
We all like a wee glass or two at Christmas, but most of us manage to do so without following it up by kicking a policeman in the shins… which is more than can be said for Luann de Lesseps, who managed to get arrested on Christmas Eve 2017 on charges of disorderly intoxication, battery on a police officer, resisting arrest with violence, and threatening a public servant. Suffice to say, she didn't make Santa's good list that year.