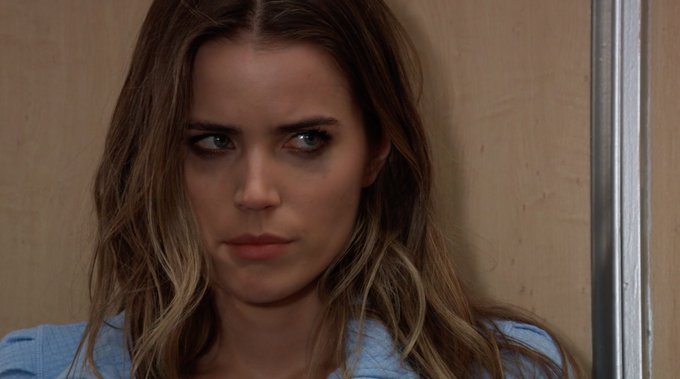 General Hospital fans are not sure how anyone is going to get through anything that is going on around here. There's so much, and we also know that this is the last week that things like this are going on. This is going to be an emotional week as a result, but we have to go over all that happened last week, first. We have to tell you that Nelle is making some big moves. She walked into court with a big entrance looking like she has nothing to fear at all. She's not in a place where she feels at all worried about what is going on, and we have a feeling that this has a lot to do with the fact that she's got her new mom helping her out. Nina is so desperate for a child that she's willing to go out on a limb for a criminal to make her life worth living — especially if she has a grandchild, too.
Carly's background is not one that is the best, and it might have a negative effect on Michael. He has his family around to help him out right now, but this is not something that will change for him. He's got a lot happening, and we aren't sure that he can handle much of it. He's not in a good place, either. He's struggling. He's worried. His mom is worried about what is going on with Willow and with Sasha, she's confronted Chase about his role in making all this confusion happen, and things are just not going according to plan. Willow is not sure about her future, but she is willing to help out her friend Michael so he can have his baby. She doesn't have hers, and she knows that pain.
What's Happening on General Hospital
Carly wants to do everything in her power to stop Nelle from gaining custody of Wiley. Will it be enough?
Tune into an all-new #GH – STARTING NOW on ABC! @lldubs pic.twitter.com/b8OKjqtMQt

— General Hospital (@GeneralHospital) May 14, 2020
We wouldn't mess with Carly.
What's Next on General Hospital
"Where's Nelle?" #GH pic.twitter.com/RzfB11z58n

— General Hospital (@GeneralHospital) May 11, 2020
This is a week that will bring some big news to so many people. Nelle has something she'd like to announce, and we cannot imagine how damaging her testimonial announcement might end up being for Michael. We have reason to believe, based on rumors going around, that she is about to announce her engagement. We even believe that we know who she is engaged to, and that is such a problem for everyone. She might be getting married. It might be to Valentin. She might be hurting the woman who will stand up for her on the trial by doing this. Nelle is not going to marry her new mom's ex, right? Well, we don't know. She's never cared how other people feel before, so we don't assume she's about to start caring, if we are being honest.
Molly is going to celebrate, too, and we think it has all the things to do with TJ. She's feeling good about things, maybe she's feeling better about cheating, and she's got a lot going on that might make her happy, but for how long? We worry for her with her secrets and the sheer amount of people who know this secret she is keeping. This cannot go well, honestly. Jordan has a warning, and it's for Sonny. What does she know that might make things worse for him, or that might help him out if he is not sure where to go with things right now? He's got so many things in his life to focus on, and it's not easy, and we can see him faltering.
Stay tuned for more General Hospital and be sure to check out TVOvermind daily for the latest General Hospital spoilers, news, and updates.
Tell us what's wrong with this post? How could we improve it? :)
Let us improve this post!