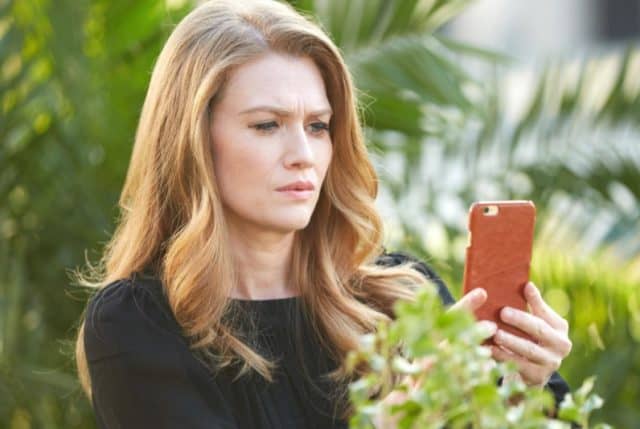 Mireille Enos is an old actress that has stepped into some very serious roles in the recent past and has run them all like a boss. She's a great actor and to this point has proven it with every role she takes. In some cases she looks younger than her age but it's even more impressive when you find out how old she is and that she appears to be playing roles that are slightly younger than her actual age. In short she's impressive and she brings a lot to the movies she stars in.
She's a great actor to watch, but she can make you hate her or love her depending on the role.
5. She gave birth to her first child at the age of 35.
It's said to be risky for women to have kids into their mid to late thirties but lately I've seen more than a few women doing it so perhaps medical technology has been advancing more than some of us realize. In any case it could have been that she wanted to focus on her career before starting a family, which is pretty normal really and very wise if you think about it. The only trick is to get comfortable enough that you can start your family when you're still relatively young.
4. She studied at Brigham Young University.
Despite being a Texas native she made her way to Utah where she attended BYU for a while. Eventually she made her way to New York where she stayed for a bit until her career started up. She's been a stage actor as well for a good part of her career and isn't above going back it would seem if she felt the need or the desire.
3. She used to be a part of the Handcart Ensemble.
The Handcart Ensemble is a New York City theater company that brings masterworks of literature to life. Enos spent a good deal of time with this group while learning how to get her feet wet. This could be a very big reason why she was able to become the star she is today. Everyone has to start somewhere after all and the theater is perhaps one of the greatest places for any actor to start, especially since there's no such thing as yelling 'cut' during a production.
2. She was at Babies R Us when she found out she got the part for World War Z.
That's kind of interesting to think that she was out buying diapers and the next thing she knew she was getting the green light to star in a zombie film. It just strikes me funny is all, but she played her part beautifully and obviously cared enough about the role to make it look genuine.
1. She's going to appear in the Amazon series Hanna.
She'll be starring opposite her former costar Joel Kinnaman in this gripping series that's based entirely off of the movie that came out a few years back. She gets to play the bad guy, or the good guy depending on how you look at it.
She's kind of underrated I think.
Tell us what's wrong with this post? How could we improve it? :)
Let us improve this post!