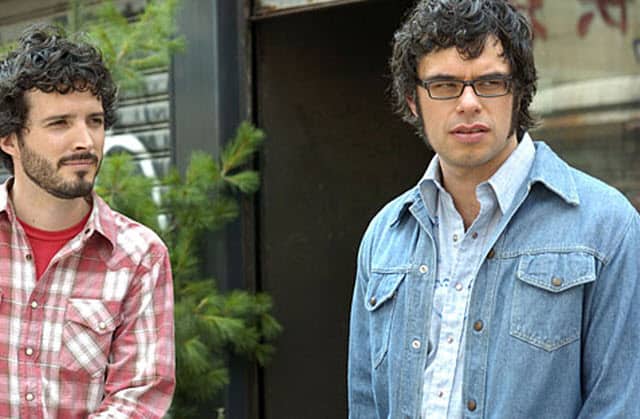 One of HBO's most memorable cult comedies, Flight of the Conchords remains one of television's most unique shows, a mix of New Zealand accents, catchy songwriting, and hilarious ironies unlike anything we've seen before (or since). And since Bret McKenzie and Jemaine Clement announced in 2009 there wouldn't be a third season of their hit show, rumors have circulated that a Flight of the Conchords movie or musical could happen (for what it's worth, HBO said a few years ago they weren't pursuing a film) – however, is it something we really need?
Now, don't get me wrong – to this day, Flight of the Conchords remains one of my favorite shows to ever hit the air. But there's a specific reason there never was a third season: after two years of production between seasons one and two, the co-creators/writers/stars of the show were creatively exhausted on Conchords material. And on-screen, it showed: while season two certainly represented a more experimental, wide-ranging collection of songs from the duo, none of them were as consistently funny, or fit as well into the episode's narrative, as the original material, carefully curated by the group over years of touring and preparation. There's no arguing season two of Flight of the Conchords is good comedic television – but it was clearly a case of diminished returns, struggling under the strain of being as creatively absurd as season one, a series of hit-or-miss propositions that posited it as one of television's most ambitious shows, but no longer one of the most consistent.
In the current culture of remakes, rehashes, reboots, re-prequels, and revivals – I mean, NBC is trying to turn Frequency into a TV show, for Pete's sake – there aren't a lot of great examples where revisiting old material leads to a successful new product. For every creative success such as Hannibal and Fargo, or well-received revival like The Comeback, there are a dozen examples of shows returning for inexplicable reasons, reasons that seem exciting initially (more Twin Peaks!), but only end up existing to tarnish the legacy of what came before it (Bates Motel, the recent Charlie's Angels reboot, Gracepoint, any number of failed Hollywood blockbusters from recent years… the list never ends).
At best, a Flight of the Conchords revival would play out like the recent fourth season of Arrested Development on Netflix: something we'll all watch, and something that will be so ambitious and unique that it will undoubtedly fracture the fan base of the two seasons that preceded it. Just watch the two seasons of the show: they're so fundamentally different, the second season relying much heavier on obscure musical references both in the visual representation and the songwriting. Some of the songs are undeniable classics: but there's also no denying it's a very mixed bag, a diverse collection of songs and off-beat story lines that still divides fans of the show, five years later.
While it would obviously be a pleasure to see Bret and Jemaine together on stage again, there's no need to bring back the bumbling folk-rap duo, their agent, and their one obsessed fan, even if it's in another medium, like a musical or television film. Flight of the Conchords was a beautiful creation: but when the guys went back to New Zealand, it marked the end of a short, wonderful era. Like 95% of recent rehashes, bringing it back or re-adapting it isn't going to add anything to show's legacy – only take away from it, leaving it among the many shows, films, books, and stories marred by recent attempts to re-monetize – *ahem* modernize, them.
Photo via HBO
Tell us what's wrong with this post? How could we improve it? :)
Let us improve this post!