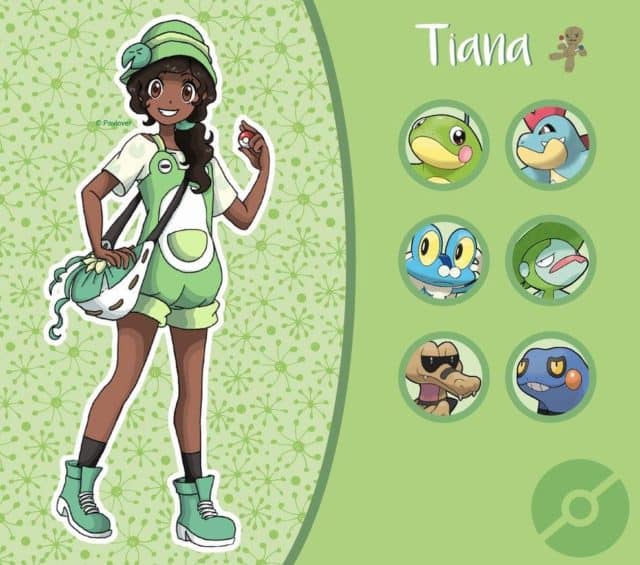 Disney ladies, not always princesses, are constantly getting made over into one look after another and as a result have a wide variety of different looks at this point. French artist Pavlover, who is a well-noted and very successful creator of many wonderful pieces, seems to think that the ladies might benefit from a Pokemon trainer makeover this time. Their signature looks still remain, but the type of Pokemon they might summon are definitely interesting and geared towards their own stories.
French artist Pavlover drew this adorable fan art series of Disney ladies as Pokémon trainers with their teams.
Let's take a look.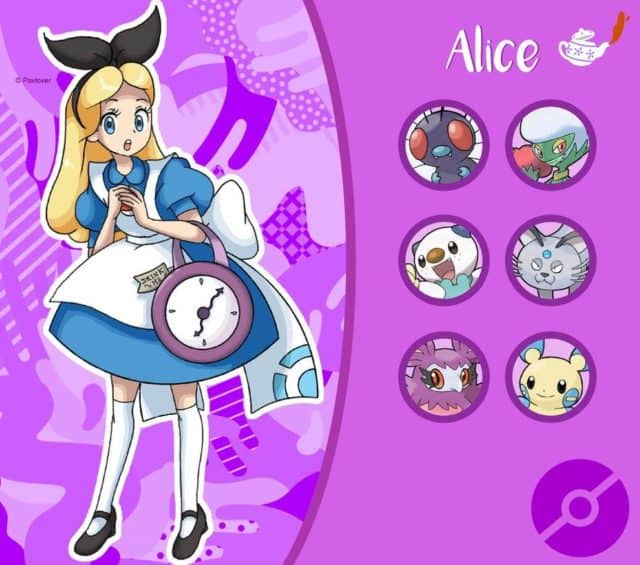 Alice would no doubt be drawing forth some of the most imaginative and yes, crazy Pokemon you've ever seen. Look especially for a cat, a rabbit, and a madcap little guy with an affinity for hats. Her Pokemon would no doubt be highly confusing to their opponents and would use misdirection and mass hysteria as weapons to disarm those that came up against them.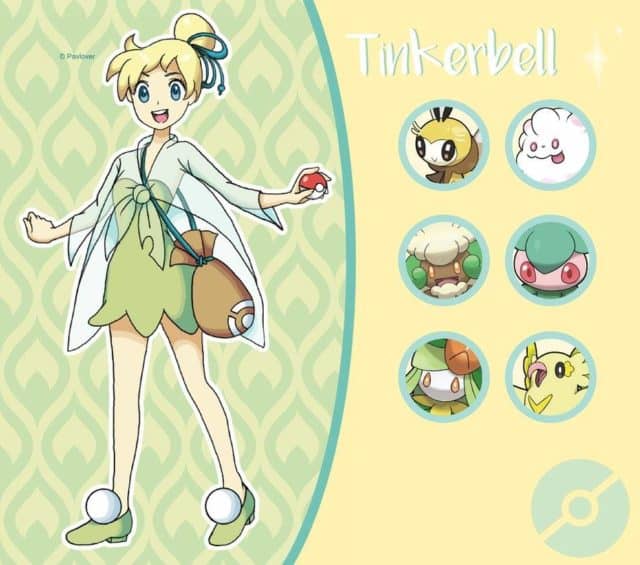 There'd likely be a wide variety of nature-based Pokemon in Tink's arsenal simply because of where she originates from and what she is. But aside from that you would think that some of her Pokemon would also be the creative and somehow ingenious type that when properly trained could think their way out of a jam rather than just using brute force.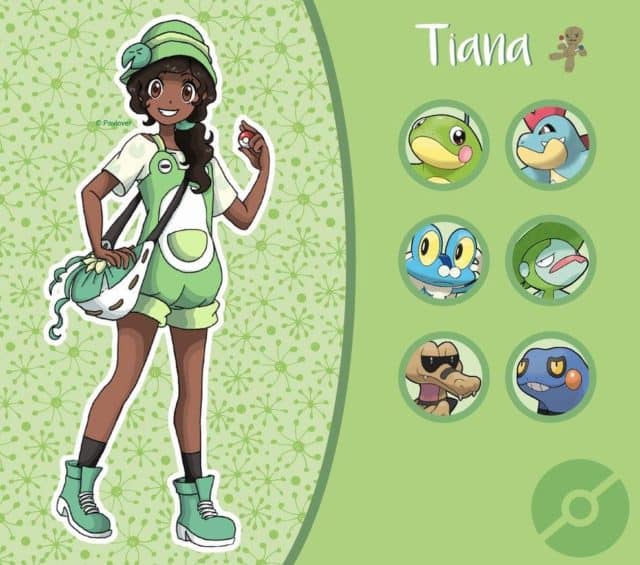 Definitely look for Tiana to be using any and all Pokemon that are comfortable in wetter, warmer climates. This might seem like it would limit her a bit in what she could collect and use, but there exist a wide number of areas in the world where she might be likely to find and use such Pokemon.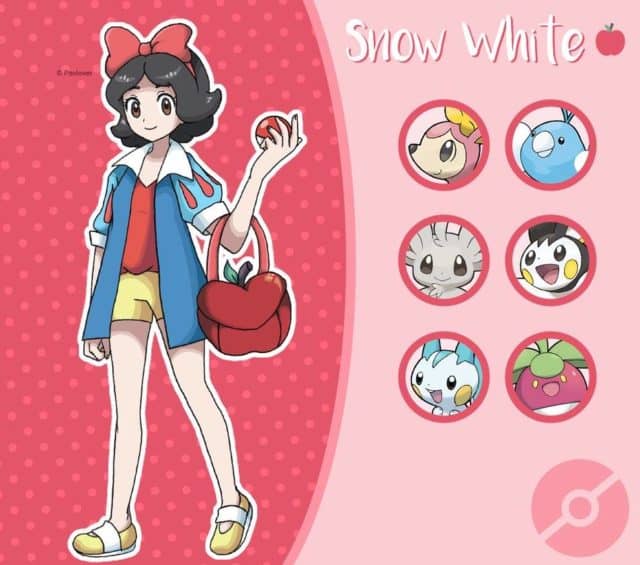 If it's in the woods then it's in Snow White's domain. You can well imagine that she'd have no shortage of Pokemon at her disposal if left to her own devices in her most comfortable location. If there was a dwarf-like Pokemon she might even be able to wrangle up a few of those little guys.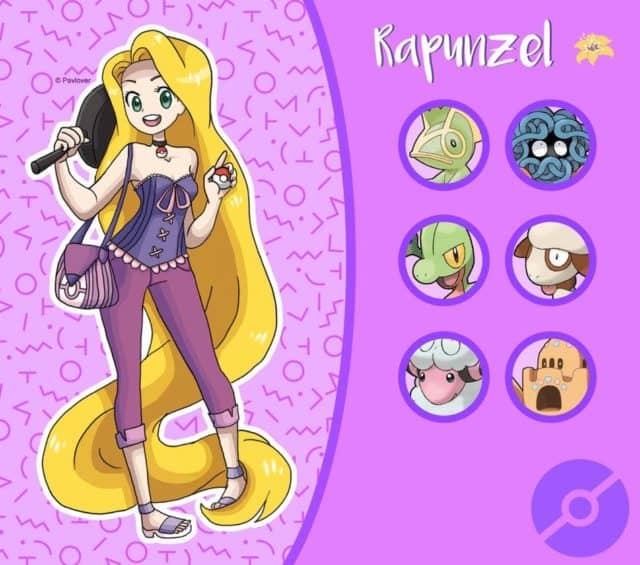 It seems like Rapunzel has a wider variety of Pokemon than the other ladies so far mostly because she's been raised in two very different areas and has experienced a wider array of useful Pokemon that could be put at her disposal. Plus, if there's a castle Pokemon it could be used for a great deal of defense while her others would probably be far more stealthy or straightforward in their attacks.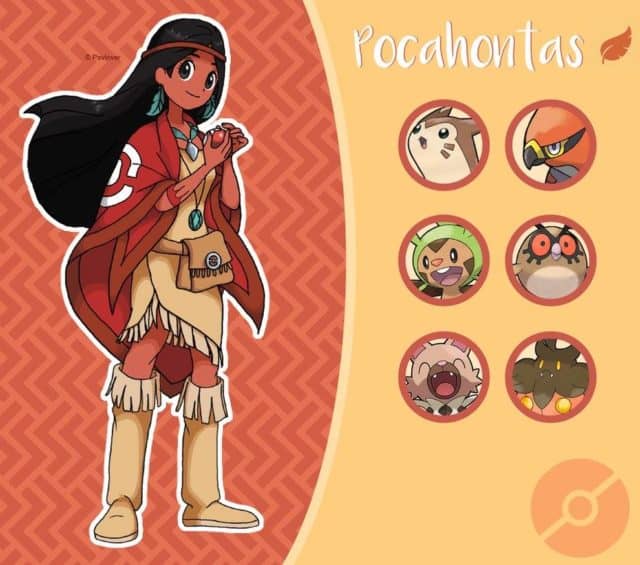 If it's considered a force of nature then Pocahontas will no doubt use it. Her mastery over earth and wind Pokemon seems like it would be absolute and more than capable of complimenting her persona. While it might not be the most varied group of Pokemon they could definitely carry a fight on their own ground.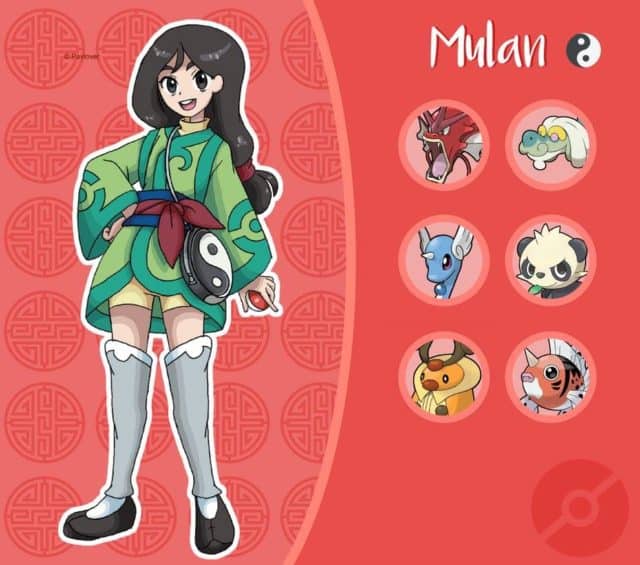 Look for traditional and spiritual Pokemon with Mulan. She would no doubt seek to honor her ancestors and stick to those Pokemon that were in line with her own sense of honor and could bolster her own sense of self in their attacks and their defense. Plus, they would have to have some type of fighting spirit to be a match for her team.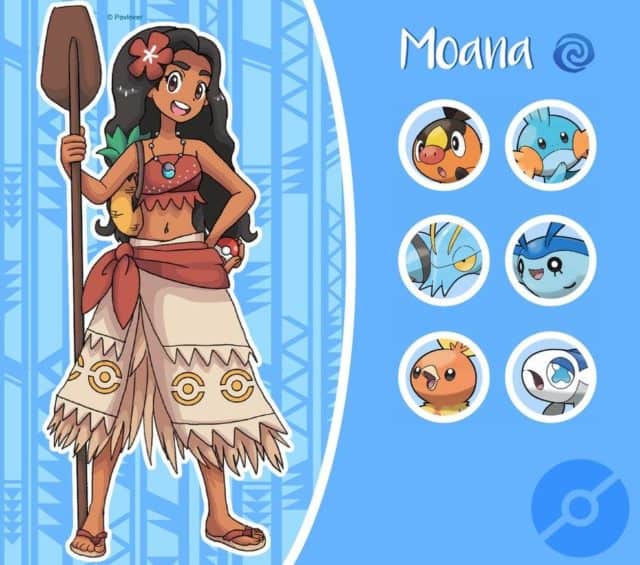 Moana would no doubt favor a lot of water-based Pokemon, which might limit her a bit in a fight on land but would give her a distinct advantage on the ocean if she was ever challenged in her domain. And yes, there would likely be a chicken-like Pokemon as well just for the fun of it.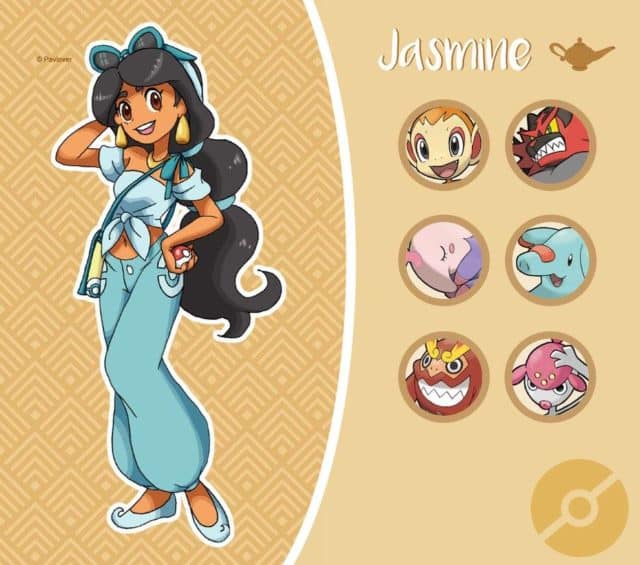 Jasmine might have an interesting mix of Pokemon. Part fire-based, part earth, but all with a definite attitude that speaks of strength and independence that she tends to personify. There would have to be at least one tiger-like Pokemon because c'mon, she has a pet tiger that doubles as a guardian after all.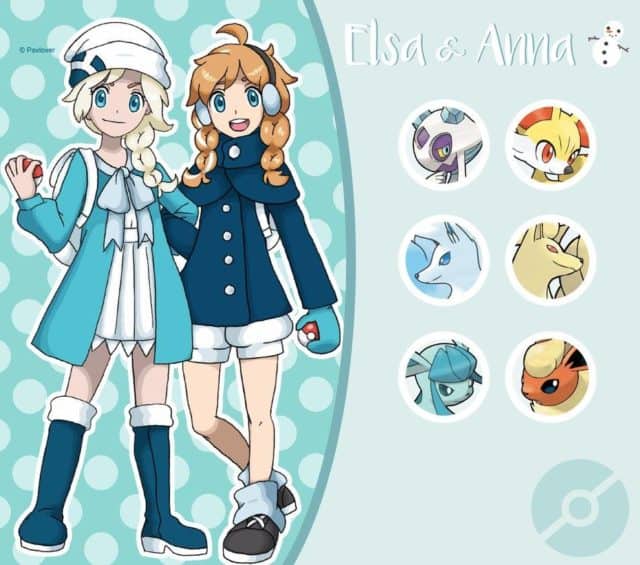 The perfect blend of fire and ice that would make these two a very serious dual threat would also keep them a highly specialized team that might contain a serious weakness. Of course if they know how to counter one another it might help when trying to take on another opponent.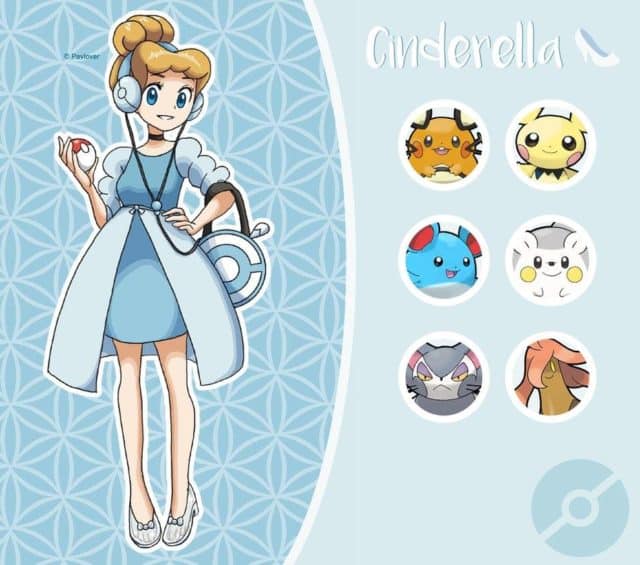 You almost get a utilitarian feel from Cinderella's Pokemon simply because they're not the most fierce or the most aggressive but they have a way about them that seems to indicate that they know how to navigate around hardships. They could prove invaluable simply because they don't look like much of a threat until it's too late.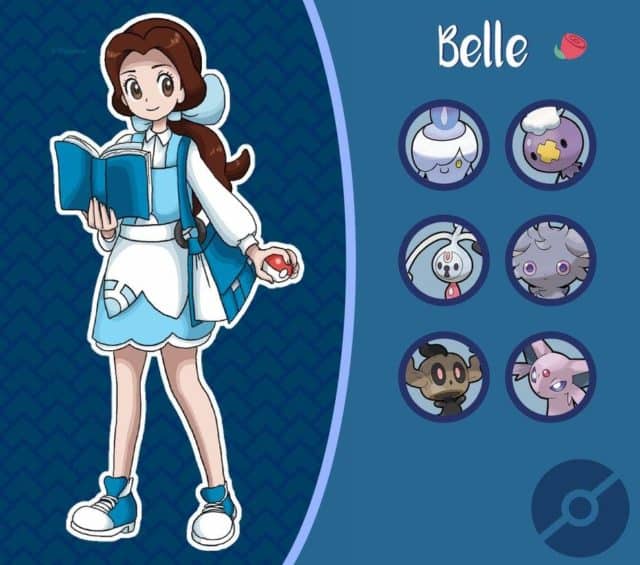 This might be another odd set of Pokemon but with Belle being such an avid student of anything and everything she can get her hands on it's likely that she would know how to use them to their true potential. It's even reasonable to think that she'd be a master of her own Pokemon and know full well how to counter those of others with ease.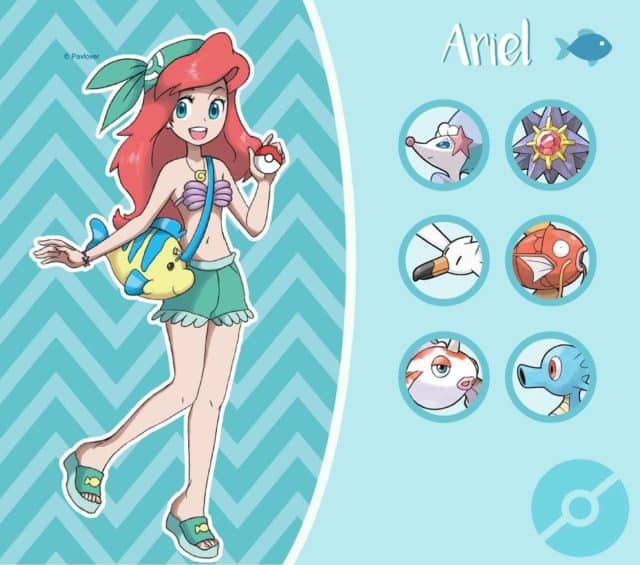 Ariel would be all about water and air-based Pokemon simply because of who she is. But chances are most of her Pokemon would be extremely impulsive and even a little foolhardy just like their trainer. After all she doesn't exactly know the meaning of patience.
This was fun. It would actually be worth it to see this idea pushed forward somehow.
Save