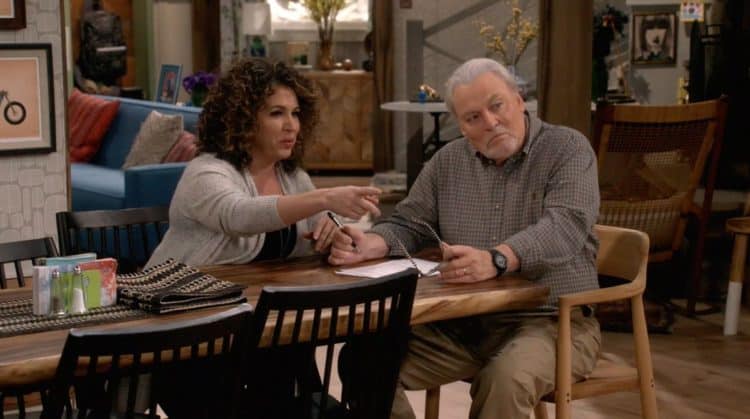 Diana-Maria Riva is the type of actress you may not know by name, but have definitely seen. Over the last 20 years, Riva has probably appeared in some of your favorite shows including Party of Five (the original), Sabrina The Teenage Witch, and The West Wing. More recently, Diana appeared as a regular on the first season of the CBS sitcom, Man with a Plan. Although her time on the show was short, Diana left an impact that won't soon be forgotten. As she gears up to work on some new projects, fans are excited to see what she's going to do next. Keep reading for 10 things you didn't know about Diana Maria Riva.
1. She Has Roots In The Dominican Republic
Diana Maria Riva's parents were first generation Americans whose parents came from the Dominican Republic. Diana feels a very strong connection to her latin roots. When Diana was cast in the comedy series, Sunnyside, she says directors decided to make her character, Griselda, Dominican as well.
2. She's Never Turned Down A Role Because Of Stereotyping
Stereotyping is a big part of Hollywood, especially for people who belong to certain ethnic groups. Luckily, though, Diana Maria Riva says that she's never been in a situation where she was asked to take a role of a character who fit into a stereotype. She told Latin Heat, " I've never turned down a role due to stereotyping. If anything I think I try and make it my goal as an actor to really tap into and bring out the real human element in the character in a way for the audience to find a reason to connect with that character."
3.  She's Worked With Eva Longoria
At the height of her career, Eva Longoria was one of the hottest names (and faces) in the business. Diana was excited when she got the chance to work with Eva on the series, Telenovela. Diana said she was drawn to the script instantly and actually laughed out loud when she read it.
4. Opportunity Is Her Biggest Hurdle
There are lots of challenges that come along with working in the entertainment industry. For Diana Maria Riva, the biggest challenge she's had to overcome has been the lack of roles. Unfortunately, she says, there aren't many shows that feature Latinx leads.
5. She's From The Midwest
Diana Maria Riva was born and raised in Cincinnati, OH. She attended the University of Cincinnati College-Conservatory of Music where she earned a BA and an MFA. Although she loves her hometown, there aren't a ton of major acting opportunities in Cincinnati.
6. She Could See Herself Being A Therapist
Diana has wanted to be an actor for as long as she can remember. However, she says she could've seen herself becoming a therapist had she not gone into acting. This is an interesting choice seeing as how they aren't very many similarities between acting and being a therapist.
7. She Wants To Be In A Period Film
During her career, Diana has gotten the chance to play all sorts of roles. She's been in comedies and dramas and appeared on the big and small screen. However, if there's one thing Diana still has on her bucket list, it's getting a role in a period film. According to Diana, "If I'm on a horse and have a sword, even better!"
8. She Encourages Young Actors To Get A Degree
Diana has a strong piece of advice for upcoming actors, especially Latin women. However, her advice might not be exactly what you'd expect. She recommends that they get an "education and pursue a degree in Theater. With a solid foundation in acting training, the avenues are broader."
9. Her Backyard Is Her Favorite Place
Is there a place in your home that you like to go to relax and unwind after a busy day? For Diana Maria Riva,that place is her backyard. When asked why she's so fond of her backyard, Diana said, "It feels private and protected. You can see the colors of the sunset, and there is plumeria with beautiful pink blossoms. But it doubles as a great entertainment space with wonderful conversations when people come over."
10. She Loves To Connect With Her Fans
One of the best parts of Diana's job is that she gets to connect with her fans. Diana enjoys using social media to stay in touch with the people who have supported her throughout the years. She says positive feedback she's received from her fans over the years means more to her than anything.