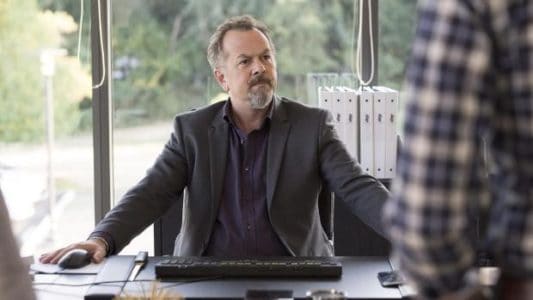 David Costabile's career has been nothing short of amazing. Since making his on screen debut in 1997, David has gone on to work on some of the most well-known shows on TV. He has made appearances in Law & Order: SVU, The Office, Breaking Bad, The Wire, and The Blacklist. Most recently, David has portrayed Mike Wagner on the Showtime series, Billions. On top of the success he's had in TV, he's also been part of several films. Despite being in the business for decades, David doesn't look like he will be slowing down any time soon. Keep reading for 10 things you didn't know about David Costabile.
1. He Moved To New York In The Early 90s
David was born and raised in Washington D.C. After finishing college at Tufts University in Massachusetts, David then relocated to New York City in 1992 to attend NYU's Tisch School of the Arts. David has been living in the city ever since.
2. He Loves The Element Of Surprise
Every actor has something different they love about the craft. David Costabiles's favorite thing about acting is the element of surprise. He told Stuff, "I don't want you to know what's next, what I'm gonna do or think. I want to constantly push people off-balance. Even my fellow actors."
3. He's Classically Trained In Singing
Throughout his acting career, David has had to do a good bit of singing. While the idea of having to sing may be a real-life nightmare for some actors, it was second nature to David. He is a classically trained singer.
4. He Likes Playing Different Types Of Characters
David is definitely the kind of actor who likes to switch things up when it comes to the kinds of roles he plays. He is always looking for characters who are unpredictable and unique. In fact, if he feels like a script is too predictable he'll lose interest immediately.
5. He's Been In 3 Law & Order Series
The Law & Order franchise has been keeping viewers entertained for more than 20 years. David Costabile is one of the few people who can say that he's worked on multiple series in the franchise. David has appeared in Law & Order: SVU, Law & Order, and Law & Order Criminal Intent.
6. He's A Family Man
There's no denying the fact that David's schedule is extremely busy. He has been working regularly for the majority of his career and he often has to be away from home for months on end. But even with everything on his plate, David still makes time for his most important responsibilities: being a father and a husband. David is happily married and has two daughters, Lucy and Julia.
7. He Doesn't Mind Not Being Recognized In Public
Being a celebrity and getting recognized in public probably has its perks, but it also seems like it could be very annoying. David doesn't always get recognized when he goes out in public, but it doesn't bother him. He actually kind of likes it. The fact that he can go out in public without constantly being recognized means that he's still able to lead a normal lifestyle.
8. He Likes To Dream Big
Some people prefer to play it safe in life, but David isn't one of those people. Over the years, he's had lots of people try to discourage him from doing the things he wanted to do, but he never let anyone stop him. He believes that if you're doing to dream, you might as well dream big.
9. He Prefers Auditioning In NYC Over L.A.
In the entertainment world, there's a constant debate over which city is better – Los Angeles or New York. The answer to that question entirely depends on your preference, and David prefers The Big Apple. He says that the process of auditioning for roles in New York is much more straight forward. If casting directors don't think you're a good fit for the role, they'll let you know. In L.A., he says, the directors will make you think they're impressed with your work while making a mental note not to call you back. Overall though, he says that the process of auditioning is always a stressful experience.
10. His Wife Is An Actress
David has been married to Eliza Baldi since 2012. Baldi is also an actress. She mad her professional debut in 2006 and has had a handful of roles since then. Some of the TV shows she's appeared in include Damages and Believe.
Tell us what's wrong with this post? How could we improve it? :)
Let us improve this post!