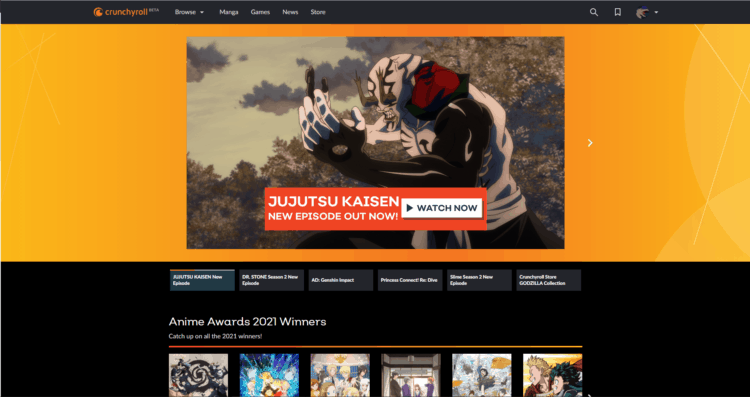 Crunchyroll has been one of the world's leading sources of anime since 2006 when it was initially founded by Kun Gao, James Lin, Brandon Ooi, and Vu Nguyen. Since then, the Crunchyroll brand has grown to a passive 100 million users with 4 million paying subscribers as of 2021. As of February 2021, Crunchyroll has begun offering a beta of its new Premium program. I've been using Funimation to access all of my anime content; I've looked into Crunchyroll in the past, but I could never get past the layout and user interface of the site, therefore I opted to use Funimation as it had a much better user interface. We got a chance to take a look at the new look of Crunchyroll Premium and so far it looks substantially better than Crunchyroll Classic. The new beta version of Crunchyroll now has a dark mode that is much more appealing to the eye compared to Crunchyroll Classic. This new look of Crunchyroll Premium is sure to be a hit for anime fans as I know many are fans of dark mode sites over light mode. So what exactly is new with the Crunchyroll beta?
Crunchyroll Beta Experience
Crunchyroll, the world's most popular anime brand, is unveiling a new beta experience for Crunchyroll Premium web users based in the United States including a mobile responsive experience, updated homepage, redesigned browse and watch pages, new search capabilities and the brand new Crunchylists feature. Within Crunchyroll Beta, the Crunchyroll homepage has a brand new user interface that is redesigned to fit the needs of the anime community. "Users can now enjoy personalized recommendations and navigate seamlessly to their watchlist or to specific show or episode pages, which have all been redesigned to offer an updated user experience." There's always been one major thing that has turned me off from Crunchyroll and it's the user interface; it never looked appealing and it just looked thrown together, I hated it. As soon as I loaded up Crunchyroll Beta, I was blown away by how much better the site looked. The dark mode, the layout, the home page, it all looks so much better than it did before. It's also less littered with ads which is always a good thing, though I expect that may change once the new site goes live to all Premium members.

Search Options
The Crunchyroll Beta offers fans improved search and filtering, so that fans can more easily access simulcasts, new and popular anime, and explore different genres, all while filtering between subtitled or dubbed anime series. In addition to the new search bar, Cruchyroll will continue to offer curated collections that have been handpicked by Crunchyroll's anime experts.
Avatars
You can also now create unique usernames and choose from a vast library of avatars and header images that feature all of your favorite shows. There aren't currently a whole lot of options for these header images or avatar pictures, and I don't personally see this as an absolutely necessary addition, since I spend my time watching anime rather than staring at my profile, it's definitely not an unwelcome addition. Maybe it would make more sense to have unique avatars on a family plan with different profiles on the account (hint, hint, Crunchyroll)? I do hope that they add more avatars and header images as the current selection is pretty limited.
How to Access Crunchyroll Beta?
In order to experience the Crunchyroll Beta, you'll need to have a Crunchyroll Premium account, though that itself is not a guarantee that you'll be granted access. Currently, Crunchyroll Beta is only available to 20% of premium users, but will eventually become available to all premium subscribers and all free users in the US. However, if you are one of the lucky fans that were invited to the Crunchyroll Beta and choose not to utilize it, you can opt out of the beta experience and go back to Crunchyroll Classic, though I don't anticipate many people opting out of this fantastic beta.
Overall, I am incredibly impressed with Crunchyroll Beta; there is very clear evidence that the team behind it has put in significant effort into redesigning the entire Crunchyroll site. It may actually force my hand to cancel my Funimation subscription and subscribe to Crunchyroll Premium. If you've got access to Crunchyroll Beta, what are your thoughts on the program? Crunchyroll is available in more than 200 countries and territories, with simultaneous translation in eight languages. Fans can watch anime for free with ads or can choose from three different subscription memberships that allow for an ad-free viewing experience, access to popular simulcast titles day and date with the premiere in Japan, offline viewing, and a mix of additional benefits.
Tell us what's wrong with this post? How could we improve it? :)
Let us improve this post!