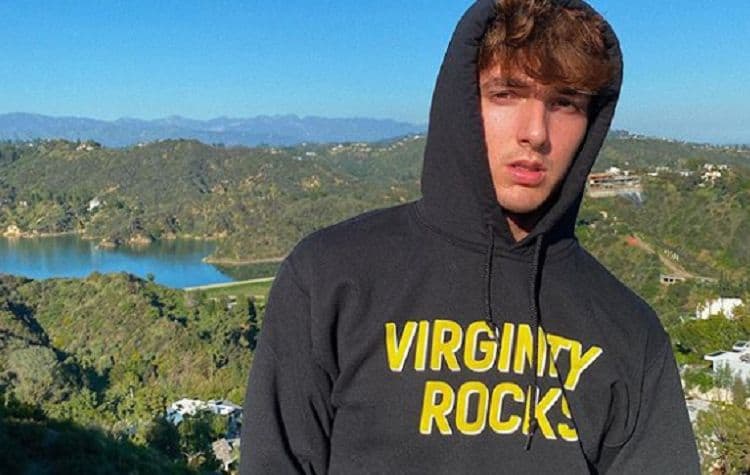 Most of us spend way more time on social media than we care to admit. While scrolling through social media is nothing more than a way to kill time for a lot of us, for others, it's become the perfect career opportunity. TikTok star, Bryce Hall is one of the people who has found his career on social media. The 20-year-old has become very popular on several social media platforms over the last several years. He initially got his start on fine, but has since become well-known on TikTok and Instagram. He currently has over 7 million followers on TikTok and nearly 4 million on Instagram. Keep reading for 10 things you didn't know about Bryce Hall.
1. He Was Arrested
Bryce has been involved in quite a few sticky situations over the years, but his recent arrest might be the worst of them all. On May 25, Bryce was arrested alongside fellow Sway House member, Jaden Hossler while driving through Texas on a road trip. According to sources, both Bryce and Jaden are being charged with drug related offenses.
2. He's Signed To A Talent Agency
Even though lots of his content is on the lighthearted side, Bryce definitely takes his social media platform very seriously. In order to ensure that he's taking advantage of the best opportunities, he signed with an agency called TalentX Entertainment. According to the company's website, their goal is to "support, build and grow their social imprint across platforms, traditional and new media and into new verticals. We also partner talent with premium brands in the space that align with their long-term vision."
3. He Made A Diss Track
As mentioned before, Bryce has had more than his fair share of controversy. A lot of it has stemmed from bad feelings between Sway House and other social media 'camps'. Earlier this year, he was featured on a diss track by Josh Richards which was aimed at fellow social media star, Lil Huddy.
4. He's From Maryland
Bryce was born and raised in Ellicot City, Maryland where he attended Howard High School and graduated in 2016. However, once he started to become successful on social media, he decided to relocate to California. He currently lives in Los Angeles with the rest of Sway House.
5. He Went On A Date With A Fellow TikToker
Earlier this year, Bryce confirmed that he and fellow TikTok star, Addison Rae, had gone on a date in 2019. Although it looks like they are no longer together, their followers are still hoping that something will happen between the couple. After Bryce's arrest, Addison's mother, Sheri Easterling, tweeted about him saying, "stan bryce hall for clear skin". Most people are confused by the timing of the tweet, but it does show that Addison's family is still on team Bryce.
6. He Regrets All Of The Controversy He's Been Involved In
By now, most people are under the impression that Bryce likes being in the middle of controversial situations, but it looks like that may not be true. Apparently, he wishes he did a better job staying out of disputes. He told The Netline that the "Biggest regret of my life, probably all the controversies I've ever been in and I was in a lot… I regret those, immensely."
7. He's The Life Of The Party
Bryce is definitely living his life to the true definition of 'you only live once'. He may not be old enough to drink, but he still knows how to have a good time. He told Hollywire that he is always the "life of the party" and he always brings the energy to get the party started.
8. He Was Bullied In School
Most of his fans may find this hard to believe, but Bryce was actually bullied through most of his time in school. He describes himself as "nerdy" and says that he didn't have very many friends. That's what inspired him to join the streaming platform, YouNow, where he got his start making videos for the Internet.
9. His First Viral Tik Tok Featured Sean Kingston
Bryce has had dozens of videos go viral in the time since he's been building his internet presence. His first viral TikTok was posted in the fall of 2019 and featured a cameo appearance from pop star, Sean Kingston. Although the video is fairly simple, it has garnered more than 20 million views.
10. He's A Fan Of Logan Paul
Logan Paul is one of the most popular social media stars. He is particularly well-known for his YouTube channel which has nearly 22 million subscribers. Bryce is a big fan of Logan's work and would love to get the chance to work with him at some point in the future.