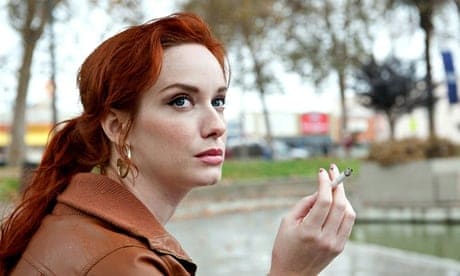 In a big way it sounds as though acting served as a balm and a place where Christina Hendricks could feel like herself and really fit in. Her family moved around the country a bit when she was younger and at one point she was bullied and felt like an outcast in her school, until she found her way into drama. This was where she found out that she had the ability to act and could be herself in a big and very welcoming way. She's been in a number of movies thus far in her career and has been seen as one of the better actresses out there despite the fact that she's not quite as prominent as others. She is thankfully well-known enough that people do recognize her when she shows up and appreciate what she can do on the screen. In a lot of her movies she's more of a supporting actor or a bit player, but simply seeing her there is enough at times.
Here are five of her best movies thus far.
5. Bad Santa 2
If you thought the first Bad Santa was over the top this one goes sailing over the top and lands flat on its back as Kathy Bates and Christina Hendricks join the cast in their unique ways. Hendricks plays one of the operators of a charitable organization that somehow ends up falling for Willy, at least in a sexual manner, and despite telling him that it will be only one time she ends up hooking up with him more than once. If there was ever a Christmas movie that was just flat out wrong and didn't care this would be it, since this movie was so unapologetic that it didn't even seem to think twice about certain elements that were added in.
4. Drive
This movie almost feels like another version of the Transporter somehow blended with Faster but it does have its own feel and it does seem to take on its own presence since Driver is the kind of guy that does have a pretty strict moral code but doesn't always seem to think around the corners as he needs to. Eventually things get pretty botched after a robbery gone wrong and Hendricks' character, Blanche, ends up getting killed. While her part in this movie isn't all that big it's enough to see that she is involved for a while, and after this moment it does seem that Ryan Gosling is able to hold up the rest of the movie.
3. The Neon Demon
In some ways Hendricks is a catalyst character that allows other actors to shine now and again. This movie is nothing but disturbing really since it has to do with the modelling industry but in a way that's beyond anything you've seen before since Elle Fanning's character and those that act alongside her are instructed to act in ways that might make your jaw drop and your eyes widen. Hendricks is there for the movie, she's the woman that invites Fanning's character to get into modeling, but at the same time she kind of fades off after a while and isn't seen again. After that point it gets really weird.
2. Fist Fight
Let's put it this way, teachers shouldn't fight largely because it's a bad idea to show their students that they can't rise above the more juvenile need to show dominance. But at the same time they do need to sort things out in order to show people just what it takes to resolve their differences. But in this case two teachers having a fight after school becomes one of the biggest things that's happened all year so of course things are going to go off the chain and the two men involved aren't going to pull any punches. In the end the matter is resolved and they move on, but up until that moment things get absolutely crazy.
1. Life As We Know It
Honestly this almost seems like a gamble by the parents of the young child that is given over to two people that can't really stand each other, but it's also a well-calculated risk since one might think that the parents knew what they were doing. When you think about it they did start to tolerate one another even if they still had a back and forth banter that wasn't entirely friendly at times. But as they came to realize just what it meant to raise a child and to admit their feelings for one another. Like it or not, a child does change people and sometimes it's for the better. Thankfully by the end of the movie things work out and the two people that initially hated each other come to realize that they love each other, and the small family is quite happy.
She's a great actress when she's around, but it would be great to see her take on more prominent roles.