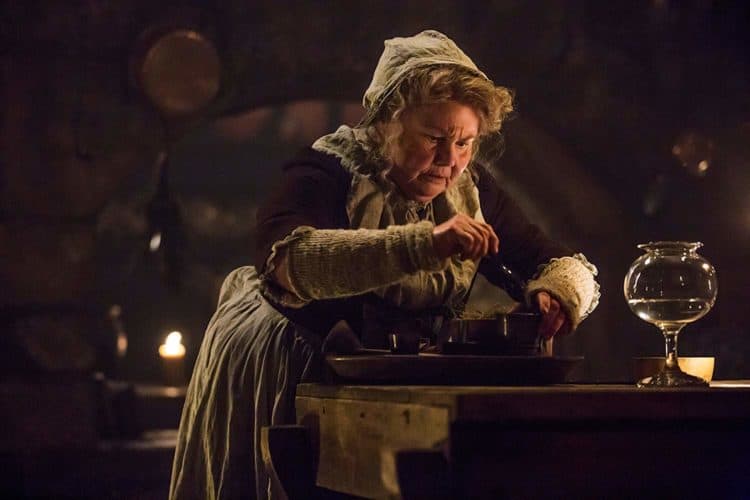 Over the course of her career, Annette Badland has appeared in a huge variety of roles, with some of her best-known work including family favorites such as Doctor Who, Happy Families, and The Worst Witch, along with gritty dramas like Bad Girls, Coming Up, and Outlander. Prolific across stage, radio, TV, and film, she's enjoyed the kind of career others can only dream of… and at the age of 69, she's showing no signs of slowing down yet. Find out more about the star with these ten little facts.
1. A Theatrical Start
After training at East 15 Acting School in London, Badland took the first steps in her professional career with Sir Ian McKellen's Actors' Company. From there, she enjoyed huge success with the Royal Shakespeare Company, and at the Young Vic and The Aldridge Theatre. Despite since making her name in TV and film, she's remained loyal to the stage, with some of her most notable performances including Audrey in As You Like It, Miss Mackay in The Prime of Miss Jean Brodie, Madame Arcat in Blithe Spirit, and Reverend Stanley in Eyam.
2. Big Screen Debut
In 1977, Badland made her big-screen debut as Griselda Fishfinger in Jabberwocky. It would be almost a decade until she made her next movie (1986's Knights & Emeralds), but since then, she's enjoyed success in numerous productions, including the SAG nominated drama Little Voice (1998), Disney's animated feature Valiant (2005), Tim Burton's Charlie and the Chocolate Factory (2005), the Oscar-nominated Wish 143 (2009), and the Emily Dickinson biopic, A Quiet Passion (2017).
3. A Family Favorite
As well as building a reputation in adult-centric productions, Badland has appeared in a slew of children's shows. Between 1990-1991, she featured as multiple characters in the BBC children's series Happy Families, while her subsequent kid-friendly offerings have included the sci-fi series Mike & Angelo, the BAFTA-nominated children's program Jackanory, the BBC's children's series The Demon Headmaster, and ITV's The Worst Witch.
4. A Voice for Radio
As happy to lend her voice to radio as she is to give her time to TV, Badland has been an almost permanent fixture on the airwaves since first starring in David Halliwell's comedy Little Malcolm and His Struggle Against the Eunuchs for BBC Radio 3 in 1992. Some of the most popular shows to feature her talents have included the long-running radio soap opera The Archers, Jonathan Myerson's radio dramatization of Boris Pasternak's Dr. Zhivago, the fantasy-adventure radio program Pilgrim, the BBC Radio 4 drama Mrs. Pickwick's Papers, and the radio spin-off of the TV series, Torchwood.
5. Keeping in Touch
One of Badland's most popular performances in recent years has been as Mrs. Fitzgibbons in Outlander. Despite leaving the show in 2015 due to scheduling conflicts, she's since described the filming experience as one of her most memorable- something which may explain why, 5 years after her departure, she's still in regular contact with so many of her former castmates. "Caitriona, I do [stay in touch with], not so much Sam," she recounted to Stars and Celebs. "Graham McTavish, I do. Mr. Walters, I do. Sir O'Rourke who has no sense of humor whatsoever. So yes, we do all keep in touch. It's terrific."
6. TV Addict
If she's not filming for TV, there's a good change Badland's watching it. The self-proclaimed TV addict is a particular fan of dark Scandi productions like The Killing and Wallander, although as she revealed to Stars and Celebs, she's got no time for a feel-good movie. "Oh, I like the Scandi things. So The Killing, and The Bridge, they were both much heralded. Wallander, so all those Scandi things," she said. "I'm not very good with the feel-good movie, I thought Three Billboards, was amazing. That's my kind of film. But I'm not so keen on romantic or comedic films."
7. Big Hearted
If there's one thing Badland's known for (other than her acting, of course), it's her charity work. Over the years, the actress has worked extensively with numerous charities and non-profits, including Diabetes UK and Dimbleby Cancer Care. As proof of her big heart (not to mention strong head), she's even risked life and limb abseiling for Birmingham Children's Hospital.
8. From Rags to Riches
Growing up in Birmingham, Badland was used to scrimping and saving. "My father had been divorced so we were his second family, meaning money was pretty tight," she shared with the Telegraph. "My mum was very skinny — my parents and I would eat a tin of soup between us. Mum would literally look in pockets and old bags for coppers so that we could go to an afternoon matinee at the pictures." How times have changed. Thanks to her success as an actress, Badland is one very wealthy woman indeed these days. According to Married Biography, the star is currently worth in the region of $15 million.
9. Keeping it in the Family
'Never marry outside the business' seems to the mantra of most actors, and it's certainly one Badland has had no problem in following. The star's husband is David Hatton, an actor best known for films such as The Pirates of Penzance (1983), The Knock (1994) and Shadow of the Noose (1989) and for his TV appearances on Coronation Street, Law and Disorder, Playing the Field, Peak Practice, Born and Bred, Play for Today, Last of the Summer Wine, Dinnerladies, Fat Friends, and Holby City.
10. Compulsive List Maker
If there's one thing Badland can't get through the day without, it's a good list. "I am by nature an incredibly organized and orderly person and there is nothing I find more satisfying than making a list," she shared with The Express. In fact, I like to make lists about lists, which I know sounds utterly ridiculous and as much as I love technology, I prefer to use a pen and paper for my list-making."
Tell us what's wrong with this post? How could we improve it? :)
Let us improve this post!