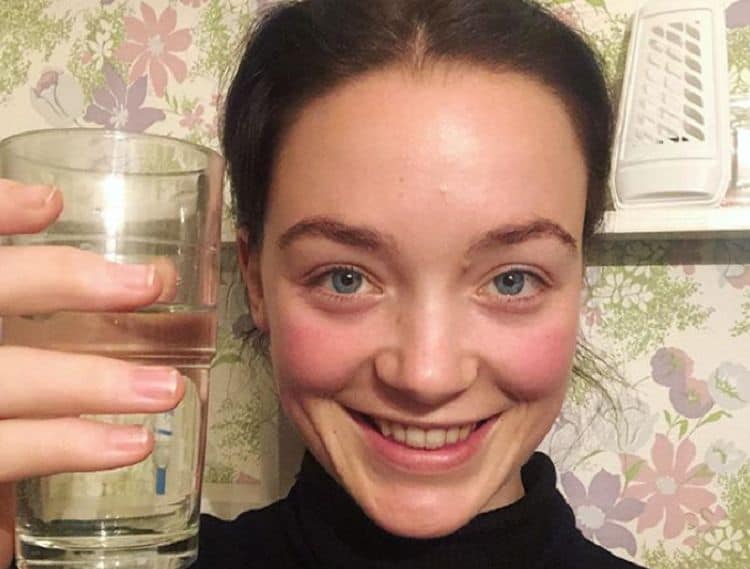 Amalia Holm is a Scandinavian actress who is best known for her role as Scylla in the 2020 television series "Motherland: Fort Salem." This is a fantasy drama in the Sci-fi genre, that centers around three witches who are trained to become powerful military weapons for the United States of America. Holm is gaining international recognition as an actress and although she has only been active for 6 years in the profession, she is gaining a huge following of fans. We looked into her career and history and made some interesting discoveries about her. Here are 10 things that you didn't know about Amalia Holm.
1. Her acting career launched in 2013
Holm made her debut as a professional actress in 2013 in the film "The Hidden Child" in the role of Ung Elsy. She got a big break in 2015 when she landed the role of Louis in the Swedish television series "En delad varld." This was followed by a lead role as Alena in the film with the same title the same year. In 2016, she was cast in the role of Bea Leijon in the television series "Vardgarden" in a recurring role, and she appeared as Ingrid Oxe in three episodes of the series "Heroes of the Baltic Sea."
2. Amalia's popularity soared in 2017
Amalia Holm's popularity as an actress picked up in 2017 when she was cast in several projects. she appeared in the film short "Intercourse" as Sofia and "The Eternal Road" as Kathy. She also landed the part of Amy Seely in the TV mini-series "Playground" and a recurring role in the television series "Salton." It wasn't difficult for her to pick up gigs the following year either as she landed parts in the film "The Girl in the Spider's Web" as a waitress, 3 episodes in the series "Jagarna" and a guest appearance in the series "Hooked."
3. She is busy building an impressive portfolio
Amalia is an emerging star in Scandinavian entertainment and her popularity isn't slowing down. In 2019 she appeared in a minor role in the TV series "Gosta," and "The Inspector and the Sea." For 2020, although we're just through the first quarter of the year, she has already appeared in three television series with guest appearances in "Mina Problem," and Den sista sommaren," and she has a recurring role in "Motherland: Fort Salem. So far, she has 18 credits in her acting portfolio and she has only been a professional actress for under 7 years.
4. Her Birthday
Amalia Holm was born on April 9, 1995. In April of 2020, she will turn 25 years old. She was born in Oslo, Norway.  She is ranked as the sixteenth most popular actress born in Norway.
5. Holm has received formal training
Although there has not been a lot of information yet released about Amalia Holm's early years, she joined the Nacka Musikklasser in 2005 and graduated in 2011. After this, she attended training at the Kungsholmens Gymnasium and graduated in 2014
6. Amalia Holm in multilingual
Some of us are happy to have the ability to speak one language well, and two are making progress. Amalia is multilingual and she speaks four distinct languages with fluency. She is fluent in Norwegian, Swedish, English, and German. This opens up a lot of opportunities for her as an international actress. Speaking multiple languages will make her eligible for some very interesting film and television roles. She is a versatile actress who has a bright future ahead.
7. Amalia is a private person
We learned through our investigation that Holm is a young actress who doesn't divulge much information about her parents or her siblings. She prefers to maintain their privacy, so you won't yet find much information about any of them online. We learned that she was raised in Sweden and this is the country in which she holds her nationality. This is likely to change as her popularity and fame continue to increase.
8. Amala Holm is listed on Rottentomatoes.com
Rottentomatoes.com is a popular rating site that assesses the public opinion of the approval ratings of actors and actresses. It can take a while for names to appear on the site and the most popular are featured. Holm has made it to the site with a score for her performances as Scylla on the 2020 television series "Motherland: Fort Salem." So far, the overall approval rating is just 55% from viewers. She has one more project that is currently listed, but no scores have been allied for "The Eternal Road" from 2017.
9. Amalia has an Instagram account
Holm's fans will be happy to learn that she has an Instagram account and she is doing a great job of keeping the page updated. So far, she has 4,435 followers on the page, and there are a total of 2,055 posts. This is an excellent resource for fans who want to see some great photos of Amalia of both her personal and professional endeavors. You can sometimes learn more from social media than from gossip columns. For example, we learned that she is Swedish-Norwegian and she is a "loud sneezer."
10. She is a rising star
Amalia Holm is an emerging young actress to keep your eye on. Although she hasn't been in the profession for long, she is making great progress in building an impressive acting portfolio. Her career seemed to really take off in 2015, just two years after she made her debut, and it has not slowed down since. It's going to be exciting to see where she goes from here. You can see her appear in her recurring role as Scylla in "Motherland: Fort Salem," but it's likely that more will be coming her way soon.