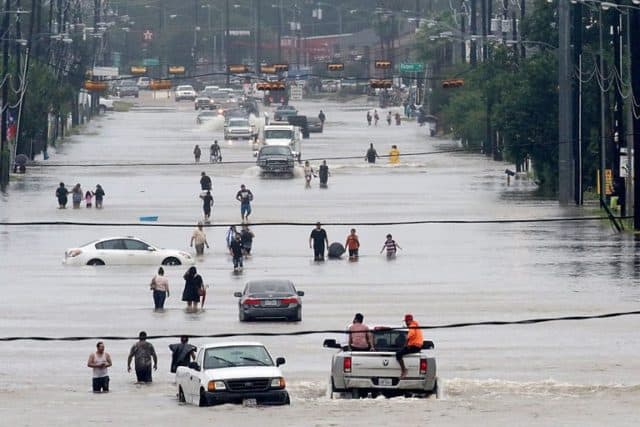 Southeastern Texas has recently been the victim of an active tropical cyclone name Hurricane Harvey. As a result of over 40 inches of rainfall in some areas, it caused a major landfall; the first in the United States since 2005 when the country was hit by Hurricane Wilma. Hurricane Harvey is also the wettest tropical cyclone to have hit the contiguous United States. This has caused devastation in Texas with more than 13,000 rescues taking place. Hundreds of thousands of homes have been damaged and over 30,000 people have been displaced.
Tragically, more than 30 people have lost their lives in this hurricane. The devastation left behind has led to the necessity of a massive relief effort to aid those who are injured and those who have lost their homes. While the authorities have put things in place and the residents of Texas have pulled together to support each other, there are also many celebrities who have got involved in the relief efforts.
Here are just five of the celebrities who have shown their support for the relief effort and what they have done so far to help.
1. Kevin Hart
One of the first celebrities to get on board with the Hurricane Harvey relief efforts was Kevin Hart. He initially donated $25,000 to the relief fund before turning to social media to gather support from his celebrity friends and encouraging them to also donate $25,000. As support grew, Hart decided to up his donation to $50,000. Kevin Hart then took further action towards raising funds for the relief project. He set up a fundraising page which was an instant success. Within the space of just 24 hours, the amount raised jumped from $193,170 to a whopping $930,694.
2. Chris Brown
Chris Brown was just one of the celebrities who responded to Kevin Hart's challenge to make a donation of $25,000 to the fund. In fact, he significantly exceeded the suggested donation when he willingly gave $100,000 to the cause.
3. Sandra Bullock
Sandra Bullock is another celebrity who has publicly got involved. She has personally donated $1 million to The American Red Cross. She said that she was grateful she was able to donate so much money and felt that everyone should do their part in any way they could. The American Red Cross has shown their gratitude to the actress and described her donation as an incredible gift. Elizabeth Penniman, the communications vice president for the charity, has said that receiving such generous support from celebrities like Bullock encourages others to do the same.
4. Kim Kardashian
One of the latest celebrities to step up and show their support is Kim Kardashian along with the rest of the Kardashian clan. Kim, her sisters, and her mom are donating $500,000 to The American Red Cross and the Salvation Army. Kim said that watching the drama unfold and seeing the aftermath of the hurricane was devastating. In a series of tweets, she said that her family was praying for the victims and encouraged others to offer any support possible.
5. Beyoncé
This natural disaster has particularly touched Beyoncé as she was born in Houston. She gave a statement to the Houston Chronicle shortly after the hurricane announcing that she was planning on supporting the victims of Hurricane Harvey through her philanthropic organization BeyGood. She is doing this in collaboration with Pastor Rudy Rasmus who is her pastor from St. John's in downtown Houston.
Save