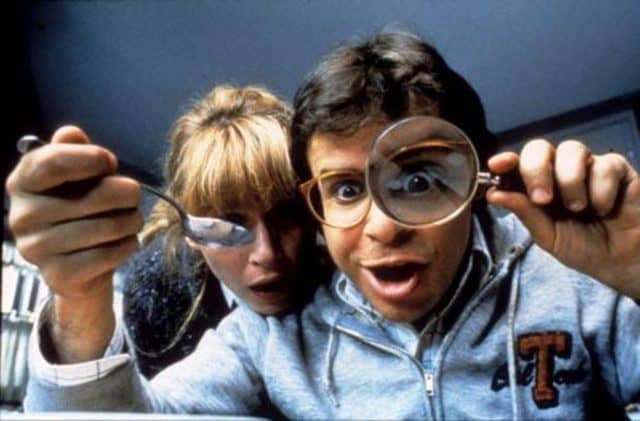 It's been almost thirty years since we got to see one of Rick Moranis's best roles in cinema, next to Spaceballs and Ghostbusters of course, and there are still things a lot of people don't know about Honey I Shrunk the Kids. This movie was kind of odd and even ridiculed a bit when it came out and certainly laughed at when it produced its sequels, which bombed horribly. But the original idea was so innovative and new that people actually flocked to see it and were amazed in some part and made to laugh in others. Honestly though it was probably one of Rick Moranis's best appearances on film and has proven to be a memorable occasion to this day and age.
Yet for all that there are still things that a lot of people don't know about the film.
10. The original title was Teenie Weenies.
The final title didn't actually come along until Moranis said it to his on screen wife during filming. Otherwise it was going to be a nod to an old comic strip from the 1900's that inspire the film.
9. It was filmed in Mexico City
Despite the California look and feel the entirety of the neighborhood that you see was constructed on a back lot in Mexico City.
8. It took 12 workers to operate Anty.
That's a big bug. Whether it was the model-version of the ant or a much larger, motorized version it took several operators just to get the bug in motion and make its movements believable.
7. Foam was used for a lot of the set.
From the broom bristles to the giant cookie the construction crew managed to use foam for most of the settings. The cookie was mostly foam with a few big dollops of cream so that the kids could actually stuff their faces.
6. It's success was a surprise.
No one really expected the film to go anywhere. It's total overall earnings were far more than what the execs had believed it would be for the criticisms it got.
5. Batman helped it's success.
Opening on the same weekend as Batman is usually a good idea. Since Batman was getting routinely sold out the next best option was to see Honey I Shrunk the Kids. Being the second choice didn't hurt.
4. It got an award for poor grammar.
Shrunk is not the proper grammar, Shrank would have been proper. The movie earned the Dunce Award from SPELL, the Society for the Preservation of the English Language. Critics just come from everywhere it seems.
3. It took 20 years for the soundtrack to come out.
If you really want a copy that bad they're selling as used for around $50 on Amazon.
2. Only one of the younger actors is still working.
Thomas Wilson Brown, the kid that played Russ Thompson Jr., is the only kid actor from the show that went on to keep making his way in Hollywood. He's had bit parts mostly but he's been active.
1. It's basically a Disney-fied horror movie.
It's basically about a scientist who's experiment goes wrong. The rest is textbook horror movie material.
It wasn't the most beloved film in the world but it did gain a following. And admit it, you do remember the movie.
Save
Save