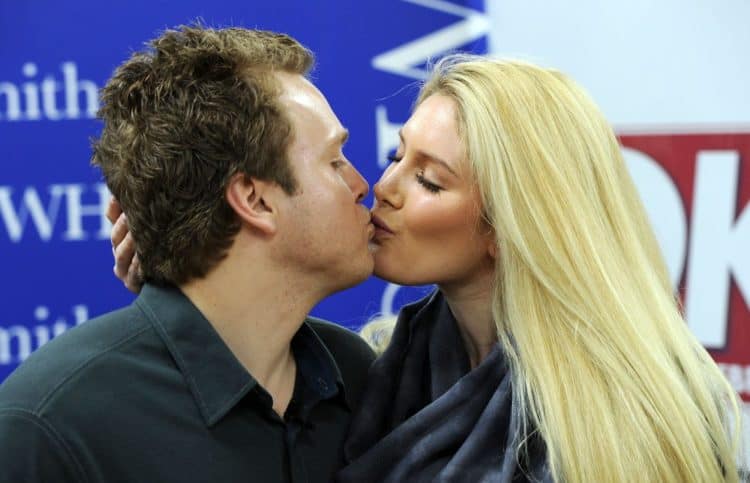 Over the last 20 years, reality TV has become incredibly popular. Along the way, viewers have gotten introduced to some very interesting couples (and love triangles). From dating shows to competition shows, love is in the air everywhere you look in the reality TV world. However, if there's one thing we know about reality TV, it's that things aren't always exactly what the same. Unfortunately, relationships are certainly no exception. While some of these couples couldn't handle the weight of being reality TV stars, others have somehow managed to stand the test of time. Continue reading to see our list of the 10 most memorable reality TV couples.
1. Sammi and Ronnie – Jersey Shore
When Samantha "Sammi Sweetheart" Giancola and Ronnie Ortiz-Magro met as cast members on the MTV series Jersey Shore, it didn't take them long to develop a love connection. What started off as a cute romance eventually turned into a very toxic relationship. The couple often found themselves at the center of drama and they ultimately decided to go their separate ways. Although Sammi and Ronnie have both moved on since their days as a couple, their time together has gone down in reality TV history.
2. Flavor Flav and Brigitte Nielsen – Strange Love
In the mid-2000s, Flavor Flav's career got a second wind when he became a reality TV star. In 2004, he was cast in VH1's reality series The Surreal Life. While on the show, he met Danish actress Brigitte Nielsen. Despite being a very unlikely match, the two hit it off and started dating. The following year, they became the stars of their own reality show called Strange Love. Unfortunately, however, their relationship would be short-lived, but it wouldn't take Flavor Flav long to start looking for love again. In 2006, he starred in his own dating show called Flavor of Love. In the show, a group of women competed for his love. However, after three seasons, he still hadn't found a long-term partner.
3. Heidi Montag & Spencer Pratt – The Hills
Heidi and Spencer crossed paths for the first time at a club while they were filming for the reality show The Hills. Little did they know, that moment would change the course of both of their lives. When talking about the first time they met, Heidi told Vice, "I pretty much told everyone I was going to marry him and that I loved him". The couple and their relationship would go on to be a big part of Heidi's storyline on the show and they were definitely one of the hottest reality TV couples of the mid and late 2000s. Although some people may have doubted their relationship, Heidi and Spencer are still together. They have been married since 2008 and they have one child together.
4. Stevie J, Joseline Hernandez, and Mimi Faust – Love and Hip Hop Atlanta
If you're a fan of Love and Hip Hop Atlanta then you probably remember the days when the drama between Stevie J, Joseline, and Mimi was all anyone could talk about. When we were introduced to the three cast members during season one, Stevie and Mimi were trying to navigate their co-parenting situation while also trying to see if there was any hope left for their relationship. However, when Stevie J began helping Joseline with her music career, the two began an affair. For several seasons, Stevie's relationship with both women was the cause of lots of drama which was only made worse when Joseline got pregnant with Stevie's child. Fortunately, it looks like all three of them are in a much better place now and they've all moved on.
5. Jessica Simpson and Nick Lachey – Newlyweds: Nick and Jessica
Nick Lachey and Jessica Simpson are the OGs of the reality TV couple world. After getting married in 2002, the couple became the stars of their own reality TV show, Newlyweds: Nick and Jessica, which aired from 2003 to 2005. At the time, reality TV was still relatively new and it didn't take long for the show to become well-liked among viewers. Not only did people think that Jessica and Nick were a cute couple, but they also had a knack for making people laugh. One of the most memorable moments from the series happened during the first season when Jessica mistook a can of tuna for fish because of the brand name "Chicken of the Sea". The show probably could've lasted for several more seasons, but the couple's relationship wasn't on solid ground. They divorced in 2006. They have both remarried and have children with their current spouses.
6. Christopher Night and Adrianne Curry – My Fair Brady
During the 2000s, reality shows starring celebrities were all the rage. Throughout the decade, we saw celebrities from the 70s, 80s, and 90s being brought back into the spotlight thanks to their appearances on reality TV shows. Among them was Christopher Night who was famous for his role as Peter Brady in The Brady Bunch. In 2005, Peter was a cast member on The Surreal Life where he met America's Next Top Model winner, Adrianna Curry. The two started dating and when filming ended they moved in together. That same year, they got their own reality series called My Fair Brady which followed their lives as a couple. Many were shocked by their relationship, mostly due to their 25 year age gap. However, they seemed determined to beat the odds. Christopher and Adrianne married in 2006. Sadly, they separated just five years later and were officially divorced by 2012. Both have since remarried.
7. Lauren Speed and Cameron Hamilton – Love is Blind
When Love is Blind debuted on Netflix in the winter of 2020, it quickly became a huge hit. Although most people would probably agree that agreeing to marry someone you've never seen and only spoken to through a wall is pretty risky, it was very entertaining watching other people do it. While it's true that almost all of the connections on the show were doomed from the start, there was something special about Lauren Speed and Cameron Hamilton. After getting to know each other in the 'pods', the couple became engaged. Getting to know a new person is never easy, but their natural chemistry combined with their willingness to build a relationship proved to be the perfect combination. They were one of the only couples from the show to actually get married and they appear to still be going strong.
8. C.T. and Diem Brown – The Challenge
Chris "C.T." Tamburello was introduced to the reality TV world in 2003 when he appeared as a cast member on The Real World. At the time, he probably had no idea that he would go on to have a long-lasting career in front of the camera. In 2006, he met fellow reality star Diem Brown when they were both competing on MTV's The Challenge. The two dated for about a year and a half and their relationship would go on to have a major impact on both of their lives. Prior to their relationship, Diem had been diagnosed with ovarian cancer and she credited her relationship with C.T. with helping her regain her confidence. Sadly, Diem passed away in the fall of 2014. After her death, C.T. issued a statement saying,
"You have always been My Angel. And now you have your wings. We've been thru so much over the years. Thru the ups and downs we somehow managed to keep our promise. We never gave up on each other. Our plan to be together forever hasn't changed… it's just going to take a little longer now. And I'm going to hold onto this ring for you till we are together again. So don't worry mama, I'm not afraid. I know you will always be with me to give me your strength. You are The Love of My Life. My reason to be a better man. I Love You Always and Forever."
9. Whitney Mixter and Sada Bettencourt – The Real L World
The Real L Word may not have been as popular as some of the other shows on this list, but in the lesbian community, it was a pretty big hit during the early 2010s. Although there were several couples featured on the show during its three-year run, Whitney Mixter and Sada Bettencourt were arguably the most iconic. Many people dubbed them "goals" and when they tied the knot in 2012 they had a very bright future ahead of them. Unfortunately, though, their relationship didn't last forever as they'd hoped. In 2012, Whitney filed for divorce citing irreconcilable differences. Despite going their separate ways, it appears the two remained on good terms. They have both since moved on and appear to be doing great individually.
10. Catelynn Lowell and Tyler Baltierra – 16 and Pregnant/Teen Mom
When Catelynn Lowell and Tyler Baltierra made their reality TV debut on MTV's 16 and Pregnant, they were scared teenagers trying to navigate the realities of an unexpected pregnancy. The young couple ultimately decided to give their daughter up for adoption which proved to be a difficult choice for them both. MTV continued to follow their journey as cast members on the spinoff series, Teen Mom and they have been on TV ever since. Catelynn and Tyler have gone through lots of ups and downs over the years, but they always manage to overcome every obstacle together.The Hills
Tell us what's wrong with this post? How could we improve it? :)
Let us improve this post!